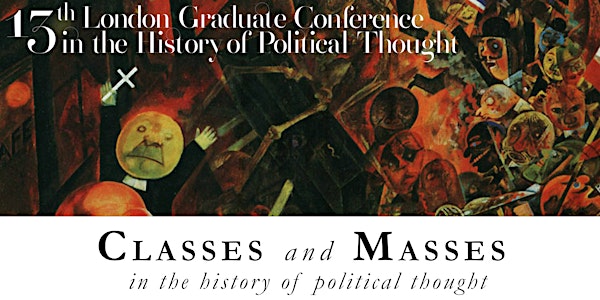 13th Annual London Graduate Conference in the History of Political Thought
Location
Wilkins Gustave Tuck Lecture Theatre, UCL
Gower Street
London
WC1E 6BT
United Kingdom
Refund policy
Contact the organiser to request a refund.
Eventbrite's fee is nonrefundable.
The 2022 London Graduate Conference explores the theme of 'Classes and Masses' in the history of political thought.
About this event
Social divisions and social collectives have always been at the heart of political thinking. Thucydides described destructive struggles between "the many" and "the few", Aristotle sought to balance the interests of rich and poor, and Machiavelli celebrated the productive tension in conflicts between people and aristocracy. Karl Marx famously declared that "the history of all hitherto existing society is the history of class struggles", and attributed a universal mission to one class – the proletariat.
But for other thinkers, politics has been defined by the presence not of organised classes, but of diffuse masses. During the French Revolution, Mary Wollstonecraft wrote of an "unyoked multitude", freed from despotism, but lacking the education to exercise reason. In the nineteenth century, liberals worried about the emergence of "mass society", whose homogenising tendencies threatened to efface individuality. In the post-war era, Hannah Arendt argued that it was the "transformation of classes into masses" that brought about the breakdown of European civilisation, while anti-colonial theorists such as Frantz Fanon looked beyond Europe, to see the "colonized masses" as agents of global liberation.
The ideas of "classes" and "masses" have always been contested: their nature, their significance, their composition. And today, both concepts remain central to how politics is understood. To take just one example, the phenomenon of "populism" is interpreted variously as a recurrence of classical demagoguery, a return to mass politics, or indeed a new form of class conflict. In this context, it is timely to interrogate both the history of these concepts, and the role they have historically played as subjects and drivers of political discourse.
This conference will explore the different ways in which thinkers, writers, and actors throughout history have seen politics through the lens of classes and masses.
Details
Dates: 30 June - 1 July 2022
Location: Gustave Tuck Lecture Theatre, Wilkins Building, UCL, Gower Street, WC1E 6BT. Map and directions here. Both the room and the building are wheelchair accessible.
Nearest Tube Stations: Euston Square or Warren Street
Lunch and refreshments will be provided on both conference days. Please notify us of any dietary requirements when booking your ticket. The Conference Dinner for speakers at TAS will be charged separately.
The full programme and abstract handbook will be circulated to registered attendees.
Programme
Thursday 30 June
09:15-9:40
Coffee and Registration
09:40-09:45
Welcome: David Klemperer (QMUL)
09:45-10:00
Opening Remarks: Gareth Stedman Jones (QMUL)
10:00-11:30
Panel 1: British Class Politics
Chair: David Klemperer (QMUL)
Rebecca Goldsmith (Cambridge): 'A Vernacular Retelling of Labour's Class Politics: Mass-Observation in Bolton in the Late 1930s'
Nick Garland (Oxford): 'Imagining the "Radical Intelligentsia" in Late-Twentieth-Century Britain'
Sam Clarke (Cambridge): 'Class Power and Natural Science: the Politics and Pedagogy of Science in Miid-20th-Century British Socialism'
11:30-11:40
Break
11:40-13:10
Panel 2: Masses before Modernity
Chair: Calyx Palmer (KCL)
Abbie Leblanc (Harvard): 'The Míkmaw Concordat as Worldmaking'
Aidan Fusco (UCL): 'Masses and Classes in Baconian Dialectic'
Kajo Kubala (QMUL): '"Nothing is so Delightful as to Incorporate": Corporations, Associations, and the Problem of the Political in the Collective Bodies of Rome'
13:10-14:00
Lunch
14:00-15:30
Panel 3: Marxism and the Colonial World
Chair: Peter Morgan (UCL)
Hedwig Lieback (Columbia): 'Revolutionary Knowledge and Freedom's Speech in Black Reconstruction and The Black Jacobins'
Julia Damphouse (Humboldt-Universität zu Berlin): 'Popular Anti-Colonial Currents and the Idea of Europe among German Workers before 1914'
Tanroop Sandhu (QMUL): 'Representatives of Indian Freedom in the Heart of Empire'
15:30-15:45
Break
15:45-16:45
Panel 4: Identity and Character in the Long 19th Century
Chair: Atlanta Rae Neudorf (QMUL)
Madeleine Rouot (Cambridge): ​​History, Aristocracy, and Class Consciousness in François Guizot's Early Writings, 1814-1830'
Tom Musgrove (QMUL): 'Views from the "Folk War": British Debates on Nationality and the Macedonian Peasant Masses, 1903-1908'
16:45-17:00
Break
17:00-18:15
Keynote Lecture
Adom Getachew (University of Chicago): 'The Universal Race: Garveyism as Mass Politics'
18:15-19:15
Reception
Friday 1 July
09:30-10:00
Coffee
10:00-11:30
Panel 5: European Socialist Ideas of Class
Chair: Kajo Kubala (QMUL)
Emily Evans (Cambridge): 'Rosa Luxemburg's Unfinished Marxist History of the Economist Class'
Rida Vaquas (Independent scholar): 'Walter Dirks and the Theological Significance of the Proletariat'
Edoardo Vaccari (LSE): 'Class War and Antifascist Revolution: Rethinking Socialism in the Political Journals of Italian Exiles (1932-1935)'
11:30-11:40
Break
11:40-13:10
Panel 6: Post-War American Radicalism
Chair: Aidan Fusco (UCL)
Joan O'Bryan (Stanford): 'Patriarchy as Class Division: Varieties of Historical Materialism in "Second Wave" Feminist Thought'
Molly Carlin (Sussex): 'Class Solidarity, Confinement, and the Grounds for Revolution: Incarcerated Identities from Folsom to Attica'
Sam Pallis (Cambridge): 'Revising the Legacy of New Class Theory in Post-War America (1939-1954)'
13:10-14:10
Lunch
14:10-15:40
Panel 7: Class Conflict in the Age of Revolutions
Chair: Cathleen Mair (QMUL)
Madeleine Armstrong (Cambridge): 'Edmund Burke and the "Swinish Multitude" Reconsidered'
Matteo Rossi (Università di Torino): 'Class Conflict in the Classless Society: Labor Movement, Political Economy and Republicanism in Philadelphia (1827-1837)'
Sam Harrison (Cambridge): 'Between Masses and Masters: Liminal Classes in 18th-Century France'
15:40-16:00
Break
16:00-17:45
Concluding Roundtable with Tejas Parasher (Cambridge), Sarah Dunstan (Glasgow), Nicola Miller (UCL) and Adam Sutcliffe (KCL)
18:00-20:30
Conference Dinner for Speakers
Please contact historyofpoliticalthoughtnet@gmail.com if you have any questions or concerns.
This conference is generously supported by the London Arts and Humanities Partnership, the IAS Octagon Small Grants Fund and QMUL's Centre for the Study of the History of Political Thought.