13th Native Spirit Indigenous Film Festival - Opening Day - Indigenous Electronic Arts Brazil

Saturday, 12 October 2019 from 14:00 to 16:00 (BST)
Event Details
photo credit Arte Electrônica Indígena (AEI)

Join us for our festival opening on Indigenous Peoples Day (Americas) dedicated to Indigenous Brazil with live digital bodypainting, films and speakers.
This afternoon event is in two parts and followed by our Festival Opening night at 6.30pm next door at SOAS Brunei Theatre (see separate listing)
_______________________________________________________ 
Dr Thea Pitman, School of Languages, Cultures and Societies, University of Leeds with NGO Thydêwá director Sebastián Gerlic introduce *Arte Eletrônica Indígena (AEI) Short films (subtitled for Native Spirit audiences and screened for the first time in UK) and talk about the use of new media and art to enhance Indigenous Peoples' visibility worldwide; to protect cultural practices; to increase appreciation of diversity and traditional knowledge; and to promote dignity and wellbeing for all. You will also have the chance to participate in digital body painting with designs created by AEI Indigenous artists.
GUARDING THE FOREST Q&A Dir. Max Barings tbc
Dir Max Baring, Karla Mendes | Guajajara, Brazil | 2019 | 26min.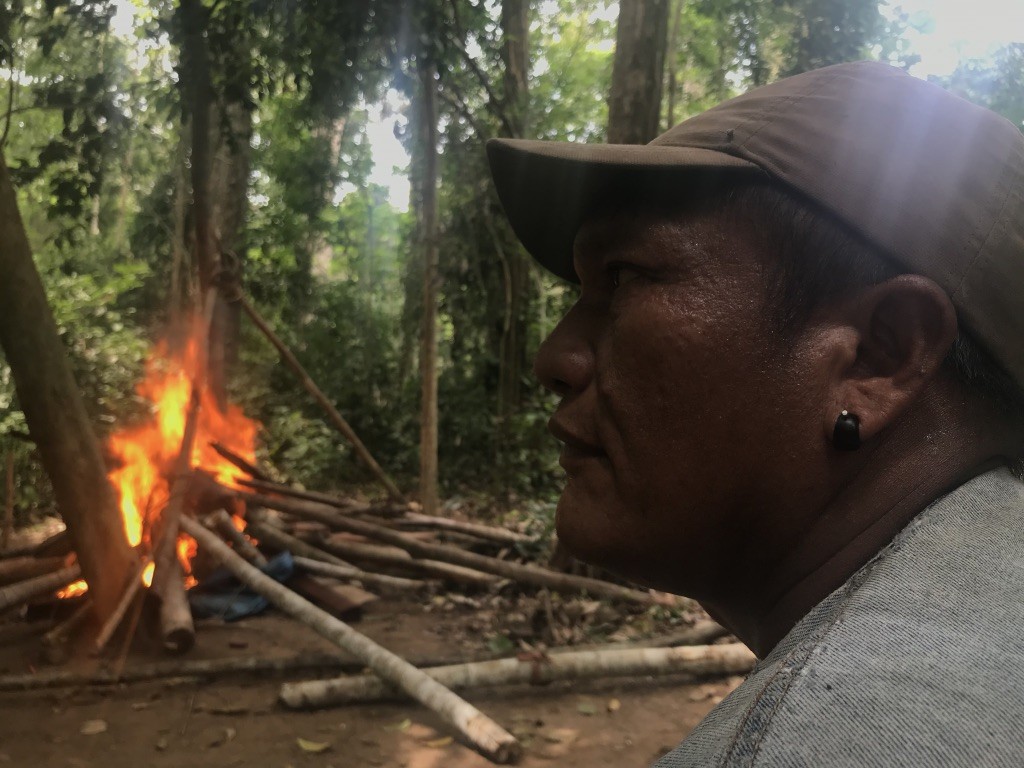 Reuters filmmaker Max Barings, and Karla Mendes' Guarding the Forest takes you to the frontline of forest protection in the Brazilian Amazon. Follow the Guajajara volunteer force, risking their lives to patrol their protected Indigenous lands, removing illegal logging camps that are destroying the Amazon - source of 20% of our planet's oxygen.
Since Bolsonaro's election illegal logging is on the rise, as are fears of a more generalised conflict across the region. The new minister of Agriculture appears conciliatory but Brazil's indigenous communities and their leaders are not convinced.
AEI PROGRAMME presented by Thea Pitman and Sebastián Gerlic
INDIGENOUS ELECTRONIC ART: REFLECTIONS ALDEIA DO CACHIMBO 2018, Dir. Sebastián Gerlic, Camacã Imboré/Tupinambá community, Brazil, 8min.
INDIGENOUS ELECTRONIC ART: REFLECTIONS KARAPOTÓ PLAK-Ô 2018, Dir. Sebastián Gerlic, Karapotó Plak-ô community, Brazil, 4min.
INDIGENOUS ELECTRONIC ART: REFLECTIONS PATAXÓ DE BARRA VELHA 2018, Dir. Sebastián Gerlic, Pataxó de Barra Velha community, Brazil, 4min.
INDIGENOUS ELECTRONIC ART: REFLECTIONS KARIRI-XOCÓ 2018, Dir. Sebastián Gerlic, Kariri-Xocó community, Brazil, 8min.
DIGITAL BODY PAINTING
Your chance to interact with projections of Indigenous body painting motifs created by AEI artists.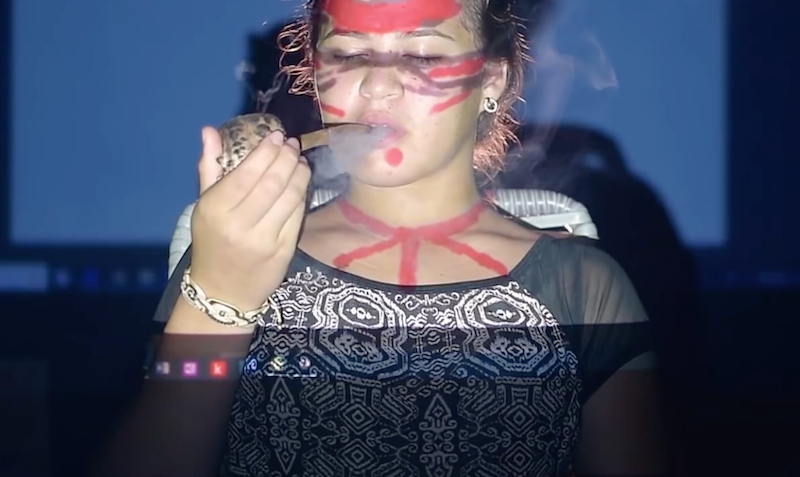 _______________________________________________________ 
About Arte Eletrônica Indígena (AEI)
The *Arte Eletrônica Indígena (AEI) project was designed and executed by the NGO Thydêwá. It consisted of a series of ten short artistic residencies in Indigenous communities in the Brazilian Northeast in order to cocreate works of electronic art. These were exhibited to the public at the Museum of Modern Art (MAM), Salvador da Bahia in August 2018 and have since toured the Indigenous communities themselves, as well as other prestigious venues including the Ars Electronica Festival in Linz, Austria (Honorable Mention, European Commission ST+ARTS Prize 2019). 
The participating artists came from Brazil, Bolivia and the UK, and the Indigenous communities are those that make up the network of Indigenous "points of culture" with which the NGO works. The purpose of the project was to stimulate intercultural exchange through artistic cocreation between Indigenous and non-Indigenous people, to reduce prejudice on all sides through collaboration, and to challenge mainstream perceptions of Indigenous peoples as 'traditional' or 'backward', and therefore not capable of engaging with new, high-tech forms of art.
Short video documentaries (3-11 mins long) were made during each of the residencies, with a further two being made during the exhibition at the MAM. Those made during the residencies are conceived of not as 'making-of' documentaries, so much as a more free-form, spontaneous and creative response to the residencies where the community members offer their reflections on what art means to them
_______________________________________________________ 
Native Spirit are registered event participants with UNESCO International Year of Indigenous Languages #IYIL2019 and event partners with Bloomsbury Festival.
We look forward to welcoming you!
The founder of Native Spirit Foundation, Freddy Treuquil, Mapuche leader states: "All the [activists] have come to the conclusion that one objective of making video, radio and television is for the other culture to know us. It is necessary to create a bridge to share our culture in an educational form, without losing our identity."
Special thanks and gratitude to the Filmmakers, Artists, Speakers and all volunteers and supporters who help promote Indigenous Cinema and make this event happen.
Do you have questions about 13th Native Spirit Indigenous Film Festival - Opening Day - Indigenous Electronic Arts Brazil?
Contact Native Spirit UK
Save This Event
When & Where

Institute of Latin American Studies
The Court Room, Senate House
Malet Street
WC1E 7HU London
United Kingdom


Saturday, 12 October 2019 from 14:00 to 16:00 (BST)
Add to my calendar
Organiser
Native Spirit is the UK's premiere Independent organisation promoting Indigenous Cinema, Media & Artists with an annual Film Festival every October and Year-round events. Our sister festival Native Spirit Taiwan runs in November.