Sales Have Ended
Ticket sales have ended
Thank you for your booking. Access to this course will be emailed to you within 24 Hours. Regards Acumen Envision
Includes: 14 Courses, Over 178 Hours of Virtual Live Instructor Led Training, 190 Hours Self-Paced Study, Real World Projects, Certificates
About this event
Distance Learning Automation Test Engineer MasterClass Program
Includes: 11 Courses, Over 178 Hours of Virtual Live Instructor Led Training, 190 Hours Self-Paced Study, Real World Projects, Assessment & Certification
Duration: 6-8 Weeks (Based on part time study)
Global Access: Virtual Live Classroom Courses available in multiple time zones weekday & weekend
Instant Access Enrolment
Overview
This program will advance your career as an automation test engineer. You'll learn top skills demanded in the industry, including GIT, Selenium, Jenkins, and JMeter to apply engineering to software development processes and build quality products.
This automation test engineer training program is designed to provide you with a complete knowledge of software testing technologies such as Selenium Web Driver, TestNG, Maven, AutoIT, Selenium Grid, Appium, and Docker to help you build a robust testing framework.
What you will Learn
By the end of the program, you will be able to accomplish the following:
Master software programming concepts and implement them in real-life
Become an agile practitioner with the ability to quickly complete industry projects
Build an end-to-end application from scratch and test it
Test and deploy features seamlessly to production with minimal effort
Build a running, industry-aligned project from scratch
Complete 40+ topic-end, lesson-end, and phase-end projects
How it Works
Once you enrol for the course you will receive a link giving you access the Learning Management Systems.
You will then be able to review each module in the leaning path and start to plan your study time and book your Live Class room session.
All of the project based session have virtual lab access setup will all software and tools pre installed.
Help is available 24/7 should you require any assistance.
Why Take the Course?
Every software development group tests its products, yet delivered software always has defects. Test engineers strive to catch them before the product is released but they always creep in and they often reappear, even with the best manual testing processes. Test Automation software is the best way to increase the effectiveness, efficiency and coverage of your software testing.
Manual software testing is performed by a human sitting in front of a computer carefully going through application screens, trying various usage and input combinations, comparing the results to the expected behaviour and recording their observations. Manual tests are repeated often during development cycles for source code changes and other situations like multiple operating environments and hardware configurations.
An automated testing tool is able to playback pre-recorded and predefined actions, compare the results to the expected behaviour and report the success or failure of these manual tests to a test engineer. Once automated tests are created they can easily be repeated and they can be extended to perform tasks impossible with manual testing. Because of this, savvy managers have found that automated software testing is an essential component of successful development projects.
You are in Control of your Schedule and Courses
Plan you time and book onto the Live Instructor Led courses when you are ready via your Learning Management Systems Login.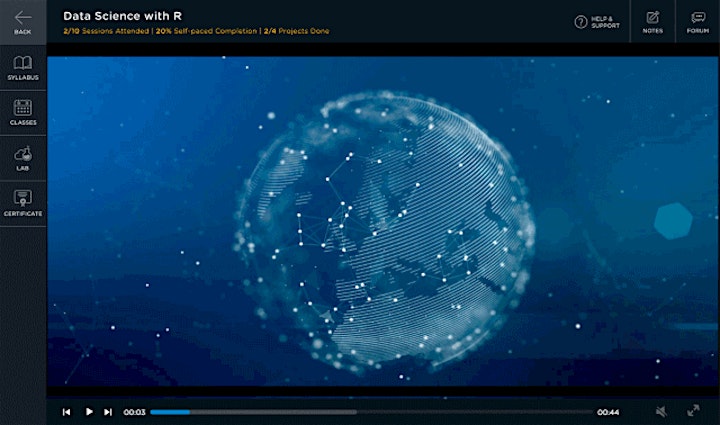 Structured Learning Path
All live Courses, Self Study and Projects are Planned in Sequence to ensure you are taking the course in the correct order and building up your skillset.