القيادة التنفيذية في القطاعين الخاص و العام بعد جائحة الكورونا
لقد تم تصميم ورشة العمل هذه خلال ثلاثة أيام لتقديم مجموعة متنوعة من وجهات النظر حول القيادة التنفيذية في القطاعين العام والخاص
About this event
لقد تم تصميم ورشة العمل هذه خلال ثلاثة أيام لتقديم مجموعة متنوعة من وجهات النظر حول القيادة التنفيذية في القطاعين العام والخاص في فترة ما بعد جائحة الكورونا. حيث تهدف الورشة إلى تمكين القادة وصناع القرار من استخدام أساليب القيادة المناسبة لمنظماتهم في مرحلة ما بعد جائحة الكورونا. في نهاية ورشة العمل نأمل أن يكون المشاركين قادرين على اكتساب المعرفة الشاملة والخبرة العملية حول أساليب ومناهج القيادة استجابة لمختلف التحديات في فترة ما بعد جائحة الكورونا
This three-days workshop has been designed to introduce a variety of perspectives on leadership in the public and private sectors in the post Covid 19 era. The workshop aims to enable leaders and decision makers to introduce fit-for-purpose leadership styles and approaches to their organisations in the post Covid 19. At the end of the workshop attendees should be able to acquire a comprehensive knowledge and practical experience about leadership styles and approaches in response to the various challenges in the post Covid 19 era.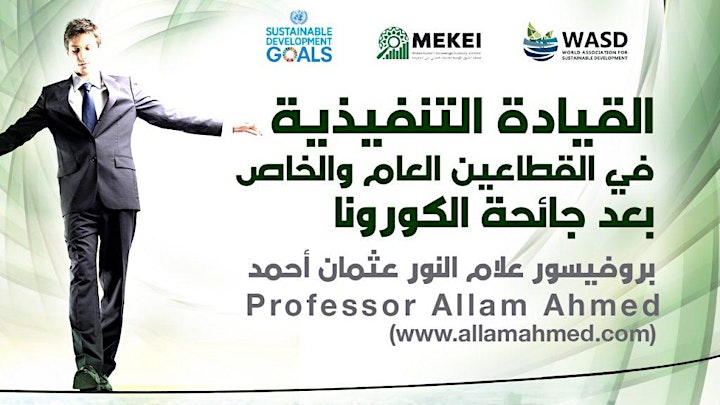 Date and time
Location
Refund policy
Organiser of القيادة التنفيذية في القطاعين الخاص و العام بعد جائحة الكورونا
The World Association for Sustainable Development (WASD) is a global forum that brings together experts from across the world to discuss issues relating to sustainable development, science and technology management. The aim of WASD is to promote the exchange of knowledge, experience, information and ideas among academics, scholars, professionals, policy makers, industry and students to improve the mutual understanding of the roles of science and technology in achieving sustainable development all over the world.