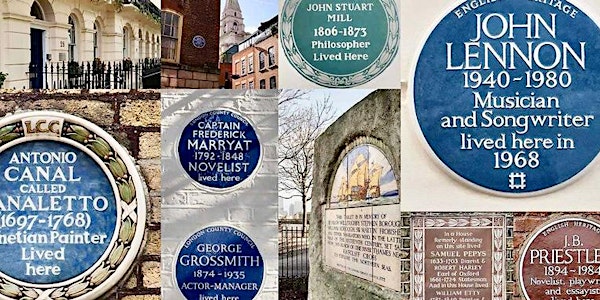 Виртуальная прогулка: "Все о лондонских мемориальных досках"
Refund policy
Contact the organiser to request a refund.
Eventbrite's fee is nonrefundable.
Дорогие друзья! Я приглашаю вас на виртуальную прогулку "Память Лондона: все о лондонских мемориальных досках".
About this event
Мемориальные доски есть в любом уважающем себя городе. Лондон был одним из первых, осознавшим необходимость в них. Лондонские доски, напоминающие о знаменитых людях и событиях как правило, но не только, круглые, синего цвета с белыми надписями. И синетабличный пантеон под открытым небом британской столицы доставит радость как любителю долгих прогулок, так и деловому человеку, спешащему на работу. По словам актера и писателя Стивена Фрая, эти городские памятки также делают сносным стояние в дорожных пробках.
А кто же из знаменитых и где в Лондоне жил? Правильный ответ вот какой: тот, кто в Лондоне не жил постоянно или временно, вряд ли войдет в историю человечества. Тут бывали долго или проездом Юлий Цезарь и Альберт Эйнштейн, Вольфганг Амадей Моцарт и Анна Павлова, Зигмунд Фрейд, Майкл Фарадей, Александр Герцен, Чарльз Диккенс, Агата Кристи, Уильям Шекспир, Карл Маркс и Исаак Ньютон. Это лишь самое-самое начало списка, крошечная верхушка необъятного айсберга. Более того: часто мемориальная доска дает возможность узнать о неизвестном ранее человеке или событии, которые тем не менее оказали большое влияние на историю, культуру или образ жизни людей.
Время проведения 6 июля 2021:
18:00 по Лондону;
19:00 по Парижу
20:00 по Москве, Киеву и Тель Авиву;
13:00 по Нью-Йорку.
Наш виртуальный тур продлится примерно один час.
Вы можете посмотреть, как организованы мои виртуальные туры, следуя по сноске:
https://youtu.be/nkCEKfqfdHs
Присоединяйтесь!