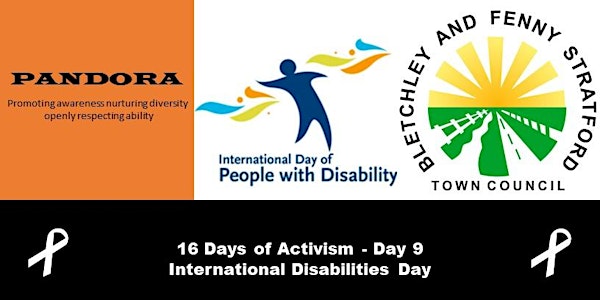 16 Days of Activism - Day 9 - Disability & Domestic Violence
On International Day of People with Disability, this meeting will discuss 'Toxic Connections between Disability and Domestic Violence'
About this event
Amanda is a disability /diversity activist/campaigner/ public speaker, writer, blogger, trainer, passionate believer in inclusion and an advocate for social justice which is at the core of her business model as a director of Pandora Inc CIC. She is also proud to be a town councillor in Bletchley and Fenny Stratford where she is spearheading the campaign for the Town Council to become White Ribbon accredited.
This workshop will focus on the unique position disabled women find themselves in in relation to any discussion on domestic violence.
This event is part of a programme organised by PANDORA, Bletchley & Fenny Stratford Town Council and Voices of Women MK, to highlight the UN's International Day For The Elimination Of Violence Against Women, starting on 25th November.
Find out more about the day here https://www.un.org/en/observances/ending-violence-against-women-day
It also highlights the work of White Ribbon UK, a leading charity engaging with men and boys to end violence against women. They encourage all men to wear a White Ribbon, and make the Promise to never commit, excuse or remain silent about violence against women. They specifically ask men to make the Promise, however anyone over the age of 14 can take it.
Organiser of 16 Days of Activism - Day 9 - Disability & Domestic Violence