Event Information
Location
The Night Owl
5 Station Place
Finsbury Park
London
N4 2DJ
United Kingdom
An evening of LIVE music, Open Mic Sessions & Guest appearances. All focused on the curation of S.O.U.L. (Sounds of Universal Love)
About this event
We at iLive UK & Independent Hype are pleased to announce our forthcoming event.
THE SOULFEST LOUNGE UK (Open Mic Sessions #7)
being held at 'The Night Owl' in Finsbury Park, London N4 2DH on Wednesday 16th March 2022.
Doors Open from 8pm and finishes at 12am.
Join us to hear & see some of the most inspiring upcoming multi genre independent & spoken word artists rock the mic; and of course if YOU feel you have what it takes, you are welcome to bless the mic too.
LIVE Music supplied by our Soulfest Lounge UK Band which comprises some of UK's leading musicians alongside our Soulfest UK song leaders.
Open Mic Artists have the option to pick a song from our extensive song list or pre submit a track to perform with the band, and/or use their own musical instrument.
Our resident DJ Dukez will be spinning those essential sounds to make you move.
This is an event focused on the curation of S.O.U.L (Sounds Of Universal Love) for like minded musicians, producers, singers, spoken word artists and those who appreciate & love the art of music, to come together, network and change the way WE listen to music.
TICKETS for this event are £10:00 and more on the door.
You can visit our website for more information about this event www.iLiveUK.com
We also invite you to sign up and join our Soulfest Lounge UK membership.
Our exclusive Soulfest Lounge UK membership offers many benefits and discounts in relation to our Soulfest Lounge & affiliated events. Once more you'll be ahead of the rest when it comes to all of our updates and promotional offers.
We urge our audience to participate by given positive feedback, words of encouragement and/or any advice by filling out our feedback slips available on the night.
____________________________________________________________
You can book your time slot in advance via email: music@iliveuk.com to guarantee a chance to perform. We also have every other slot for walk in's so get in early to guarantee a slot.
HOUSE RULES
1. Your slot is 5/8 mins. This includes set up and set down so keep it simple.
2. Cheer everyone on...it's just polite
3. Have fun & share with others
We look forward to your company in The Soulfest Lounge UK.
#soulfestloungeuk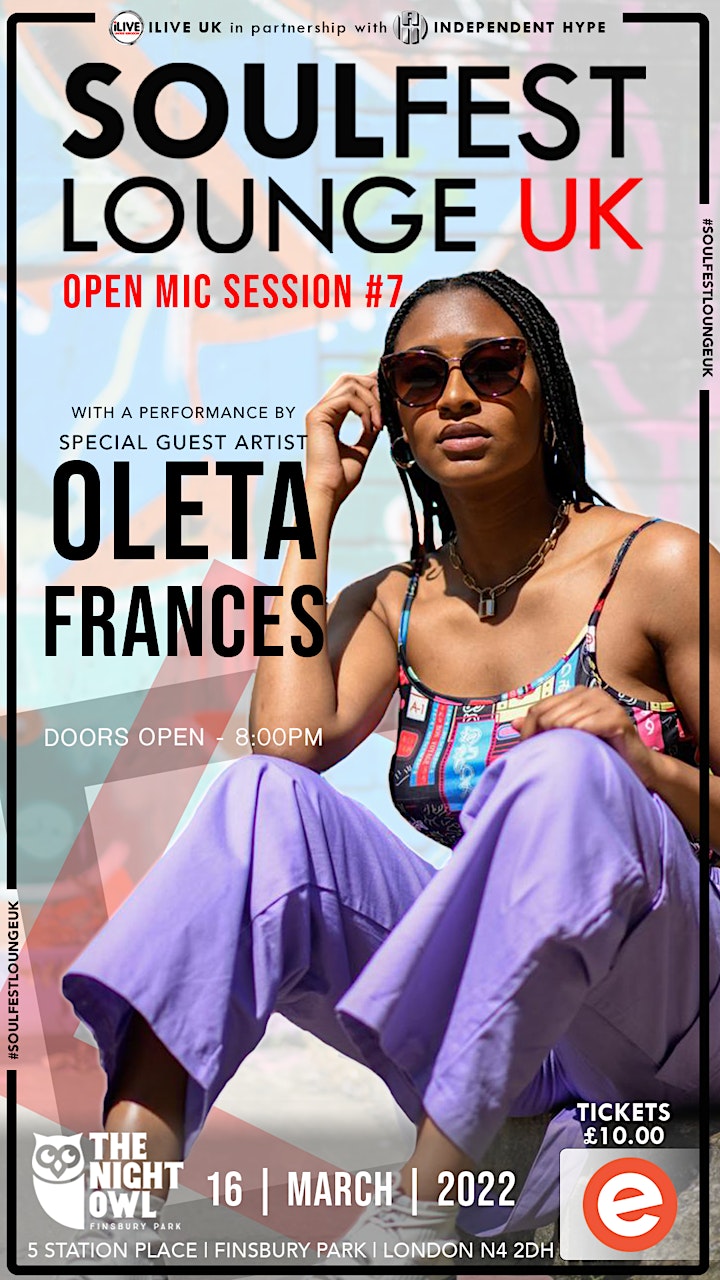 Location
The Night Owl
5 Station Place
Finsbury Park
London
N4 2DJ
United Kingdom