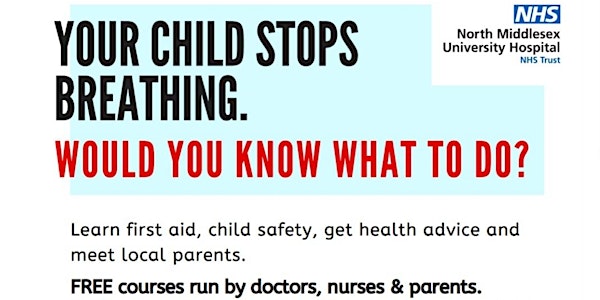 Would you know what to do? Free Child Health & Lifesaving Courses
Event Information
Location
See listing for venues
Enfield/Haringey venues
London
-
United Kingdom
Would you know what to do if YOUR CHILD STOPS BREATHING? Learn child/baby emergencies, CPR, various health problems and reliable resources.
About this event
COURSE DATES FOR PARENTS/CARERS WITH CHILDREN UNDER 6 MONTHS AND OVER 6 MONTHS AND IF YOU ARE PREGNANT:
Time: 09:45 - 13:00
6 months plus
Tuesday 7th & Friday 10th June in Haringey at Chestnuts Community Centre
Tuesday 5th & Thursday 7th July - Enfield
Tuesday 9th & Thursday 11th August - Haringey
Tuesday 6th & Friday 9th September - Enfield
Pregnant and 0-6 months
Tuesday 14th & Thursday 16th June - Enfield
Tuesday 21st & Thursday 23rd June - Haringey
Tuesday 28th & Thursday 30th June - Enfield
Thursday 14th & Saturday 16th July - Enfield
Tuesday 19th & Thursday 21st July - Enfield
Tuesday 26th & Friday 29th July - Haringey
Tuesday 2nd & Friday 5th August - Enfield
Tuesday 13th & Friday 16th September - Haringey
Monday 19th & Thursday 22nd September - Enfield
Tuesday 27th & Thursday 29th September - Haringey
Enfield address: Community House 311 Fore Street, Edmonton, N9 0PZ
Haringey address: Chestnuts Community Centre, 280 St Ann's Rd, N15 5B for 7th & 10th only
___________
WHAT TO EXPECT AT OUR 2-PART COURSES:
Day 1
• What to do if your child is choking
• Fever, colds, is this sepsis?
• Vaccinations
• Reliable resources for help and advice. When should you call 111, go to the pharmacy, your GP, Urgent Care Centre or A&E.
Day 2
• Baby & child resuscitation skills and CPR practice
• Injuries and accident prevention
• Head injuries and burns
• Allergies and anaphylaxis
• Safe-sleeping for babies
• Local resources for those with financial difficulties, housing issues, feeling isolated in the community, mental health difficulties - where to get help and advice
• Finally and most importantly, your chance to ask any other concerns you might have.
__________________________________________
NEW PARENTS/CARERS PROGRAMME
This New Parents' programme gives parents and carers the opportunity to join our peer support groups with our wonderful team of Child Health Champions.
As a result of this awful pandemic, many new parents have really suffered. ABC Parents is about supporting parents to feel more confident, to improve mental health, offer free wellbeing activities, share resources and ultimately, help each other as parents, to achieve a better community. "It takes a village to raise a child!"
__________________________________________________
WHO WE ARE:
We are a team of paediatric doctors, nurses, healthcare assistants and resuscitation officers who volunteer to help the local community. We aim to improve PARENTS' KNOWLEDGE and CONFIDENCE when faced with minor and serious childhood problems. These TWO-DAY courses are for parents in Haringey and Enfield to learn important lifesaving skills for their children.
WHY WE DO THIS:
Our parents in A&E have told us how scary it is when their child is unwell and that they wish they knew what to do and when. These friendly, relaxed and interactive sessions aim to help empower you to cope with accidents and emergencies. We encourage parents to share their anxieties and together with our resuscitation officers, paediatric team and volunteer parents, we all share our knowledge and helpful resources. We later invite parents to join our ABC Parents support group to meet other local parents, share healthy living tips, arrange events and grow in confidence.
WHO CAN ATTEND:
The course is open to parents, carers, expectant mums and dads, grandparents or anyone who carers for a child in Enfield or Haringey [ONLY AVAILABLE TO LOCAL PARENTS]. Parents can bring babies; especially if still breastfeeding.
Twitter @abc_parents for clips from our recent courses. https://twitter.com/abc_parents/status/1409288464160497668?s=20
Click here to see highlights from our very first event in April 2019 and some parent feedback: https://spark.adobe.com/page/cTYvZFoyt0b1e/
Do you have any questions? Do you want to get involved in ABC Parents? Are you keen to become a parent champion or want to know more about local voluntary work? We want to help deliver training in other languages if you would like to get involved we would love your help and ideas.
Please email us at northmid.abcparents@nhs.net
We look forward to meeting you.
Best wishes from,
North Middlesex Hospital's Paediatric Community Outreach Team
ABC Parents (Enfield & Haringey) "Achieving a Better Community of Parents"
Enfield Training Hub, North Central London Clinical Commissioning Group and Public Health Haringey.
ABC Parents - Child Health Programme & Peer Support Recommendation Form
For parents with a child less than 1 year or pregnant living in Enfield or Haringey.
Please go to this link:
https://forms.office.com/r/LMS3AYR2SA
You can recommend and refer parents/carers to us by completing this confidential form. They will be contacted by a member of our ABC Parents team to invite them to a course.
Also please complete the form if the parent/carer does not speak English and we will try to reach out to offer support to them.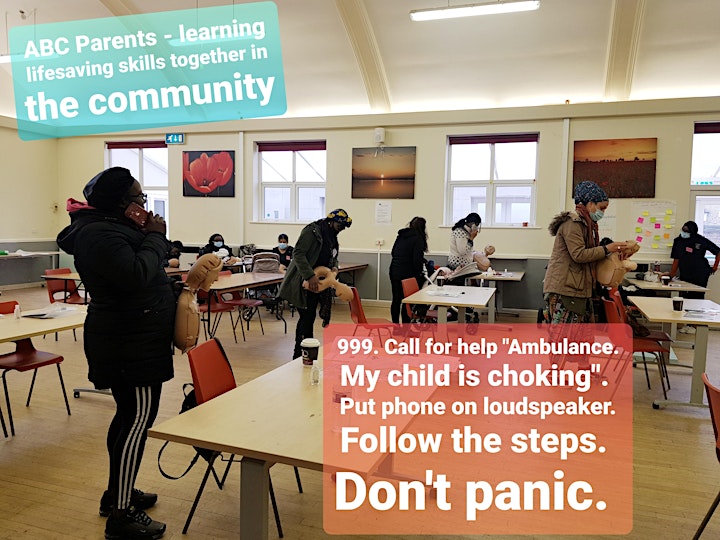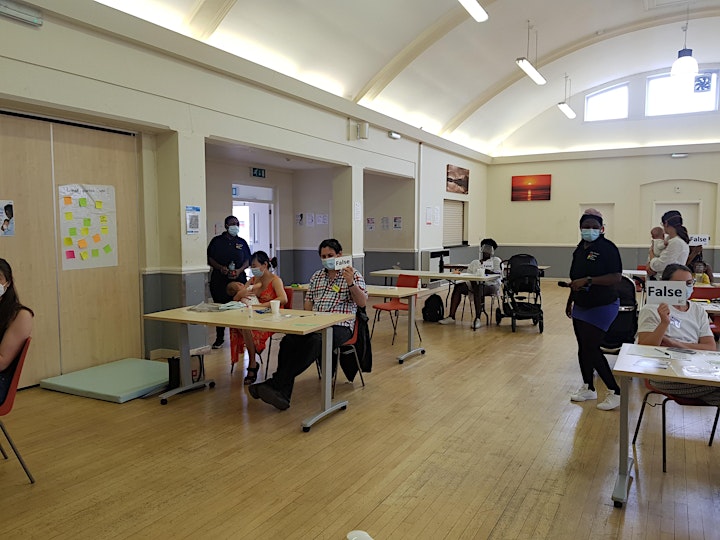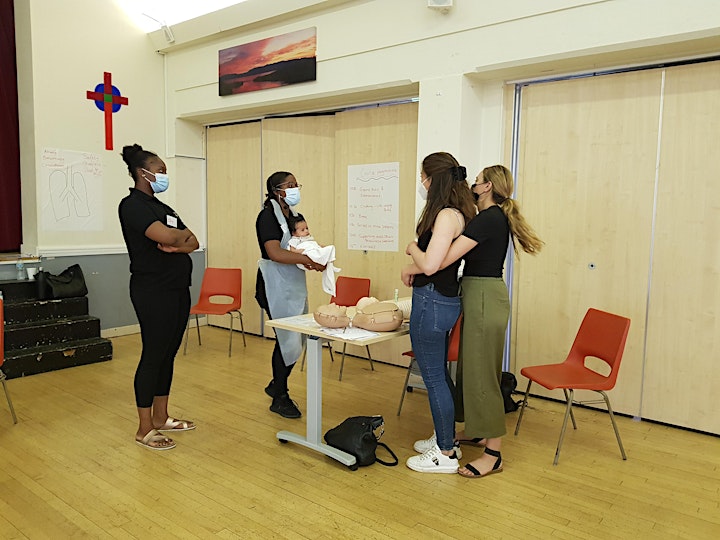 Frequently asked questions:
Can I bring children with me?
Yes. If you need help with childcare please email us to arrange help. We are able to offer the creche at some sites but not all. Please email us to discuss your needs.
Babies under 12 months who are breast/bottle-fed and where childcare cannot be arranged will all be accommodated. We would like to minimise the use of the public facilities due to covid-19 baby changing will be available - we simply ask you to follow strict hygiene, wear face masks and socially distance at all times.
Please register AND email northmid.abcparents@nhs.net to make it clear if you need the creche as strict ratios must be followed.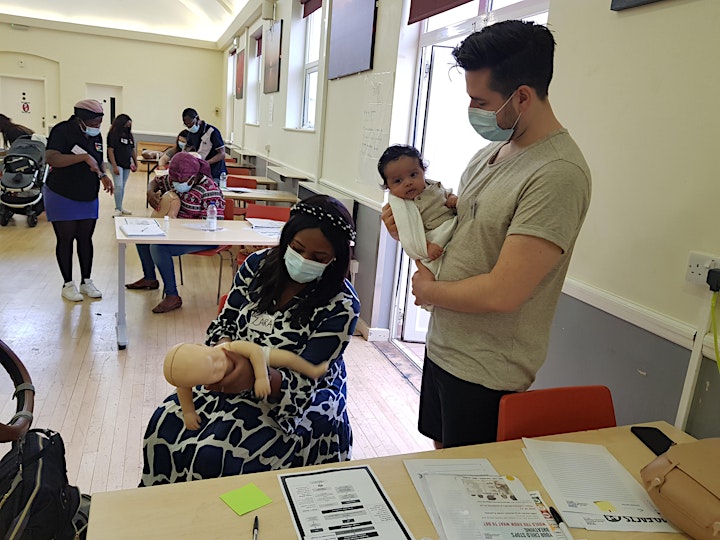 Are these courses free?
Yes. These courses are FREE so that everyone can take part regardless of their income. Funding has been made possible by the Enfield Training Hub, North Central London Clinical Commissioning Group and Public Health Haringey. We are very grateful for their ongoing support for our community outreach work.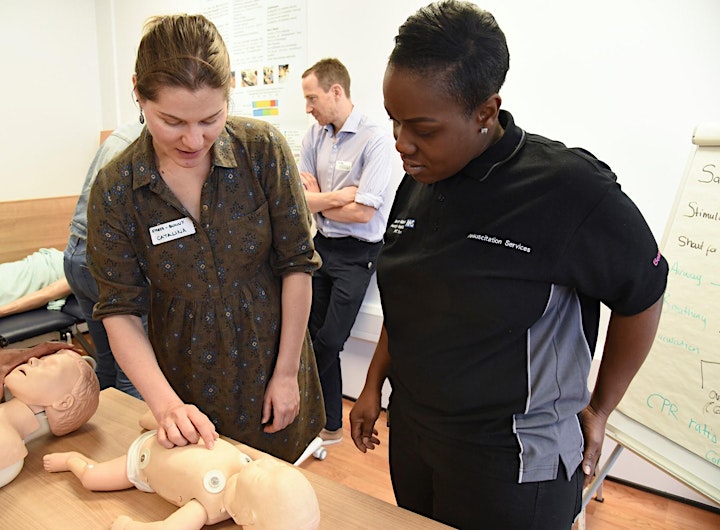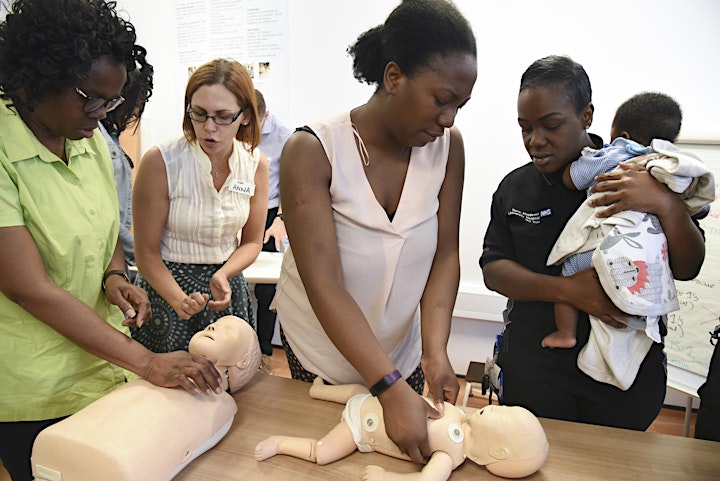 Do we get certificates?
Yes. This course is aimed to improve parents' confidence to care for their own children and other children in an informal setting. There is no exam or formal test so this course does not meet employer requirements. Following completion of both dates, everyone will receive a certificate of attendance and go home knowing how to confidently get help and manage an unwell child.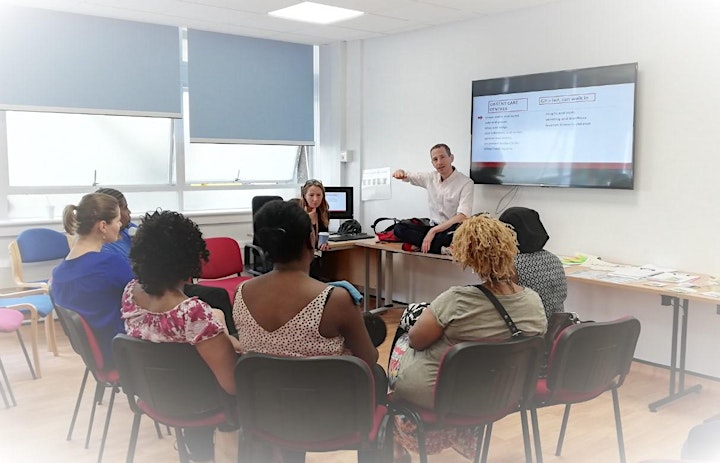 Will you serve food & drinks?
Due to COVID restrictions only light refreshments will be provided - teas, coffees, juice, fruit and light snacks.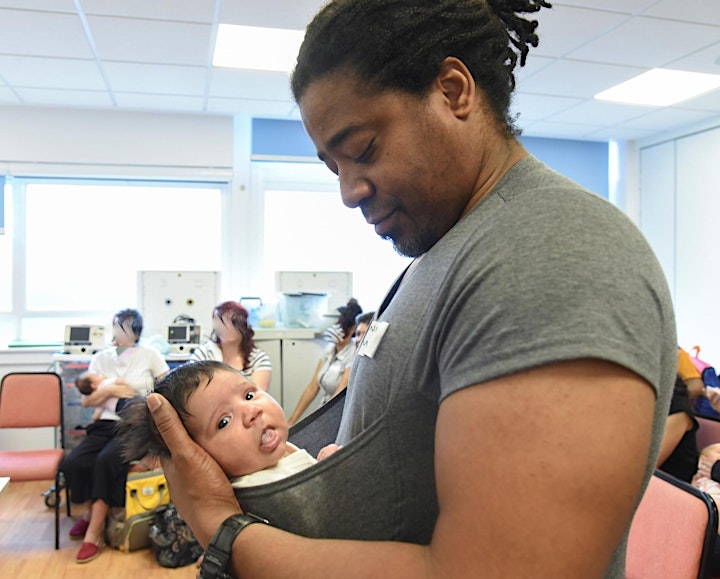 How can I get more involved?
We are thrilled to have met many caring and proactive parents/carers. This course was developed after speaking to local parents visiting our A&E. We want this to continue to be free so we are keen for parent champions and other professionals to help us to develop this community work. Please email northmid.abcparents@nhs.net with any queries, ideas or offers to support us. We thank you in advance.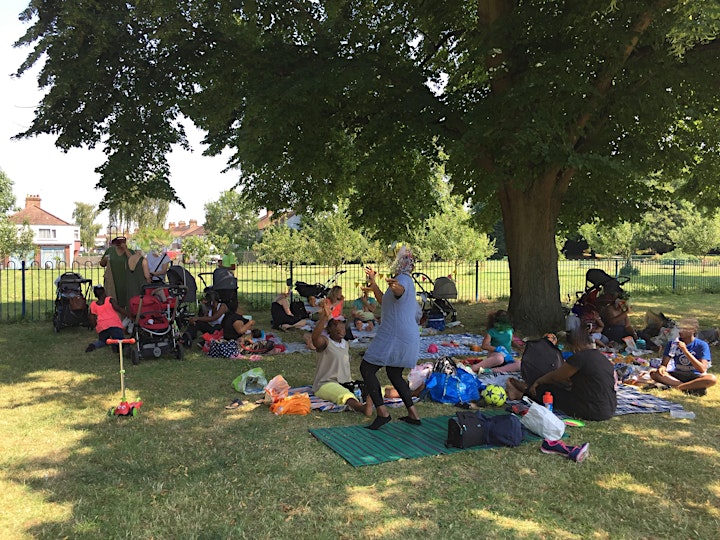 How will your information be used?
Your registration information will be used to send information about these Child Health and Lifesaving courses. We will also email you resources to support you and your family. To keep these courses free and improve what we do, we review anonymously information you provide to ensure we are reaching parents/carers from across our diverse community and evaluate the effectiveness of our training. If you have any questions, please ask at the training session.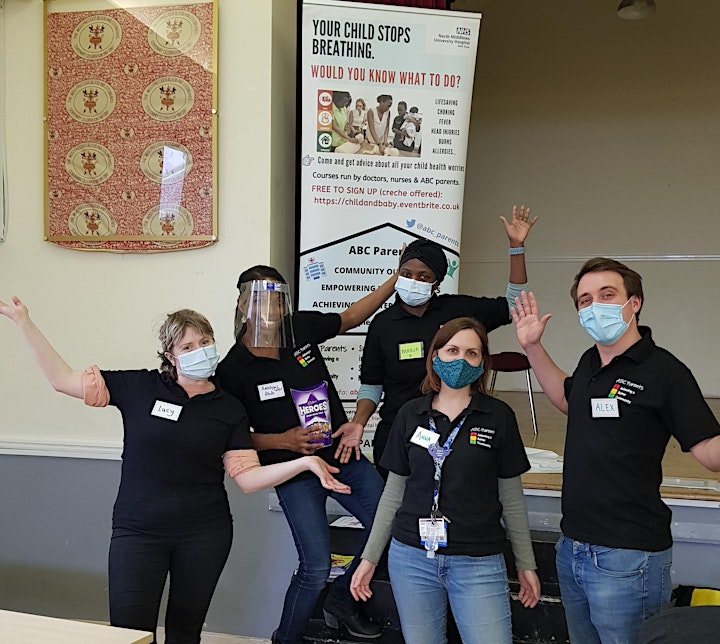 Thanks very much for your interest.
Any questions please email northmid.abcparents@nhs.net
Location
See listing for venues
Enfield/Haringey venues
London
-
United Kingdom