19th Education Day in Paediatric Anaesthesia
About this Event
"FROM BIG DATA TO THE LITTLE PATIENT"
19th Nov 2019, The Great Hall, St Bartholomew's Hospital, London.
We are pleased to invite you to our 19th Postgraduate Education Day in Paediatric Anaesthesia. This year we are looking at the big picture of large data collaborations and cohort studies and seeing how they relate to the safety of the patients we see every day in our operating theatres.
Internationally renowned speakers including Prof. Walid Habre (Geneva), Dr Dean Kurth (Philadelphia), Dr Paul Stricker (Philadelphia), Dr Jurgen De Graaf (Rotterdam), Prof. Tim Cook (Bath), Dr Anna Varughese (Baltimore), Dr Megha Karkera Kanjia (Houston) and Dr David Buck (Cincinnati) will be lecturing, discussing and debating on the challenges and opportunities of big data in paediatric anaesthesia.
Sessions include:
"Fruit Pic-Nic" - an introduction to "Big Data" and a review of the state of play with the recent fruit-named projects in the UK.
"Making the Message International" - an introduction to "Wake Up Safe" and international collaboration.
"Blood Management in Paediatric Surgery and Trauma" - lessons from the North American Cranio-Facial registry and trauma resource management.
In addition, a break out session available to up to 20 delegates will examine
"How to use Wake Up Safe as a QI tool"
The day will end with a debate - "When looking for excellence in paediatric anaesthesia, lessons from big data will trump experience", and a Q&A session with our guest speakers.
It promises to be a thought-provoking and enjoyable day for anyone with an interest in the future of paediatric anaesthesia and we look forward to welcoming you at our November meeting.
FACEBOOK LINK
If you are interested in attending the breakout QI session please register for the meeting through eventbrite, and additionally email Dr Lionel Davis at Lionel.Davis1@nhs.net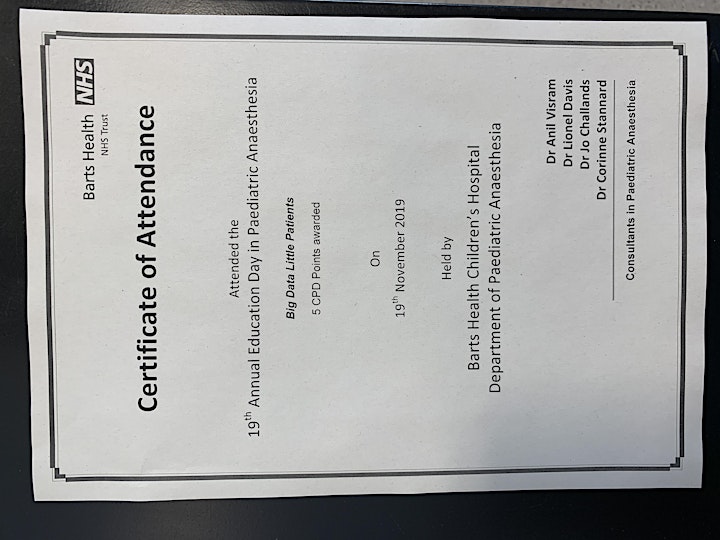 This is your CPD certificate