Recognizing, Celebrating and Promoting quality in Christian authorship in East Africa
About this event
African Christian Authors Book Award program recognizes and promotes quality in Christian authorship in East Africa. Presented annually to Christian authors, the Award program celebrates the "best of the year" in 10 categories. Five finalists are chosen in each category unless there is a tie. The Winner in each category is announced and awarded at African Christian Authors Gala held at CLC Kenya's Family Reading Picnic each year.
In addition, the following titles are chosen:1. African Christian Authors Content of the Year to represent the year's best book for its literary merit
2. African Christian Authors Book Cover of the Year to represent the year's best book cover for its design merit
3. African Christian Authors Book Program of the Year to represent the year's best book for its extraordinary impact.
4. African Christian Publishers Pick.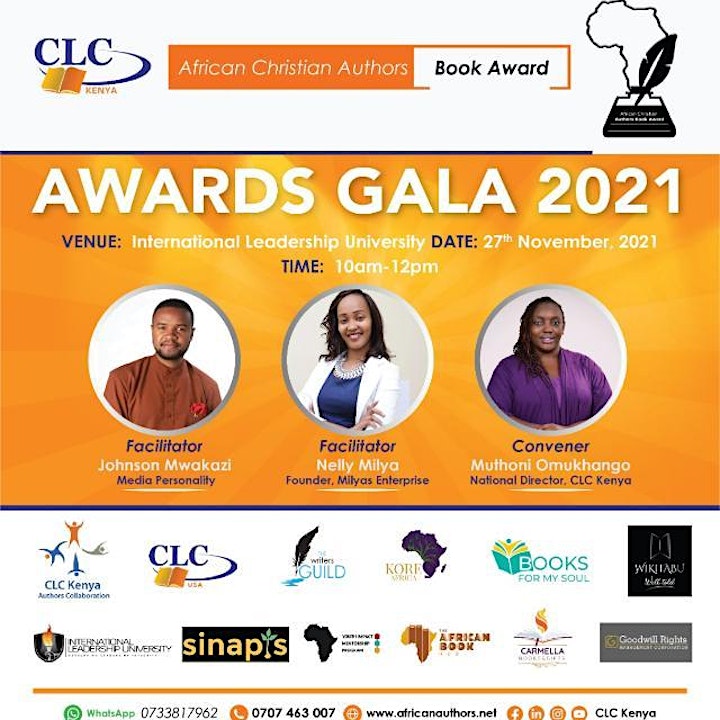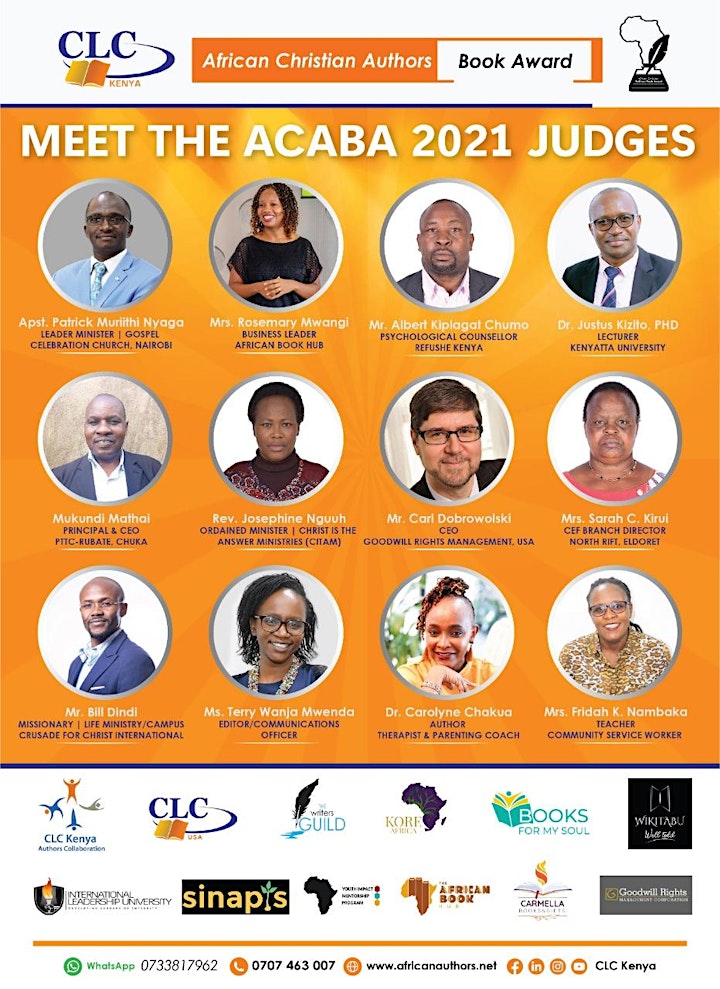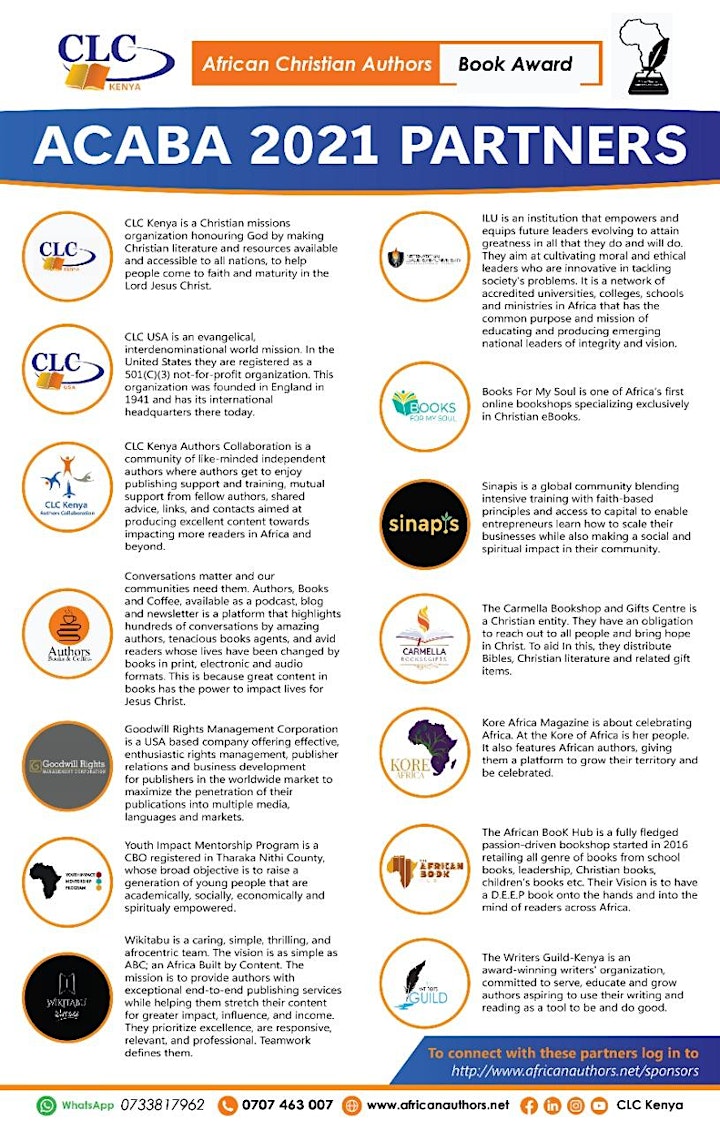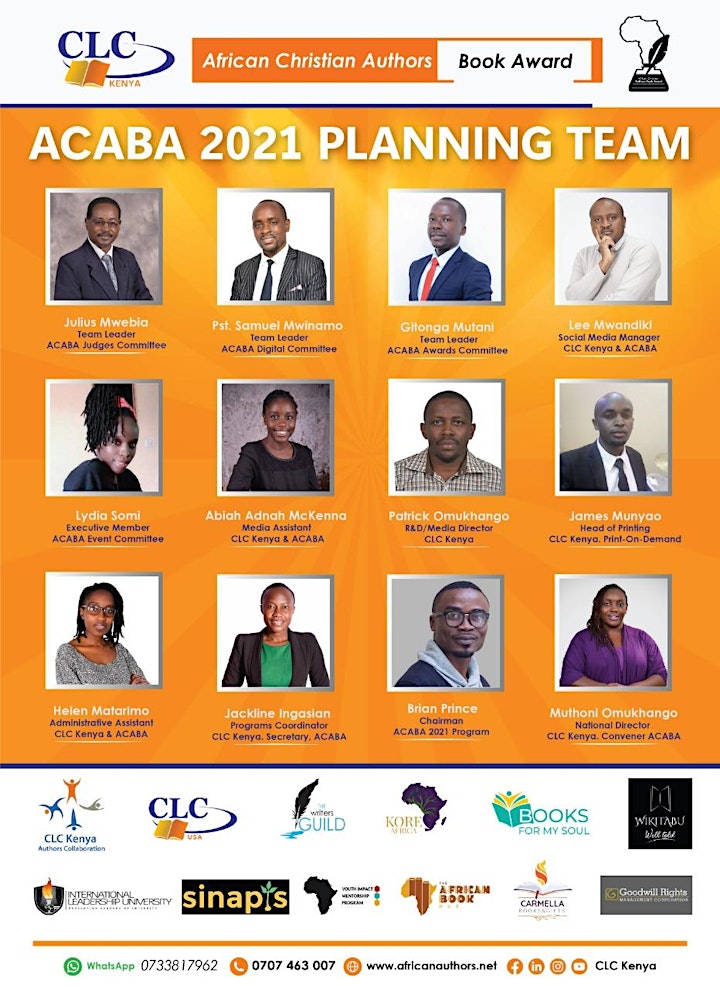 Organizer of 1st African Christian Authors Book Awards Gala
CLC is an International Mission Organization. Its origins date back to the establishment of a Christian bookshop in Colchester England in 1941 by Ken & Bessie Adams. Today, CLC is spread in about 50 countries in the world, with its International headquarters in England.
CLC-Kenya (registered as CLC Christian Book Link Kenya) is a non-profit began in 2007 as a wholesale distribution in Nairobi, with a view of reaching out to the unreached. In 2015, CLC Kenya started a publishing house and the revolutionary Print-On-Demand system to encourage local content by Africans for Africa and beyond. Four years down the line, we have served over 100 authors with over 300 titles.
CLC Kenya also partners with international publishers and missionary organizations to get relevant content to Kenya and Africa as well as improve publishing in the continent. The partners include Oasis International Ltd, USA. CLC USA. Leadership Development Partnership, UK. Baker House Publishing Group, USA. Goodwill Rights Management, USA. Sparklit, Australia. Tyndale House Publishers, USA. Kenya Church Plant, USA. The Gospel Coalition, USA. Wave In Action, USA. Media Associates International, USA. 
Our mission statement of purpose is "to make Christian literature available to all nations, so that people may come to faith and maturity in the Lord Jesus Christ." 
OUR SERVICES INCLUDE:
1. Bookshops (Wholesale, Retail)
2. Publishing House
3. Facilitation of Self-Publishing
4. Authors Support
5. Print-On-Demand
6. Missions Work
7. Book Programs
8. The Africa Study Bible