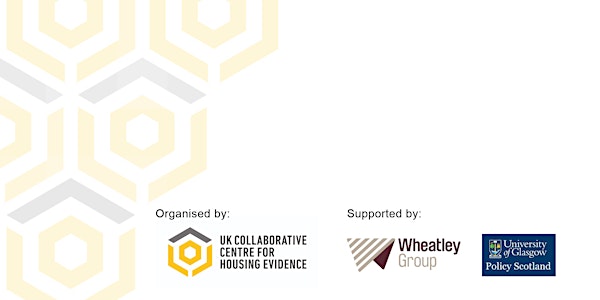 1st Annual Scottish Housing Policy Conference 2018
Location
Wheatley Academy
150 Ingram Street
Glasgow
G1 1DW
United Kingdom
Description
1st Annual Scottish Housing Policy Conference 2018: Scotland and the new private rented sector
The PRS is experiencing unprecedented growth in Scotland and elsewhere in the U.K. This is partly down to problems in the rest of the housing system but is undoubtedly due to opportunities being grasped by new investors large and small. The sector remains massively controversial and faces many problems and challenges as well as key opportunities for potential benefit to households and the economy.
Recent policy change in Scotland has included: mandatory security deposit schemes, landlord registration and the Private Housing (Tenancies) (Scotland) Act 2016 (the latter reducing grounds for ending the tenancy, creating a more open-ended tenancy, and local rent pressure zones which could in time limit rent increases), which was enacted in December 2017.
This conference is timed to reflect important new tenancy and regulatory legislation in Scotland and seeks to wrestle with these key housing policy questions. We will explore the new tenancies, placing Scotland within a wider comparative context. In parallel, we will explore the evidence needs for monitoring change in the private rented sector; the Rental Income Guarantee Scheme (RIGS) and the role of Build to Rent in Scotland; the implications of mid-market rents investment; and the regulation of short-term lets.
The conference is organised by the UK Collaborative Centre for Housing Evidence (CaCHE) and supported by Policy Scotland and Wheatley Group.
This event is intended for housing professionals and practitioners, policymakers, academics and students, landlords, and tenants.


Confirmed speakers:
Kevin Stewart MSP is an SNP politician and Minister for Local Government and Housing. He has been the MSP for Aberdeen Central since 2011.

Professor Ken Gibb is a professor in Urban Studies at the University of Glasgow and Director of the CaCHE. For four years, prior to taking up the role in CaCHE) Ken was the first director of Policy Scotland, and also co-director of What Works Scotland. Ken's research interests are focused on the economic, financial and policy dimensions of housing.

Tom Barclay is Executive Director of Property for the Wheatley Group and co-chair of the Joint Housing Policy Delivery Group. Prior to joining the Wheatley Group, Tom worked for Clyde Valley Group, Lanarkshire's largest affordable housing developer, where he was chief executive for 11 years.

Professor Christine Whitehead is Emeritus Professor of Housing Economics at the London School of Economics. The role of private renting in England and in European Housing systems is a major theme in her recent research. Christine was also Director of the Cambridge Centre for Housing and Planning Research at the University of Cambridge from 1990 to 2010.

Professor Duncan Maclennan is an applied economist with interests in cities, neighbourhoods, infrastructure and housing. He is currently Professor of Public Policy at the University of Glasgow, Professor of Strategic Urban Management and Finance at the University of St Andrews and a Professorial Research Fellow in Urban Economics at the University of New South Wales, Sydney.

Professor Alasdair Rae is a Professorial Fellow at the University of Sheffield. He is an urban and regional analyst with extensive experience in the analysis and visualisation of large datasets. His recent work includes analysis of short-term lets data for Edinburgh.

Anna Evans is an expert in housing research, strategy and service development. She has over 20 years' experience working in the affordable housing sector across the UK. She has an applied economics and social research background, a postgraduate qualification in Housing Studies (Stirling) and MBA (University of Edinburgh). Previously, Anna led the affordable housing policy and research business as Associate Director at DTZ in Edinburgh. Prior to DTZ, she worked in local government, Scottish Homes and housing associations in a range of policy and development roles.


Please note that places at this event are limited.