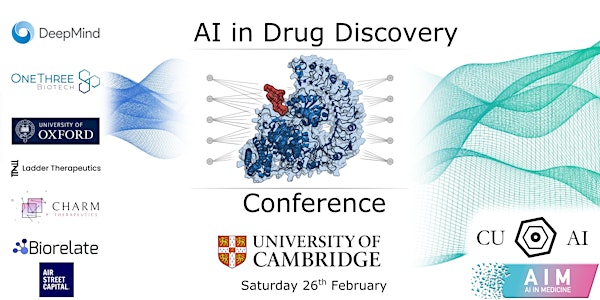 1st Cambridge AI in Drug Discovery Conference
Hear academics and industry specialists discuss the recent developments in the application of machine learning to drug discovery.
About this event
Join us on Saturday 26th February for a day filled with guest speaker talks & panel discussions about how artificial intelligence is changing drug discovery. We'll be hearing from scientists Founders and CEOs alike to hear both about the technical and commercial side of this new and exciting industry. There will also be opportunities for networking too! Please note that this is a virtual event.
Confirmed speakers:
Prof Michael Bronstein: DeepMind Professor of AI @ Oxford, Head of Graph ML @ Twitter, Scientific Advisor @ Relation Therapeutics
Prof Andreas Bender: Professor for Molecular Informatics @ Cambridge, CTO/Co-founder @ Terra Lumina
Prof Andres Floto: Co-director @ Cambridge Centre for AI in Medicine, Director @ UK Cystic Fibrosis Innovation Hub, Professor of Respiratory Biology @ Cambridge
Dr Petar Veličković: Staff Research Scientist @ DeepMind, Affiliated Lecturer @ Cambridge
Dr Neel Madhukar: CEO/Founder @ OneThree Biotech
Dr Daniel Jamieson FRSB: CEO/Founder @ Biorelate
Dr Rabia Khan: CEO/Founder @ LadderTx
Additional panellists:
Prof Sir Tom Blundell: Sir William Dunn Professor of Biochemistry and Chairman of the Council of Biological Sciences @ Cambridge
Dr Nathan Benaich: Founder and General Partner @ AirStreet Capital, Co-auothor of State of AI report
Laksh Aithani: CEO/Founder @ CHARMTx