About this Event
1ST JUMMAH - The doors will be OPENED at 12:00pm and will be CLOSED at 12:35pm. You will NOT be permitted entry after 12:35pm, even if you have a valid ticket. The Jummah Salaah will start at 12:40pm and we aim for it to be completed within 10 minutes.
DISCLAIMER: We reserve the right to cancel your registration, if you do not arrive minimum 10 minutes before Jummah Salah time.
⛔ LOCKDOWN - TIER 5 RULES APPLY ⛔ You can attend places of worship. However, you must not mingle with anyone outside of your household or support bubble and maintain strict 2 meter social distancing at all times.
HMC has limited facilities and time restrictions, following government guidelines. Hence, entry is strictly via online registration on weekly basis. If you need help, please see below.
ZERO TOLERANCE ENTRY REQUIREMENTS
Age Limit: 12-60
Do Wudu at home, no washing & Wudu facilities available
Your ticket - Instructions: Click Here
Bring your Prayer Mat & Carrier Bag
Have your Face Mask
OTHER IMPORTANT NOTES
Tickets are NON-TRANSFERABLE - In order to comply with track and trace, you must not offer your ticket to someone else. If you no longer require the ticket, please Cancel it
Please avoid making multiple bookings, only make one booking per person.
You MUST NOT attend if you or anyone in your family has a cold, flu or any other COVID-19 symptoms.
Please do not arrive before the door opening time stated on your ticket.
All visitors MUST adhere to the following safety guidelines: Click Here
If you are arriving in your vehicle, please park in allocated public car parks only, you MUST NOT block driveways or park on yellow lines and keep noise level to a minimum.
We regret not being able to accommodate sisters yet
GDPR NOTICE: Please let us know if you do not wish to be informed if someone from this scheduled Salah reports COVID-19 symptoms (Allah SWT forbid it)
HELP LINKS
How to Cancel your registration
Using the Eventbrite App (optional): iPhone | Android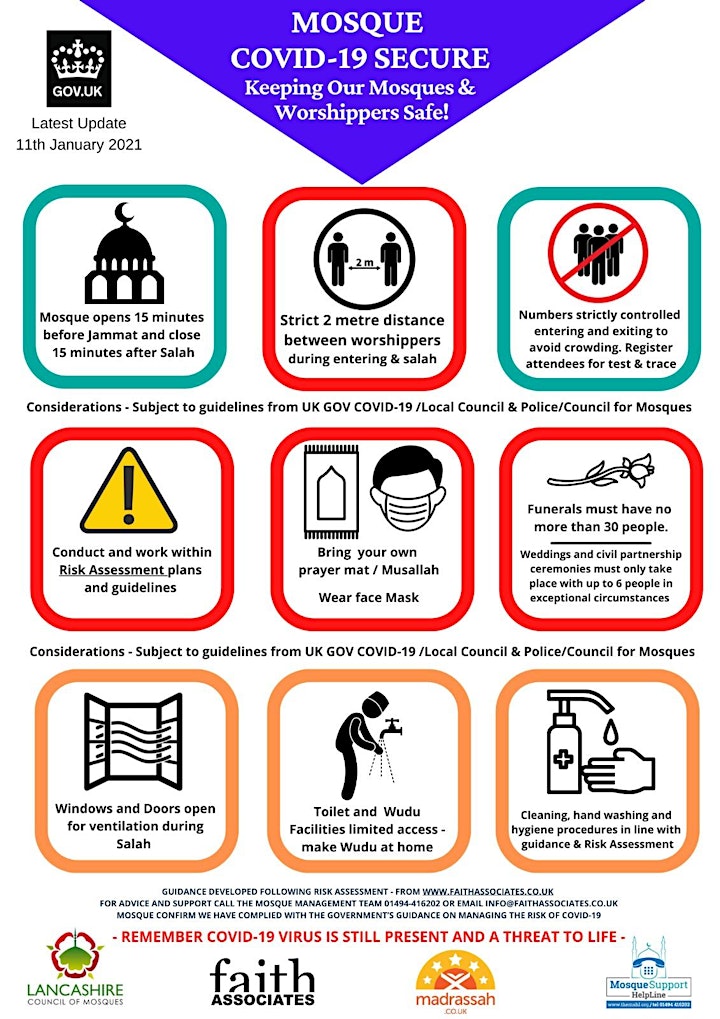 Please ignore the 1 meter distancing advice in the below video. The new requirement is now 2 meters.