1st Jumu'ah Prayer|1.15 PM|18th June 2021|English|Sheikh Saifullah Nasser
Friday - 1st Jumu'ah Prayer at Masjidun Noor (SLMCC-UK)
About this event
BOOKING CONDITIONS:
1. Gates will be open 15minutes prior to Khutbah
2. Ticket holders must attend before 1.15pm for 1st Jumu'ah Salah and 2.15pm for 2nd Jumu'ah Salah.
3. Please bring the QR Code sent through email (PDF file) when made your booking to be scanned at the gate (Printer or on Mobile)
COVID-19 GUIDELINE MEASURES : Medical Conditions:
Anyone with a pre-existing medical condition which makes them vulnerable to COVID-19, or anyone with 'flu-like symptoms must not enter.
Face Mask
Please ensure you wear your Face Mask throughout the Jumu'ah prayer.
Prayer Mat
Bring your own prayer mat.
Shoes
Bring a carrier bag for your shoes and keep your shoes with you.
Wudu & Toilet
There will be no wudhu or toilet facilities within the Masjid. All wet areas will be kept locked. Please come with Wudhu.
Ages:
Recommended age range is 12-65 years. Anyone over 65, who have been fully vaccinated (received both the doses) will be allowed to book as well.
Sunnah:
Pray Sunnah at home; not at the Masjid
Sisters:
Please pray at home as there is no facility at the moment
After Jumu'ah
Disperse immediately after Jumuah Salah, do not congregate outside the masjid.
If any member of the public does not adhere to these rules they will not be allowed access to the masjid and will be asked leave immediately.
We would like to thank the all the Musallees for supporting us during this difficult time. If you need more information or clarification, please do not hesitate to contact us.
Jazākumullāhu Khairan Management SLMCC(UK), Harrow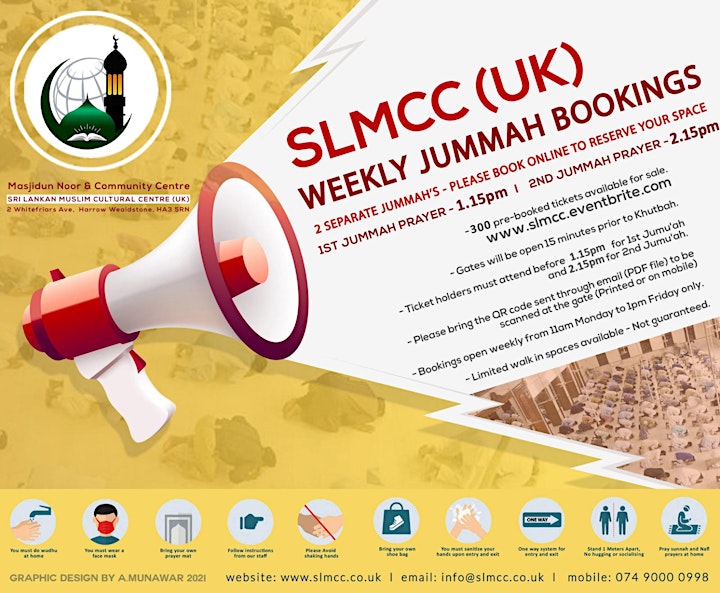 Organiser of 1st Jumu'ah Prayer|1.15 PM|18th June 2021|English|Sheikh Saifullah Nasser