Description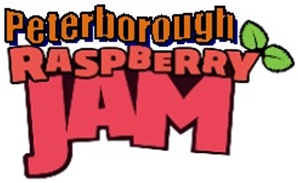 Afternoon Session 12pm - 4pm
Saturday 15th March 2014
UCP/Peterborough Regional College, Park Crescent, Peterborough, PE1 4DZ.
Interested in exploring what other people are doing with the Raspberry Pi, looking for project inspiration or help with your projects or just want to learn what Raspberry Pi is all about?
Come to Peterborough's own Raspberry Jam.
Everyone is welcome.
What is a Raspberry Jam?
Raspberry Jam is a rapidly growing global network of user groups that meet to support hobbyists, developers, teachers, students, children and families – in fact, anybody that would like to put their Raspberry Pi to good use.
This Event Registration is for the afternoon session. A separate event is being run for the programming workshops in the morning.
What's happening at this Jam?
This is the 1st Peterborough Jam we are organising and the 1

st

for 2014. We are hosting at the UCP building on the grounds of Peterborough regional College.

We're starting with a ticket allocation of 120 (Total Attendance) but if this is an oversubscribed event we can look to increase if all tickets sell quickly.

Other Jams provide a theme but as this is our first we can think of one for the next event and we are looking to give the local area in Peterborough a real taste of what is currently going on and provide some inspirational talks and discover on the day. We're hoping to introduce people to what they can do with their Raspberry Pi and inspire people to take things further.
The current programme (subject to change) includes the following:
The main point of this event is to allow time and place to network about the Raspberry Pi. You might have projects you want to discuss, ideas you've had, or simply want advice. In order to support and inspire you, the following will be taking place at the event:
A full timetable will be available by 24th Jan 2014.
Lightning Talks - Short (10 minutes maximum) talks on something related to Raspberry Pi. It could be projects, ideas or associated technologies and could be delivered by beginners or experts.
If want to deliver a lightning talk on a topic related to Raspberry Pi or associated technology or your experiences with their use then indicate this on the registration form.
Lecture Talks – (30 Minutes maximum) on current projects or developments by community members or distributors bringing new projects or developments to the community.
Raspberry Pi tutorial sessions - We are planning to run the following tutorial sessions (we may change these if they are not popular) at the event:
Setting up your Raspberry Pi including SD Card. Introduction to OS and connecting to Wi-Fi

Using Pico Board to control and interface with your Pi

Wireless Inventor Kit - Ciseco
If you have any ideas on what you would like to see then let us now and we can see if we can cater for it.
Please indicate on the registration form which sessions you would be interested in attending. This will allow us to plan for tutorial sessions where there is interest. Places can be booked for the sessions at the event.

If you are able to run (or help run) a tutorial session please contact me by email.
Demonstrations - There will be a range of demonstrations of Raspberry Pi related products and projects to give you ideas for your own projects and to demonstrate the potential of the Raspberry Pi.
If you have any Pi related projects you want to show off, come along and we'll provide you with a table to show off your work. If you can bring your own Raspberry Pi and display then please do so, if not let us know and we'll see what we can do.
Display Area -
Show-and-Tell Projects
Exhibitors TBC
Marketplace featuring the following vendors/exhibitors:
Emergent Value
The Raspberry Pi Guy
Some vendors are confirming their attendance... after late changes.
The market place is a great way for you to look and purchase extra gear and accessories for the PI, you might be surprised what's available and useful, that you never realised you needed.
How can I get involved?
There are several ways to get involved with a Peterborough Jam:
Be a presenter and share your knowledge and experiences.
Be a demonstrator and show off your project.
Come onboard the organisation team and have your say in the way we do things.
Be a Marshal and help the event to run smoothly.
If you would like to get involved in any of these ways, please contact me by email:Michael.Mills@peterborough.ac.uk
Organisers of this Jam
Michael Mills - Michael.Mills@peterborough.ac.uk
Email is the best way to get in touch with me if you have any questions!
Do you have questions about Peterborough Raspberry Jam - Afternoon session - 15th March?
Contact Mike Mills
Organiser of 1st Peterborough Raspberry Jam