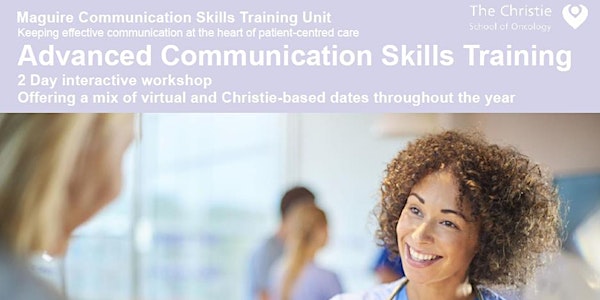 2 Day Advanced Communication Skills Training - 8-9 December 2022
Location
Online
-
-
-
M20 4BX
United Kingdom
This popular course provides an opportunity to discuss evidence-based communication skills and models
About this event
Course structure
Using a blended learning approach we offer SPIKES 'plus', an evidence-based consultation framework along with other key communication skills and behaviours and test these on real examples drawn from your practice, in a safe and supportive learning environment.
e-Learning (up to 90 minutes) evidence, skills, preparation
2 day experiential workshop application, practice and feedback
transfer to practice resources, reflection support
Key Topics
Update and refresh evidence-based skills and principles for effective communication
Discuss challenges such as breaking bad news, advanced care planning, handling anger or distress, difficult conversations with colleagues
Practice key skills and principles, receive constructive feedback and test out alternative strategies
Take away communication strategies that can be transferred to any interpersonal or professional context
ACST workshops are suitable for
Senior health and social care staff - Band 6 (NHS) equivalent and above
Cost: £779
Contact
Email the-christie.maguire.unit@nhs.net Call 0161 446 3773
Booking Terms & Conditions
Your place will only be confirmed when The Christie receives payment or the production of an official purchase order. Please DO NOT book a place unless you have approval from your manager AND confirmation that your trust are willing to pay your delegate fees.
Once your place is confirmed, you will be notified by email. Please ensure that we hold a valid email address and mobile contact number for you.
Payment must be made before the course commences. We reserve the right to cancel a booking in the case of non-receipt of payment.
Access to the eLearning will be sent via email three weeks before the 2-day workshop followed by full joining instructions for the 2-day facilitated workshop, one week in advance. In the event of non-completion of the eLearning component of the training, delegates will be unable to access the facilitated workshop and cancellation charges will apply.
Maguire cannot be held responsible for any failure of delegates' equipment or internet connection. We encourage you to take advantage of the opportunity for a test call prior to the workshop (contact the-christie.maguire.unit@nhs.net to arrange this).
In the event of a cancellation: A charge of 25% of the course fee will be made for cancellations up to 6 weeks prior to the workshop date; a charge of 50% of the course fee will be made between 4 and 6 weeks prior to the workshop; no refund will be given for cancellation within 4 weeks of the workshop; suitable replacement delegates will be accepted up to 5 working days prior to the course.
Click here to view the School of Oncology Privacy Policy