Description
Introduction
This two day programme provides delegates with the most up to date first aid protocols and skills necessary to confidently handle a range of injuries and potentially life-threatening situations.
This course is suitable for delegates who currently hold a First Aid at Work certificate that is nearing expiry and need to refresh their knowledge and achieve a valid certificate.
Course Content
• Assessing a casualty
• Unconciousness
• CPR (Cardio Pulmonary Resuscitation)
• Wounds and bleeding injuries to bones, muscles and joints
• Burns and scolds
• Eye injuries
• Shock
• Poisoning
• Administering first aid to casualties overcome by gas or fumes
• Recognising and treating illness
• Transportation of Casualties
• Client specific subjects including diabetes and epilepsy
• Updates in first aid protocols and procedures
Find out your legal requirement for first aiders, first aid kits and fire marshals with our simple tool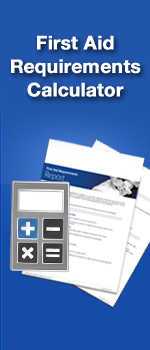 Follow EKC Professional Learning on...