Description
Introduction
This Paediatric First Aid course is ideal for individuals who work with or care for children. The course is designed to give each delegate a basic understannding of how to identify and handle paediatric illness and first aid emergencies.
This is a two day course. Delegates are required to attend both dates.
Course Content
Assessing the Situation and Circumstances
Recognising the symptoms of major illness and providing the apropriate first aid
Administering first aid to an unconcious casualty
Administering first aid to a choking casualty
Administering first aid to a wounded casualty
Administering first aid to a casualty with epilepsy, asthma and diabetes.
CPR
Shock including anaphylactic shock
Burns and Scolds
Muscular and Skeletal Injuries
Eye Injuries
Bites and Stings
The effects of Heat and Cold
Sudden Poisoning
Learning Outcomes
On completion of this course the participant will be able to deliver safe, prompt and effective first aid to children.
Find out your legal requirement for first aiders, first aid kits and fire marshals with our simple tool.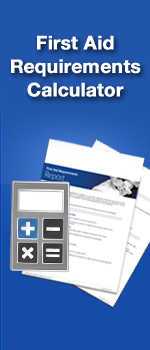 The College has a no refund policy. This does not affect your statutory rights to a refund within 14 days of purchase, ad before the course commences.
Please submit, in writing, any requests for refunds.
The College reserves the right to cancel courses at any time. Please see our Fees Policy for more information.