2 Don't Hold Back - Spiritual Awareness

Wednesday, 16 August 2017 from 20:00 to 21:30 (BST)
Event Details
Don't hold back - Spiritual Awareness
Keep Igniting Spiritual Sequences - Spiritual Development.
Jan is bringing you this opportunity in a group environment, in response to the numerous questions she is asked on her Live feed social media sessions.
To concentrate in one area, to enable you to think about your life to eventually bring in clarity.
So many people are looking for something?
Know they are guided, but are not sure.
Want to open up their spirituality and abilities.
Want to develop spiritual skills but not sure how
Life is full of co-incidences, sequences, dajavu and many other communication mediums... are you open to see yours?
We will discuss
Possibilites and guide you to make your choice
What is that inner knowing?
Why dont we react to possible change?
What blocks us?
What happens when we do move forward and accept?
Developing your spirituality
This webinar is to give an insight into "opening-up" spiritually. To give guidance on what you can do, what is out there for you, how to go about it and to give you the choice in your own decision making.
Is this right for me? The webinar is right for you to find out if you should develop your spiritual path more...
The webinar is free
It is for 90 minutes including 20/30 minutes for Q&A 
Links for further develpment will be given
Relax and Enjoy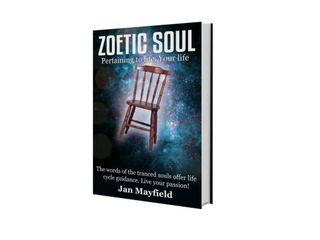 Jan 
Click on the book to be taken to Amazon for your copy
When & Where

online

birmingham
United Kingdom


Wednesday, 16 August 2017 from 20:00 to 21:30 (BST)
Add to my calendar
Organiser


Jan Mayfield is your host for this event.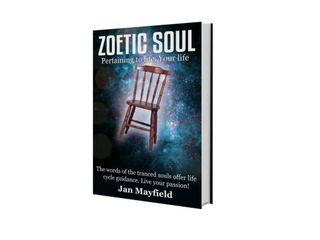 Direct connection to spirit, International number one  Author ZOETIC SOUL and recently nominated as one of the 5 top spiritual books of this year!
Dynamically creating change in thought processes, to enable your realisations of soulful passionate living.
Jan is also an intuitive worker and previously a full time education teacher. She now uses her teaching and intuitive skills to help people with their life path and purpose both in business and their personal life. 
Jan works as a psychic medium and relates to the universal energies for her connections to enable, clear, concise directions for you.
Jan hosts workshops, international reading sessions and numerous live feed video session on social media platforms. one to one 6 month coaching programs
Business platforms benefit from guidance and forward planning.
Personal journeys are show how thy could be advanced.
Jan works with integrity, sincerity, love and devotion to helping others.
create consistency and new habits to challenge and nurture your spiritual journey