Description
Purfleet to Chafford Hundred (All Saints Church) via High House Production Park
Sun 7th July 11.15 am - 6pm
Walk 2 of T100 Welcome to the Kitchen Table
Leaving St. Stephen's Church, we take a look at the Thames and the Royal Hotel. Then we search out the Butcher, the Baker and maybe the Candle-stick maker. We consider the local produce and its importance to the local economy through the ages. Let's not forget the Railway Station and the history of Digby's the village shop, now shut alas.
Passing by several terraces of workers' housing we arrive at High House Production Park, the home of Kinetika. We will spend a couple of hours at the Production Park for our picnic, tours of the site, creative activities and family entertainment courtesy of the High House Community Group*, and consider the cultural resurgence at one of Thurrock's most interesting locations.
In the afternoon we head for the Mardyke Way, stopping at Davy Down Pumping Station before moving on to our final destination, the Beacon Centre at Chafford Hundred, for early evening refreshments.
*We are pleased to be collaborating with the High House Community Group who are putting on a special, free, family day 11.00 a.m. - 4.00 p.m. at High House Production Park.
There will be a chance to meet Napoleonic soldiers, a medieval cures and potions tent, and other heritage re-enactors throughout the site. Guests can mingle with characters from the past and ask them about the time which they are from and gain a real understanding of the time and people living in them. Refreshments will be available throughout the day but rest assured that these will not be period themed!
Schedule
Meet: St Stephen's Church, London Rd, Purfleet RM19 1QD

11.15 am: Registration

11.30 am: Walk starts

1.00 – 2.30 pm Tour 1 of High House Production Park, shared picnic, creative activities and entertainment

2.30 – 3.00 pm Tour 2 of High House Production Park

4.00 – 5.00 pm Stop at Davy Down Pumping Station

6.00 pm: Walk ends and early evening refreshments: The Beacon Centre, Chafford Hundred, Drake Rd, Chafford Hundred, Grays RM16 6RW
Walk Info
Duration: 5.5 hours

Distance: Approx 6 miles

Grading: Moderate

Terrain: Pavements and public rights of way, which can be muddy in wet weather. Please note that rhe section from High House Production Park to Ship Lane is not accessible to wheelchairs and pushchairs.

Walk leaders: Mike Ostler and Stephen Green
All T100 walks are free to join.
Route Map
https://www.wikiloc.com/outdoor-trails/purfleet-to-chafford-hundred-via-high-house-production-park-and-davy-down-35946213


Travel
Train
Nearest train station at the start: C2C Purfleet Station, London Road, Purfleet, Essex RM19 1PP
Nearest train station at the end: C2C Chafford Hundred Station, Burghley Road, Chafford Hundred, Grays RM16 6QQ
Parking
Car parks in Purfleet: https://www.justpark.com/uk/parking/purfleet-station/
Car Parks in Chafford Hundred: There is parking at the Beacon Centre.
Accessibility
The section from Purfleet to High House Production Park is accessible to wheelchairs and pushchairs.
The section from High House Production Park to Ship Lane is not accessible.
The section from Ship Lane to Davy Down is well surfaced and is accessible to pushchairs and wheelchairs.
Beyond this the walk to Chafford includes a section up a slope that can be muddy and is not surfaced.
T100 walks are of different lengths and on different terrain. Some are mainly on footpaths, and others mainly on footpaths where ground may be uneven. If this walk doesn't suit you, there is probably another one that will.
Please note:
You need to choose walks within your capabilities; the walk leaders are experienced but must take your word that you are sufficiently fit for the grade of walk you have chosen.
Walk leaders will be at the start of the walk regardless of the weather. In the unlikely event of any unforeseen circumstances, Kinetika reserve the right to change or cancel a walk and/or performance. Please check the website regularly for any updates or follow us on Twitter or Facebook.
Due care has been exercised in organising the walks, however Kinetika, the funders and associated partners of the project cannot accept liability for loss, accident or injury caused to any person following the routes. Participants under the age of 16 must be accompanied by an adult.
What to bring
Please ensure that you are properly equipped for all walks. The weather can be unpredictable so bring waterproof clothing and/or sun hats and sun cream – it's best to be prepared for everything!
Walking boots/shoes are recommended, but otherwise please wear suitable and comfortable footwear- best to leave open-toe sandals or high heels at home. Make sure you bring a packed lunch, if necessary, and plenty to drink.
Photos/ filming
We will be taking photographs and video of this event to promote and celebrate the project in print and online. If you do not give consent to be photographed or filmed, that's absolutely fine, please let a member of the Kinetika team know on the day.
Flyer
Download the flyer for T100 2019 'Welcome to the Kitchen Table' here: http://thurrock100.com/wp-content/uploads/2019/05/T1002019_flyer_lockup_2000px.jpg

http://thurrock100.com/2019-walks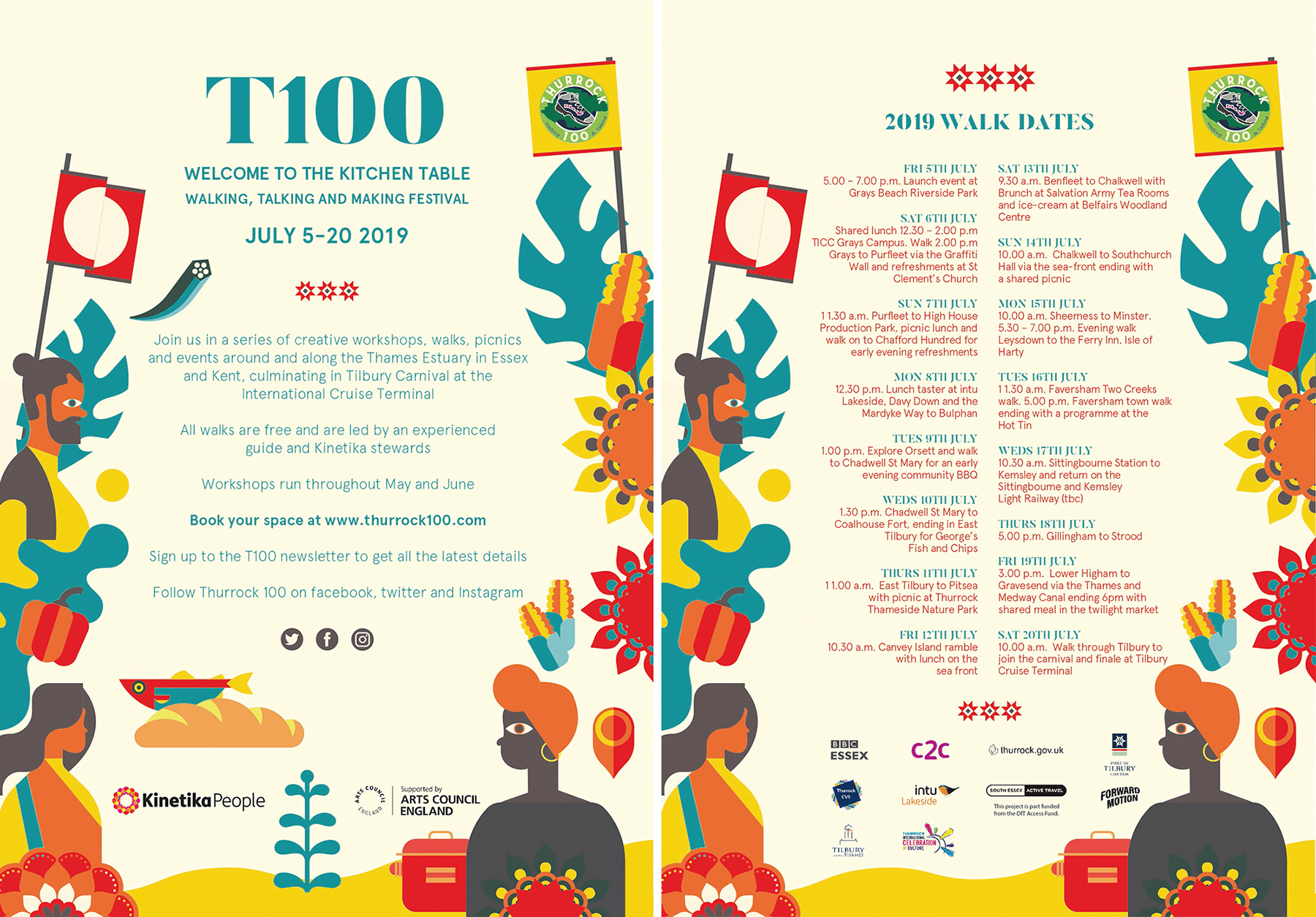 Data Collection
Kinetika is funded by Arts Council England (ACE) and as a funding condition we are asked to collect participant data. The data we collect is anonymised and used for evaluation and monitoring purposes only, and will never be passed on to a third party. We will retain this data for no longer than 4 years.
We require your name and email address but only to communicate with you in connection with the event. We hate junk mail and would never sell your address or bombard you with emails. We don't want our data collection questions to feel intrusive so you are either not required to answer or we include a prefer not to say option.
Photo Credit
Photo by Peter Taylor used under license CC by NC 2.0 (cropped)