Event Information
Refund Policy
Contact the organiser to request a refund.
Eventbrite's fee is nonrefundable.
Agile Coach Bootcamp to learn the skills and build competence in Agile Coaching & Facilitation (ICP-ACC & ICP-ATF)
About this Event
If you prefer to pay in GBP, then please email to ash@agilevisa.com for an invoice in GBP.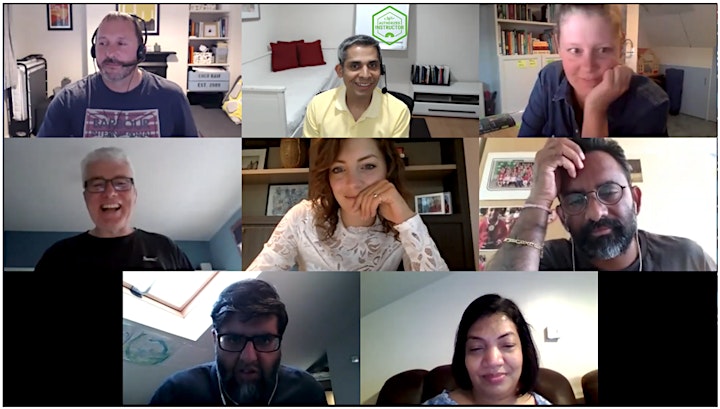 Join us in this interactive Virtual program with a classroom experience.
ICP-ATF is one of two knowledge-based certifications on the Agile Coaching track. It focuses primarily on the mindset and role of an agile team facilitator, while also providing group facilitation tools and techniques for effectively designing meetings and workshops that both engage the entire audience and drive towards agreed-upon outcomes. Through obtaining this certification, participants will develop an appreciation for the art of facilitation as key to fostering collaboration and enabling self-organising teams. Participants will also build their facilitator toolkits and gain experience facilitating specific agile practices most relevant to their organisational context.
ICP-ACC is the other knowledge-based certifications on the Agile Coaching track. The certification focuses primarily on the mindset, roles, and responsibilities of an Agile Coach. After finishing the certification, participants will be able to differentiate between and among mentoring, facilitating, professional coaching and teaching, and will also gain the skills needed to create a safe environment for meaningful collaboration and healthy conflict resolution within an agile team. This certification introduces participants to foundational team coaching skills and team development concepts for starting and growing teams while focusing on teams and organisations as human systems. A key part of this certification focuses on developing an understanding of the professional coaching skillset and the value of honing these skills to serve individuals on an agile team.
Our training is designed by Certified Training from the Back of the Room Trainers using research-backed brain-based adult learning techniques. This five-day bootcamp is delivered by a highly qualified coach trainer with real-world experience of working in agile transformations and agile teams.
YOU'LL RECEIVE:
Access to eLearning Portal
Course material and export of MIRO board
Knowledge and practice of skills to enable you to coach and mentor teams & individuals towards high performance
Knowledge and practice of skills to enable you to facilitate meetings and events to engage the audience and work towards an agreed outcome
ICAgile Certified Professional in Agile Facilitation (ICP-ATF) certificate from ICAgile
ICAgile Certified Professional in Agile Coaching (ICP-ACC) certificate from ICAgile
Both ICP-ATF & ICP-ACC Certifications are valid for your lifetime.
AGENDA:
Development Path for Agile Coaching
Agile Team Facilitation Mindset
Foundational Facilitation Skills
Conducting a Facilitated Session
Facilitating Collaborative Meetings
Liberating Structures
Skilfully Facilitating Agile Practices
Practising Facilitation Skills
What is Agile Coaching and Coaching Mindset
Agile Coaching Stance and Competency Framework
Difference between Agile Coaching, Mentoring, Teaching & Facilitating
Foundational Professional Coaching Skills
The Coaching Conversation – Coaching for Action
Coaching Competencies like Powerful Questions, Emotional Intelligence
Breaking down the Agile Coaching Conversation and practising it!
Key Mentoring Skills and Mentoring Agile Role Transitions
Key Teaching Skills
Agile Mindset Shifts and Frameworks
Foundational Team Coaching
Understanding Team Development
Coaching the Journey Toward High Performance
Handling Conflict and Dysfunction within the Team
Setting up the Team Environment
Facilitating Change at Team and Organisation Level
Handling Organisational Impediments
Agile Coaching Contract and Alliance
Agile Coach Growth Path
SCHEDULE:
Mon, Nov 2 - 9:00 AM - 5:00 PM CET (GMT+1)
Tue, Nov 3 - 9:00 AM - 5:00 PM CET (GMT+1)
Wed, Nov 4 - 9:00 AM - 5:00 PM CET (GMT+1)
Thu, Nov 5 - 9:00 AM - 5:00 PM CET (GMT+1)
Fri, Nov 6 - 9:00 AM - 5:00 PM CET (GMT+1)
8 hours daily with a lunch break, and short breaks every hour & a half.
WHO SHOULD ATTEND:
Agile team leaders or aspiring team leaders with a passion for servant leadership and a desire to learn and practice the art of facilitation in the context of team facilitation and coaching. Relevant roles include Agile Coaches and aspiring coaches, ScrumMasters, Agile Project Managers, Product Owners, Business Analysts, and anyone with the desire to explore the power of facilitation.
PRE-REQUISITES:
There are no conditional pre-requisites for this training program. This is an intermediate level course, and participants should have some work experience in at least one agile framework.
ACCREDITATION:
This course is accredited by the International Consortium for Agile (ICAgile) as fulfilling the learning objectives of Agile Team Facilitation & Agile Coach certification. There is an ongoing assessment throughout the class and a practical assessment at the end of the course that you will need to pass. As long as the trainer believes you have demonstrated competence and that you have understood the learning objectives and haven't missed a class then you will receive the certification email from ICAgile. After successful completion of this course, you will be ICAgile Certified Professional in Agile Team Facilitation (ICP-ATF) & Agile Coaching (ICP-ACC).
FEEDBACK FROM PREVIOUS PARTICIPANTS:
"Excellent course. I was beginning to doubt the synergy of true 'Coaching' with the current industry practices of being an 'Agile Coach'. This course reminded me of this synergy, for this I am grateful."
"Great learning experience as it combined learning via visual, auditory and kinesthetic means! We were able to apply our learning outcomes fairly quickly and in real-time with great feedback! Continue doing this!"
"Really liked how Ash Tiwari ran this course. He was authentic and truthful at all times, and his thoughtful answers created many insights.
"Excellent instructor, very knowledgeable."
"Ash did it very well, calm and knowledgeable."
"Ash is an excellent instructor, and his passion for Agile coaching came shining through. Thanks for running the course!"
Ash Tiwari
Trainer for Agile Coaching Bootcamp (ICP-ATF & ICP-ACC)
Ash is an Enterprise Agile Coach leading change in organisations at the executive, leadership, portfolio, programme and team level, for maximising shareholder value by focussing on customers through exceptional employee engagement. His work involves advising organisations on business agility, enterprise agility, agile at scale, executive and leadership development, culture change, team capability and autonomy. He stresses pragmatic and context-appropriate approaches over rigid out-of-the-box solutions.
He started as an XP Programmer 20 years ago and moved to Scrum and Kanban subsequently leveraging LeSS, SAFe, Scrum@Scale and Disciplined Agile scaling frameworks. Over the last decade, he has focussed on large scale organisational transformations within the Financial Services sector including Fintech, investment banking, retail banking and insurance. He has held several senior roles as an agile leader, including 'Head of Agile Practice' at a large Fintech where he was the Global Agility Leader.
He now facilitates change in organisations, helping them uncover better ways to achieve outcomes. His work extends beyond IT to Portfolio Management, Product Management, Finance, Marketing, HR and Organisation Design. He facilitates change through executive and leadership coaching, enterprise coaching, large scale facilitation, strategy workshops, innovation sessions, team coaching, gamification and training courses. He is a native agilist with expertise in coaching, consulting and training on Lean, Agile, Scrum, Kanban, XP, LeSS, SAFe & Scrum@Scale. He is delivering training for the past 10 years and has trained more than 2000 people.
Areas of Proficiency:
Lean-Agile Coaching
Professional Coaching
Executive and Leadership Coaching
Organisational and Systems Coaching
Licenses and Certifications:
ICAgile Authorised Trainer
Scrum Trainer
Scaled Agile SAFe 5 Trainer
TBR (Training from the Back of the Room) Practitioner
Certified Enterprise Agile Coach (ICP-CAT & ICP-ENT)
Certified Agile Coach (ICP-ATF & ICP-ACC)
Certified Scrum@Scale Practitioner (CSaSP)
Certified LeSS Practitioner (CLP)
Certified SAFe 5 Program Consultant (SPC)
Certified Scrum Professional (CSP-SM)
Certified Scrum Product Owner (CSPO)
Kanban Management Professional (KMP)
If you have any queries, please reach out to the training organisers – Agile Visa.
Email: ash@agilevisa.com
Phone: +44 207 993 8350
Date and Time
Location
Refund Policy
Contact the organiser to request a refund.
Eventbrite's fee is nonrefundable.