Description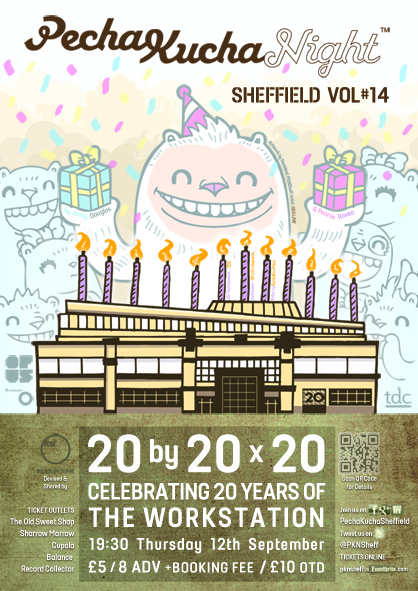 Pecha Kucha Sheffield Vo#14
'20 by 20x20'
Celebrating 20 years of Creativity
in that special PKNSheff 20x20 way
Since July 1993 The Workstation has been home to one of the most eclectic mixes
of creative people and businesses anywhere in the country…perhaps the World!
We're not just talking movers, shakers and film makers here…
There's ground-breaking festivals and legendary musicians…
Iconic designers, genre creators and industry re-definers!
There's even the occasional international super-star…or two!
Vol#14 is a celebration of the things that makes Sheffield great.
A perpetual hive of activity that's connected to so many
of the wonderful things that we take so much
pride in telling others about our city.
Speakers
Workstation tenants Doc/Fest are also celebrating this year - their 20th festival took place in June bringing thousands of delegates to the city. Heather has been at Doc/Fest since 2006 during which time it has become one of the three most important documentary festivals in the world, dubbed "Cannes for documentary people".
Laura Sillars - Site Gallery
Everybody needs good neighbours - Site Gallery is the Workstation's next door neighbour and a leading international contemporary art space with Jarvis Cocker, Paul Hill MBE, Marina Warner and Ian Anderson (see below!) as its patrons. Laura is also the founding chair of Sheffield's Cultural Consortium and a member of the curatorial team of Art Sheffield.
Lianne Mellor - Mellor Ware
Lianne is a relative newcomer to the Workstation - she moved into her office in 2012 and kitted it out with her trusty kiln to make her beautiful tea sets. Lianne is an entrepreneur with a true passion for what she does. Her business is expanding all the time - in 2012 Liberty of London started to stock her range of chinaware - and she is branching out to create new products.
Ian Anderson - TDR
TDR made their name in the late 1980s designing iconic album covers for Leeds band Age of Chance. Their designs have graced the record sleeves of Pulp, The Orb and Supergrass to name but a few, as well as artists signed to Sheffield's Warp Records. TDR went on to become the touchstone in cool in the design world, working with everyone from global soft drinks companies to video games to sports brands. TDR were based at the Workstation from 1994 - 2011.



Steve Buckley - Sheffield Live / Sheffield Local TV
Successful Steve Buckley is a Media Development Consultant and has been instrumental in the establishment of hundreds of local and community media initiatives in the UK and overseas. He is Managing Director of CM Solutions, a Sheffield-based media development agency and social enterprise that provides strategic research, practical guidance and support for the development of community media in the UK and internationally. He is co-founder and Chair of Commedia Sheffield, which operates community radio station Sheffield Live! 93.2fm. He is also Chair of the board for Sheffield Local Television.
Phil Shankland - Timamps
Past TEDx speaker Phil Shankland is currently, "Tinamp Grand Master at Tinamps, Co-Founder at Musicode Ltd, Chief Blogger at Making Mobile Pay, Managing Director at Inspiral New Media Ltd, and Founder at The Five Paths."
Tinamps designs and makes mp3 amp/speakers in re-purposed tobacco tins. The product is currently in market testing and a volume product will be launched to online 'gadget' and giftware retailers in 2013 with distributors in US and Australia.


Charlotte Tyree - This is England '88

Charlotte is a talented actress, skilled in Aerobics, Ballet, Contemporary, Freestyle, Jazz, Tap and Street Dance with experience as a Dancing Professional Singer, in Musical Theatre and TV Presenting. She is well known for her role as Fay in renowned, award-winning filmmaker Shane Meadows' This is England '88 by Warp FIlms.

WarpFilms, initially established with financial support from NESTA in 2002, has gone on to make a series of iconic hits; carving out it's own niche in the industry. Recently celebrating their 10 birthday, Warp Films has become one of the UK's most critically acclaimed independent film production companies, and have been behind an array of award winning films, including several BAFTAs.

Matt Howden - Sieben

The extremely talented Matt Howden frequently plays gigs attended by hundreds of fans all over Europe, but in Sheffield he seems to have a relatively small cult following...more a hidden gem, until now!

He uses a loop pedal, a violin and his voice. His pieces can start with a simple melody, to which he adds a bass part or two, some 'drums' by playing beats on various parts of the violin ('kick' behind the strings, 'snare' by slapping the body, and 'shaker' by scratching the pickup with his chin), with harmonies and melodies over the top. As if that wasn't enough he can sing and play as well!
Organizer of 20 by 20x20 - Celebrating 20 years of the Workstation
It's like clubbing for thinkers...
…inspiration for the creative class…
...a business social that's more a night out...
...it'll get your heart skipping and your mind racing!
Four times a year we bring together the Creative, Digital and Business communities for an evening of Inspirational Talks, Challenging and Amusing Short Videos, Live Music and Unique Entertainment.

Pecha Kucha, meaning 'chit chat' in Japanese, is a global, viral phenomenon running in over 1170 cities across the world. Sheffield became the 300th PK City on the Planet in April 2010 and has run 29 events at 26 different venues to date.

The evening is based around the 20x20 format, which was first started in Japan in 2003 by the architects Astrid Klein and Mark Dytham. Each presenter uses 20 slides, set to auto advance every 20 seconds to present their subject or showcase their work.

by Jonny Douglas and Pennie Raven