Description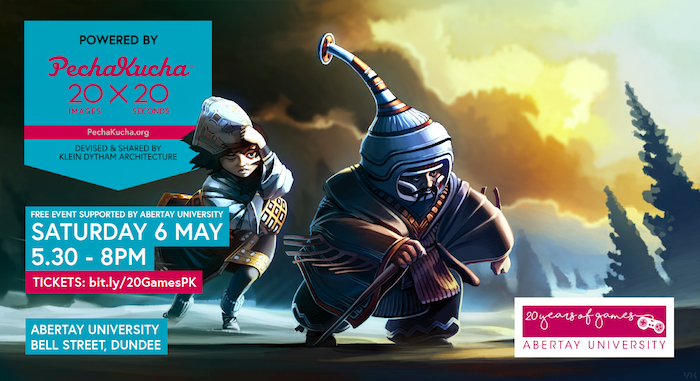 Join us for 20 Years of Games Powered by Pecha Kucha - a free event night celebrating two decades of video games talent with Abertay University during the Digital Graduate Show 2017.
Creative Dundee will be running the popular Pecha Kucha style night with an extra special games focus twist. Pecha Kucha is a simple quick-fire talking format – presenters show 20 images, each for 20 seconds. Speakers will talk about their experiences or journeys since graduating or collaborating with Abertay University.
Giving profile to the vibrant video games sector in Dundee, Scotland and the UK, this event will look at the history, current and future of the games scene in a fun and informal way, which will be followed by an after party.
Then join us at the after party*, in the Student Centre where you can grab your complimentary drink and nibbles, and get the chance to explore our Digital Graduate show after hours. DJ and dancing till late.

Pecha Kucha, or 'chit chat' in Japanese, was developed by Klein Dytham Architecture, in Tokyo back in 2003. PKs now run all over the world – our last count was over 900 cities and growing, you can view a map of all locations on their website here.
Thanks to Yannic Kawan for the great event illustration. View more of Yannic's portfolio here.
Speakers include :
Liam Wong - Art Director, Ubisoft
Liam Wong is an Art Director at Ubisoft. Recently selected by Forbes Magazine for their 30 Under 30 list. Originally from Scotland, two years after graduating from Abertay, he moved to Canada - becoming the youngest director at the largest games development studio in the world. In the last year Liam picked up photography and his work has since been featured by Adobe, Canon, CNN, Smithsonian, Saatchi and Business Insider. You can find his tweets at @liamwong and his work at: liamwong.com.
Danny Parker – Head of Mobile Technology, Ninja Kiwi
Danny Parker is currently Head Code Monkey at NinjaKiwi Europe based in Dundee. Games have always been important to him, he has been playing games since he was 6, making games since he was 7 and has been trying to get better at both ever since. He was planning to grow up one day, but where is the fun in that? @mono_eric3
Zoe Sams – Tools Programmer, and Board Director, IGDA Scotland

Zoë Sams is a Tools Programmer, a member of the Board of Directors for IGDA Scotland, and a STEM Ambassador. Her passion lies in combining art and code, and she is a strong believer that networking and diversity can only strengthen our industry and push us to continue creating fresh, innovative content. @zoegsams

Timea Tabori – Engine Programmer, Rockstar North

Timea Tabori is an Engine Programmer and the Chair of IGDA Scotland. She is a Women in Games, STEM and Video Game Ambassador working to support those looking to pursue a career in games or find out more about the industry. She is passionate about bringing diversity and new voices to the games industry, building a supportive community and advocating for nuanced and critical discourse about games and the culture around them.

Mona Bozdog – PhD Student, Abertay University
Mona Bozdog is a Romanian second-year doctoral student and theatre maker based in Dundee at Abertay University. Her PhD project which investigates the potential of interdisciplinary study in the fields of performance and video games, is a partnership between Abertay University, The Royal Conservatoire of Scotland, The National Theatre of Scotland and The Scottish Graduate School for Arts and Humanities. The project draws on both performance and game design methods to develop hybrid forms of storytelling that blend the unique abilities of virtual and physical environments, bodies, and experiences. She will be talking about her latest project, a site-specific, game-like performance which brought the world of Dear Esther (The Chinese Room, 2012) to life on Inchcolm Island. More about Mona on monabozdog.co.uk. She is always happy to talk about performance, game-like things and playful collaborations so give her a shout @MonaBozdog.
Caitlin Goodale – User Experience Designer, King
Caitlin Goodale is a UX designer and design dilettante, working for King in Malmö, Sweden on experimental mobile games. She graduated from Abertay in 2016, after a meandering educational path that included working as an artist and designer for Dundee's own 4J Studios (Minecraft Console Editions) and Microsoft (Hololens and Paint3D). Other interests include life drawing, bouldering and procrastinating. You can find her tweets at @caiitlinz and her work at www.caitlingoodale.com
Jess Hider – European Community Manager, Unreal Engine
With a background in art and animation, Jess has worked on games such as the Mario Mashup Pack for Minecraft Wii U and award winning mobile game Seek: Find Your Friends. Now at Epic, she works with developers across Europe using Unreal Engine to help nurture, support and promote their projects and studios.
Alongside her work at Epic, Jess encourages young people into the games industry through talks and workshops as a STEM and Ukie Video Games Ambassador, writes up tutorials for artists using Unreal Engine and is an active member of BAFTA Crew. When not engrossed in making or playing games, Jess is either baking nerdy cakes or out roaming in the Highlands of Scotland. @JessHider
Brian Lawson – Senior Games Designer, Reagent Game
Brian Lawson has been making video games for as long as video games have been around. From the heady days of the 1K ZX81 to the slightly more modern era of the Xbox One, Brian has worked as a producer and designer on a number of well known titles including Grand Theft Auto, Watch_Dogs, The Division and most recently Crackdown 3. A diehard geek, when not making games Brian can usually be found playing games, watching YouTube videos about games, reading walkthroughs for games and drinking whiskey.
Ken Fee - Lecturer in Games and Arts, Abertay University
Ken has been a game developer since 1993, with a now truly eclectic series of some 50 published games for companies such as DMA Design/Rockstar North, Bethesda, Psygnosis, Nintendo, Electronic Arts and Sony. A Course Leader at Abertay University since 2007, Ken's main focus is on designing and delivering courses that match the needs of the industry and best prepare students for professional practice. It is this focus that has defined Ken's own PHD research area - the realities for creative practice in the games industry, and the potential issues or benefits from making games for a living.
Gaz Robinson - Games Developer
Gaz is a game developer and tinkerer living in Dundee and a Director of Biome Collective: a co-working space for people to collaborate and make games & digital art. He's fond of building good things for art, bad things for fun and produces excellent #content on twitter dot com at @ViewtifulGaz
Amrita Bharij - UI/UX Designer, Rockstar Games
Amrita is a UI/UX Designer at Rockstar Games, and has previously worked at EA, Playfish, Natural Motion and Space Ape Games. She is an advocate for Women in Games & BAME in Games, has recently become a Women in Games Ambassador and is looking forward to encourage the next generation into the industry. She graduated ten years ago and will be discussing how a true passion can lead to you to where you want to be, even if it takes ten years!
Joseph DeLappe – Professor of Games and Tactical Media, Abertay University
This past January, Joseph DeLappe travelled 4,805 miles with his cat, Pixel, to relocate to Dundee from Reno, Nevada to take on a new position as Professor of Games and Tactical Media at Abertay University. He is an artist and activist. Follow him on his road bike as he explores the back roads of Scotland or @josephdelappe.
Abertay University - 20 Years of Games Powered by Pecha Kucha
Date: Saturday 6th May 2017
Time: 5.30pm - 8pm. Followed by post-event drinks party, please note this is open to over-18s only.
Venue: Abertay University, Bell Street, Dundee, DD1 1HG
Tickets: Free and limited, please book your ticket here.
Social Media: #GamesPK

Organiser of 20 Years of Games Powered by Pecha Kucha