2015 ARCA Interdisciplinary Art Crime Conference

Friday, 26 June 2015 at 18:30

-

Sunday, 28 June 2015 at 17:00 (CEST)
Event Details
,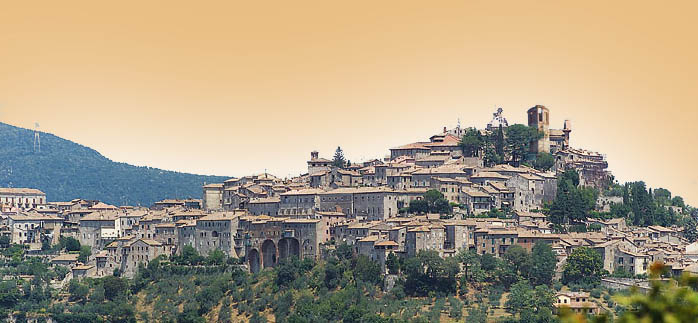 Providing an arena for intellectual and professional exchange, this annual art crime conference highlights the nonprofit's mission and serves as a forum that aims to facilitate a critical appraisal of the protection of art and heritage worldwide. Bringing together international scholars, law enforcement experts, art professionals, the general public and participants in ARCA's Postgraduate Certificate Program in Art Crime and Cultural Heritage Protection, attendees will have the opportunity to examine contemporary issues of common concern in this important field.
Held in the beautiful town of Amelia (Umbria), the seat of ARCA's Postgraduate Certificate Program in Art Crime and Cultural Heritage Protection. The conference will include multidisciplinary panel sessions, key note speakers, a Friday evening ice-breaker cocktail reception and an awards dinner on Saturday evening — honoring the 2015 recipients of ARCA's annual award for outstanding scholarship and professional dedication to the protection and recovery of cultural heritage.
The 2015 conference is open to the public and all are welcome.
This events opens with an optional icebreaker cocktail on Friday, June 26th at the Palazzo Farrattini. The conference will be held Saturday, June 27 and Sunday, June 28, 2015 at the Sala Boccarini, inside the cloister of the Biblioteca Comunale L.Lama adjacent to the Museo Civico Archeologico e Pinacoteca "Edilberto Rosa" in Amelia, Italy. Sessions begin promptly at 9:00 am, with breaks for coffee and optional Saturday lunch as well as an optional Italian slow food dinner Saturday evening.
Please note: Ticketing fees for social catering events are payable in euros at event's venue.
Questions regarding this even can be addressed to: italy.conference@artcrimeresearch.org
Confirmed Topics and Presenters (Partial Listing)
"A View on Heritage Protection from Southern Iraq"
Franco D'Agostino, PhD. Professor of Assyriology
Director Iraqi-Italian Mission at Abu Tbeirah
Sapienza Università di Roma
and
Licia Romano, PhD
Co-Director Iraqi-Italian Mission at Abu Tbeirah
Sapienza Università di Roma

"From Prosecution Comes Solution: Using the Crook's Mind to Combat Art Crime"
Jordan Arnold, Esq., Managing Director
K2 Intelligence

"So How Did We Get Here? Trying to Understand the Reasons Behind the Unprecedented Destruction of Archaeological Heritage"
Joanne Farchakh Bajjaly , MA Archaeology, MA Journalism
Biladi: Heritage for Peace Building (Lebanese N,G.O)

"Activities and Tools of INTERPOL's Works of Art Unit in the Fight Against Illicit Trafficking in Cultural Property"
Françoise Bortolotti, Criminal Intelligence Officer
INTERPOL General Secretariat (Lyon, France), Sub-Directorate -Drugs and Organized Crime- Works of Art Unit

"Future without a past: the extinction of the cultural heritage in Syria and Iraq"
Paolo Brusasco, PhD., Professor of Archaeology and Art History of the Ancient Near East
Scuola di Scienze Umanistiche
Università degli Studi di Genova

"One Culture, Two Systems : Changing Attitudes to Cultural Heritage Protection and Illicit Smuggling in Hong Kong and China"
Toby Bull, MSc.,
Founder, TrackArt – Art Risk Consultancy,
and
Steven Gallagher, Barrister
Faculty of Law, The Chinese University of Hong Kong

"The Italian Carabinieri and the Evolution of its Art Crime Databases"
Salvatore Rapicavoli, Captain Data Processing Unit,
Deputy Commander Carabinieri Headquaters for the Protection of Cultural Heritage

"Connoisseurship in a Globalized Art Market: Reconciling Approaches to Authenticity"
Clare Diamond, PhD., candidate
Monash University, Melbourne, Australia

"Mediation, as an Alternative to the Court for Resolution of Art and Cultural Heritage Disputes"
Pierfrancesco C. Fasano, Attorney-at-Law
FASANO – Avvocati
and
Ivett Paulovics, Attorney-at-Law
FASANO – Avvocati

"EU = 28 Countries + 28 Legislations = 1 Million Problems"
Martin Finkelnberg, Head of the Art and Antique Crime Unit of the Netherlands
Dutch National Police

"A Treaty, a Prophet and a Flag: The Repatriation of Indigenous Cultural Property and New Zealand's Waitangi Tribunal"
Mia Gaudin, LLB (Hons)
Crown Law Office, New Zealand

"Protecting China's Archaeological Artefacts Against Looting and Illicit Art Trafficking"
Stefan Gruber, PhD.,
Associate Professor, Kyoto University

"A 'Vital Source of Funding': Conflict Antiquities in the Syrian Civil War"
Sam Hardy, DPhil Law Studies
American University of Rome

"Art Fraud in Germany or How Criminals Become Celebrities"
Saskia Hufnagel, PhD., Accredited Specialist in Criminal Law
Queen Mary University of London

"Siena, Dunedin, Rome: the Tale of Five Macchiaioli School Paintings"
Penelope Jackson, M.Phil.,
Trustee of the NZ Art Crime Research Trust

""The Art of Risk Management: The Crucial Role of the Global Art Insurance Industry in Enabling Risk and Security"
John Kerr, PhD.,
University of Roehampton

"Dealer Conversion of Consigned Art: When Drugs and Greed Make the Art Disappear"
Thomas R. Kline, J.D.
Of Counsel Andrews Kurth, LLP and Professorial Lecturer, George Washington University
and
Dorit Straus
Fine art Insurance Expert and ARCA Lecturer
and
Victor Wiener, Ph.D.,
Victor Wiener Associates, LLC, Adjunct Assistant Professor, New York University

"Give and Take: Museum Professionals' Attitudes and Ethics Toward the Acquisition and Repatriation of West African Cultural Objects"
Meg Lambert, PhD Candidate
University of Glasgow

"A Collection of Thefts: What One Museum's Responses to Five Incidents Can Teach Us About Ideal Resolution"
Katherine Luer, ARCA alumna and future MLS graduate
Independent Researcher

"Opining on the Authentic"
Philippa Malas, Barrister, England and Wales
Law Lecturer, University of Glasgow and author of the MSc Art, Law and Business at Christie's Education, London

"The Opaque Market of Egyptian Papyri in a Globalised Context: Sellers, Buyers, Prices and the Role of Academics"
Roberta Mazza, Dr
Lecturer in Classics and Ancient History, University of Manchester

"The Return of the Monkey God to Phnom Penh: An Update on the Repatriation of the Looted Statues of Koh Ker"
His Highness Prince Sisowath Ravivaddhana Monipong

"Uncovering the Illicit Traffic of Russian Ancient Icons"
Laure Coupillaud Szustakowski, PhD Candidate
Chief Operating Officer at CAPABILIS

"Perspectives on Crime and Crime Control Policy from the Trafficking Culture Project"
Neil Brodie, PhD
Simon Mackenzie, PhD
Donna Yates, PhD
Trafficking Culture, SCCJR, University of Glasgow

"Sentencing the Art Thief: Deterrence, Responsibility, Protection, Reparation and Restoration - Uneasy Bedfellows in a Courtroom?"
Arthur Tompkins, Judge
New Zealand Ministry of Justice

"Discovering and Visualising the Criminological Value of The Medici Conspiracy"
Christos Tsirogiannis, PhD.,
Research Assistant, Trafficking Culture, SCCJR, University of Glasgow

"Art CSI: When Science Solves the Puzzle of Forgery. The Case Study "Vase of Flowers", Painting Attributed to Filippo De Pisis (1896-1956)"
Lisa, Volpe, PhD.,
Research Fellow, Conservator Scientist, TekneHub - University of Ferrara
and
Marilena Leis, PhD.,
Professor, Department of Life Science and Biotechnologies  - University of Ferrara

"Libya and Heritage Protection in the Absence of Security"
Hafed Walda, PhD.,
Research Fellow. King's College London
Pending Deputy Ambassador to the permanent Libyan delegation at UNESCO

"Art Crime in Relation to Museum Security in the United States: A Survey of Recent Security Measures and Criminal Trends Within Accredited Art Museums"
Christine A. Weirich, PhD Candidate
School of Social and Political Science University of Glasgow

"Europol's Involvement in the Fight Against Cultural Goods Crime"
Michael Will, Manager
EUROPOL, Organised Crime Networks Group - Focal Point Furtum
When & Where

Amelia
PIazza Vera
05022 Amelia
Italy


Friday, 26 June 2015 at 18:30

-

Sunday, 28 June 2015 at 17:00 (CEST)
Add to my calendar
Organiser
Association for Research into Crimes against Art
The Association for Research into Crimes against Art (ARCA) is an outreach organization that works to promote research and the study of art crime and cultural heritage protection. ARCA aims to bridge the gap between the practical and theoretical by fostering collaboration between foreign and domestic law enforcement officials, security consultants, academics, lawyers, archaeologists, insurance specialists, criminologists, art historians, conservators, and others. The association's principle goal is to raise public awareness about art related crime and to encourage better preservation and protection of the world's collective cultural heritage.

At the grassroots level, ARCA seeks to identify emerging and under-examined trends related to art crime and to develop strategies that advocate for the responsible stewardship of our collective artistic and archaeological heritage. ARCA advances its mission through its educational programming, research publications, and public outreach.  It also sponsors a range of conferences, writing fellowships and awards promoting interest in this unique field of study.

ARCA's intent is to incrementally shift the values of contemporary society and ensure greater protection of the world's art and cultural patrimony.  It does so my encouraging knowledge transfer between scholars and allied professionals in the fields of law, criminal justice, museum studies, and cultural resource management at the national and international level. Similarly, ARCA works to improve the collective relationship with the past by leveraging the knowledge and influence of professionals, patrons, and the public.
2015 ARCA Interdisciplinary Art Crime Conference