Location
National Stadium Jamor, Lisbon, Portugal
Description
Welcome to the 2016 Euro Cup! This year's tournament is being held in Lisbon, Portugal at the National Stadium Jamor.
Date: Saturday 8th October 2016
Venue: Lisbon, Portugal (National Stadium Jamor)
Map: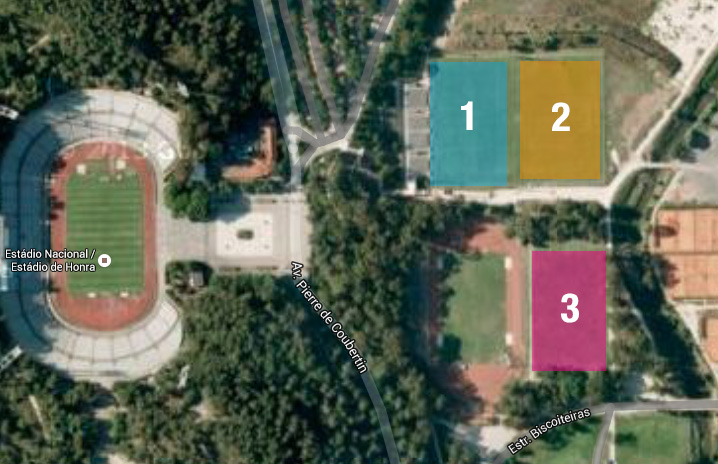 Registration:
Your registration fee this year INCLUDES all of the following:
- Playing registration fee
- Event t-shirt
- 2-night accommodation at either Hotel Amazonia or Praia Mar (price is for a triple room with two of your teammates)
- Breakfast both Saturday and Sunday morning at the hotel
- Wristband and free entry in the official after-party
Volunteers:
Any volunteers who which to help during the event can register on Eventbrite AND contact AFL Europe at admin@afleurope.org.
Umpires:
All umpiring enquiries regarding Euro Cup can be made by contacting umpires@afleurope.org
Information Pack:
Find on our website http://www.afleurope.org/2016-afl-europe-euro-cup/
Player Eligibility:
1) The Player was predominantly resident in the country of the league between 10 and 16 years of age subject to the qualification in sub clause A below.
2) The Player is a citizen of the country of the league at the time when the competition is conducted, subject to the qualification in sub clause A below.
3) The Player is not under suspension in that Player's local competition during the period of the competition.
AFL Europe may on a case by case basis, waive the eligibility requirements if it is satisfied that a player is a bona fide resident in the country of the league and his participation would be in the best interests of the competition. Submissions in this regard must be made by lodging an eligibilty waiver. Any player who has previously obtained exemption must apply again in 2016 – please complete the form and email to admin@afleurope.org
Tournament Rules and Eligiblity document can be found at http://www.afleurope.org/2016-afl-europe-euro-cup/