Description
China-UK Hi! Technology Festival is coming back!
As a leading partner of London Tech Week, Cocoon Networks, the first Chinese capital backed international startup ecosystem in the UK, is powering the second China-UK Hi! Technology Festival to connect European tech entrepreneurs with Chinese market and capital. The festival convenes entrepreneurs, professionals, investors and policy makers from both China and the UK to gain deep market insights, share the latest proven concepts and establish new business relationships. Following the great success of 2016 with over 2,000 visits and 500 audiences, we are aiming to excel our content and quality of the event this year.
This year, we bring the experts from China's leading innovation park - Shanghai Zhangjiang Hi-Tech Industrial Parks, as well as few investment firms, such as GCL Finance (Group) Holdings, Golden Sunflower Capital Management and ChinaEquity Group, to the city of innovation and technology---London!
With the topic on 'Emerging Smart Technologies of the Industry 4.0 & Made in China 2025', we will focus on investment and collaboration opportunities within industry 4.0 related industries, i.e. Fintech & Blockchain, AI, smart device, green tech, between China and the UK.
---
What you can expect from the festival:
Meet with 300+ tech entrepreneurs from both China and the UK;

Understand market insights and future visions from 80+ industry leading speakers;


Connect with 40+ investment institutions and 15+ Chinese government delegations;

Gain access to the Chinese market through diverse events (networking, demo/showcase, workshops, conference) focusing on different topics across 3 days;

Build your brand image and raise the awareness of your company;

And most importantly, join the tech start-up community and celebrate with us through the festival!
---
We look forward to welcoming you there!
Contact us:
General Enquires: London@cocoonnetworks.com
Partnership & Sponsorship: yaxi.li@cocoonnetworks.com
Pitch at the festival: tong.yang@cocoonnetworks.com
Host events at the festival: ting.yuan@cocoonnetworks.com
---
Confirmed Speakers: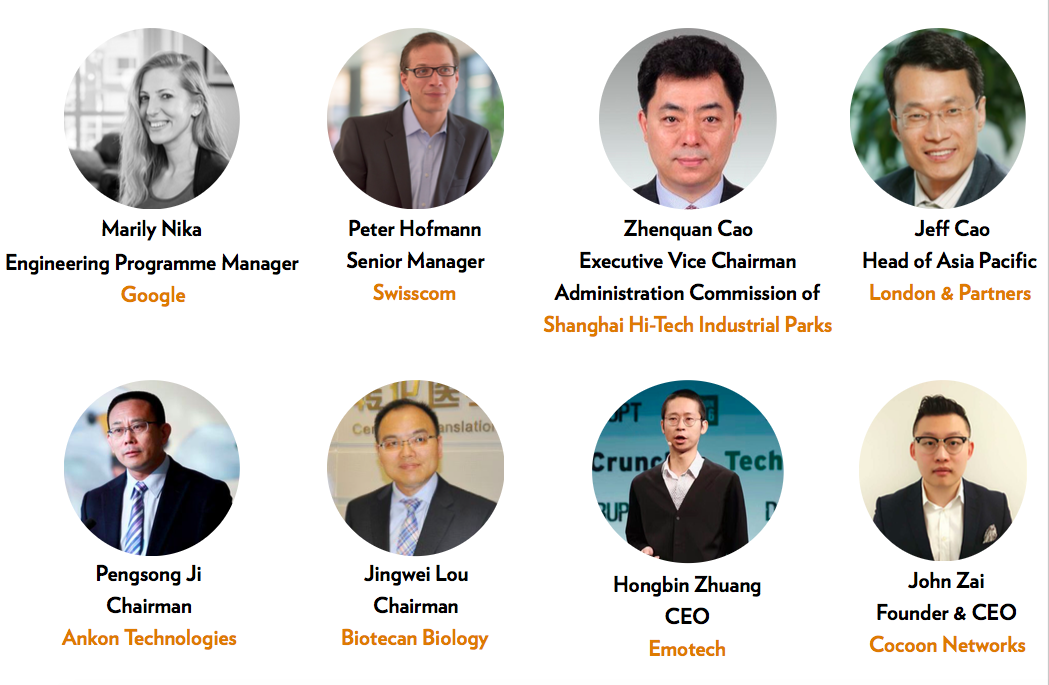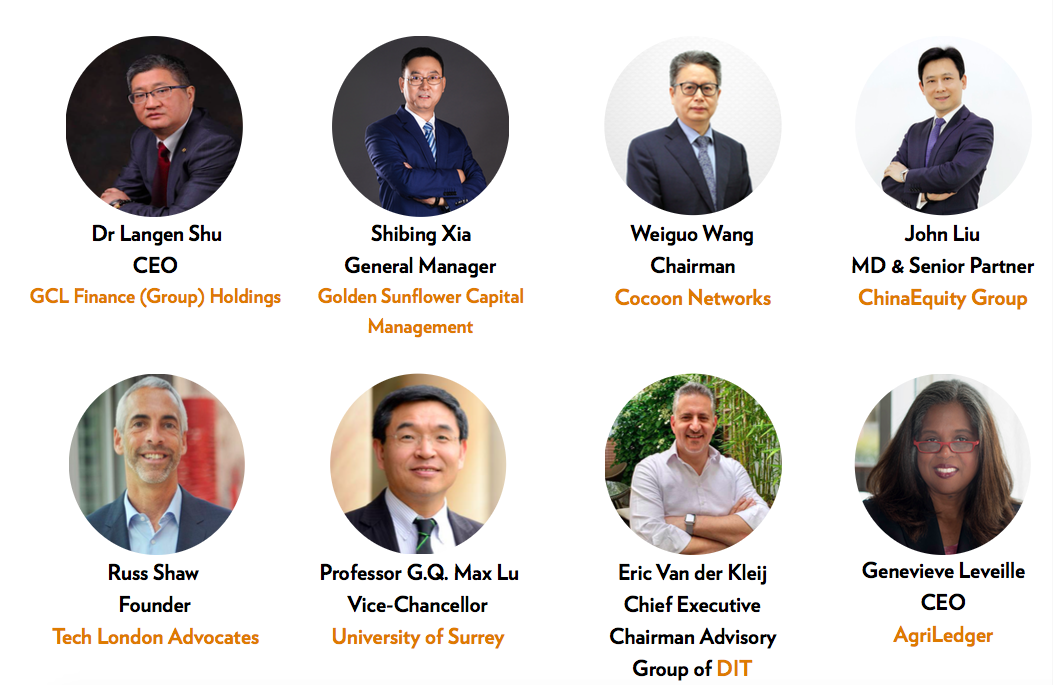 Preliminary Agenda:
Wednesday 14th June
09:00-10:30 Power-up breakfast powered by Alibaba Group

10:30-12:30 Alibaba Could & Ant Financial Services Group Workshop

13:30-18:30 Create@Alibaba Cloud Startup Contest Event

Find More Info: https://www.eventbrite.co.uk/e/alibaba-cloud-global-startup-contest-london-station-tickets-34071208903?aff=eac2
Panel Judges: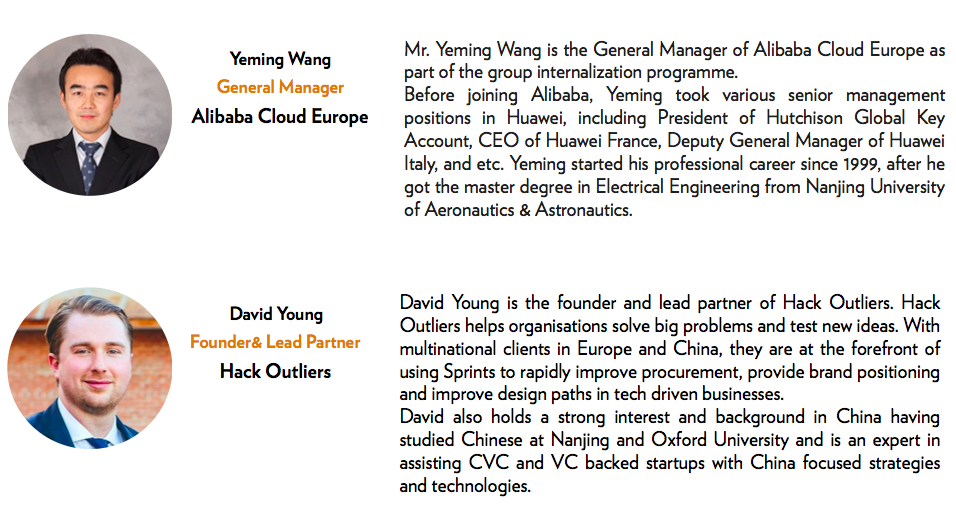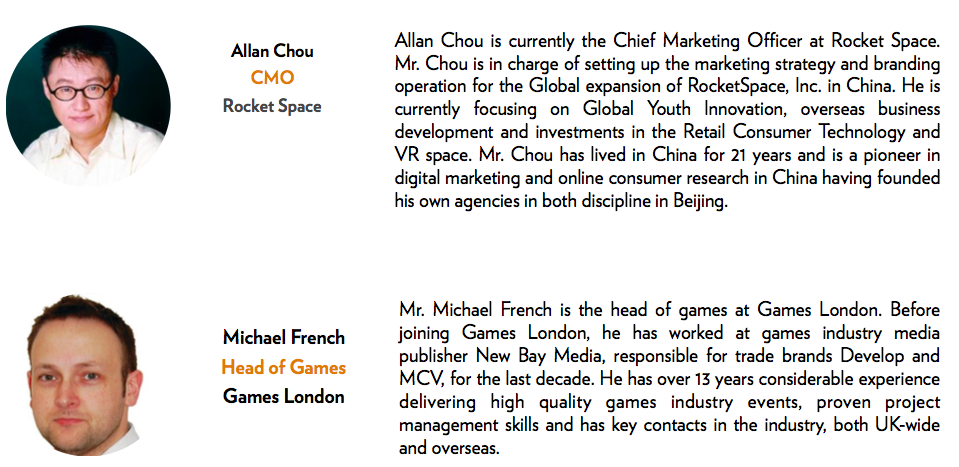 Thursday 15th June
Conference: Emerging Smart Technologies of Industry 4.0 & Made in China 2025
9:10-10:00 Opening & Welcoming Remarks--the context of Industry 4.0 & Made in China 2025 in China and the UK

10:00-10:50 Session One: Industry 4.0 – Investment landscape

11:00-11:30 Session Two: Innovation in MedTech

11:45-12:30 Session Three: Innovation Showcase1: Access to Chinese Market

12:30-14:00 Lunch & Networking

14:00-14:15 Session Four: Industry 4.0 – Innovation Landscape

14:15-15:30 Session Five: FinTech & Blockchain

15:45-17:00 Sessoin Six: The Future of AI

17:15-18:00 Session Seven: Innovation Showcase 2
Friday 16th June
10:30-12:30 How AR/VR are impacting the Augmented Product Lifecycle organised by Realities Centre

14:00-15:30 Blockchain and FinTech Acceleration Programme Launch Event organsied by FinTech4Good & Blockchain Acceleration Network

15:30-17:00 Four Steps to Tech Success
17:30-22:00 Cocoon Connect: Networking Night
We look forward to welcoming you there!
Email us: London@cocoonnetworks.com