Description
Greetings,
Sino-British Business Alliance expects to hold a business networking event from 21st to 23rd April 2017 at SUZHOU, China. This event is also named as SUZHOU Culture Creativity Expo, and has been successfully held five sessions. We trust that would be a flourishing expo to offer you an ideal channel to expand business into China.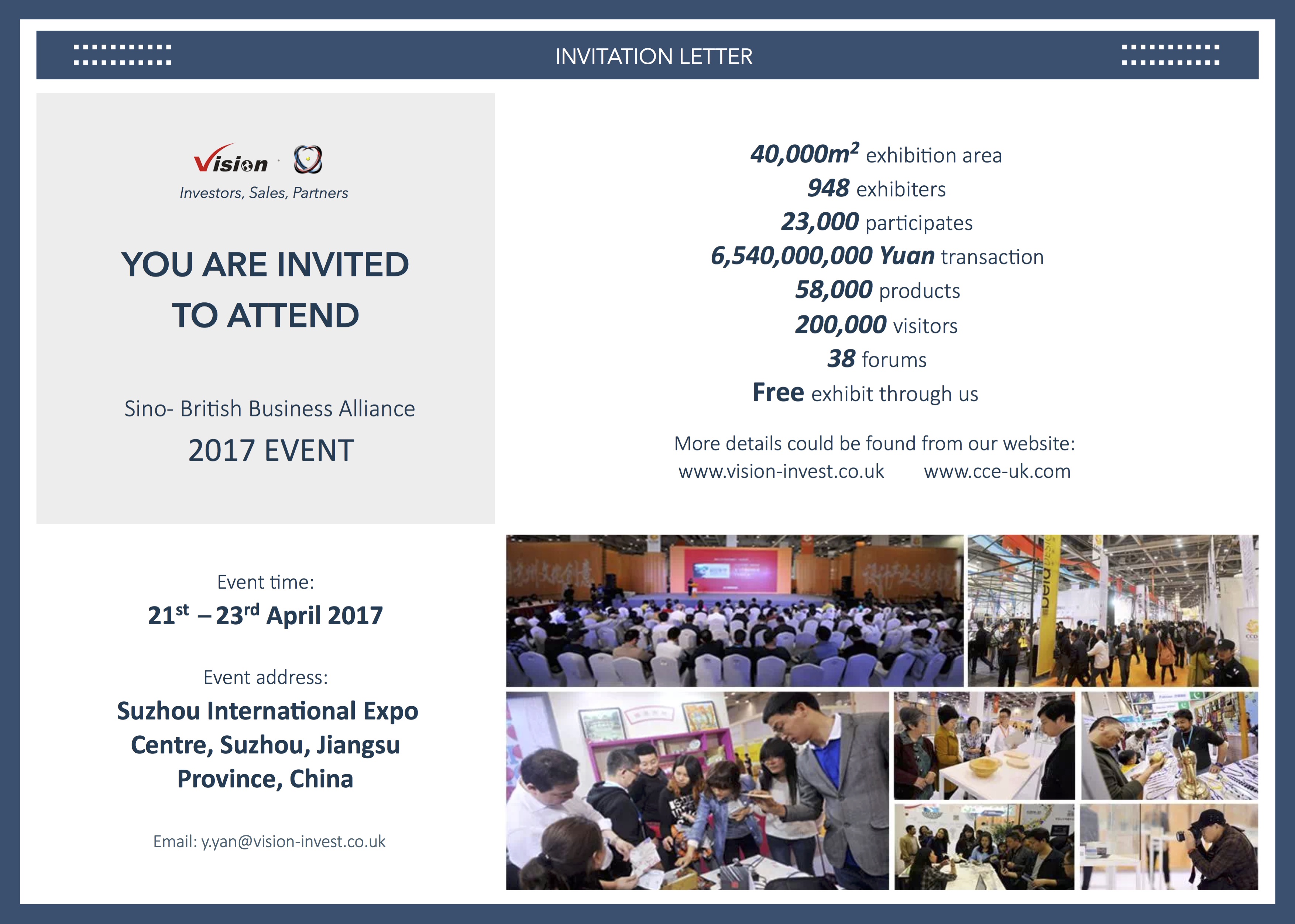 ---
Free exhibit

950+

entrepreneurs exhibit

Sell or promote business to China

Receive great offers

Receive investment

Find out ideal partner

Free one- page introduction documents for your company

40,000m2

exhibition area (400-600m2 UK exhibit area)

Develop your business to be international

Deep understand Chinese market
Sino-British Business Alliance Event aim to offer our clients an effect way to enter Chinese market and develop business. This event, as a bridge between UK and China, promote communicate and understand between directors or companies from the two parts. It is a unique, powerful and productive event, offer an exclusive platform to build new partnerships and grow business client base from Chinese market.
Exhibitors at our Sino-British Business Alliance event are ensured return on investment from their participation. It is a platform for people who want to gain clients, to promote businesses & projects, to create publicity or to look for partner or investor. In Addition, we will offer food and accommodation during the event. (21st-23rd April 2017)
1. Online: To promote your company on our event page, free of charge;
2. Offline: Invite your marketing development manager as our special guest to the event;
3. Offline: We could assign a specialized market representative to your company who might contact you in the first place to get specific knowledge about your company profile, and represent you within the event.
Still got questions about this event? Click here to the event page.
For more details of our event or Sino- British Business services, please visit our website: www.vision-invest.co.uk |www.cce-uk.com or send us an email, we will contact you ASAP. Looking forward to hearing back from you.
Best regards,
Sino-British Business Alliance
28 Queen Street, London EC4R 1BB |Building A, Global 188, Suzhou, China
Email: y.yan@vision-invest.co.uk