2017 Sino-European Entrepreneurs Summit (SEES)
Description
Engage with senior Chinese and European business leaders at the 8th Sino-European Entrepreneurs Summit (SEES)
The 8th Sino-European Entrepreneurs Summit (SEES) will be held at Grosvenor House on 14-15 June 2017, co-chaired by H.E. Long Yongtu, the Rt Hon. Gordon Brown and H.E. Jean-Pierre Raffarin.
200 of the foremost business, political and thought leaders from China will visit London to engage with their European counterparts. Their purpose in attending SEES is to explore two-way commercial partnerships and investment opportunities.
SEES is a practical platform for delegates to establish new relationships and extend existing partnerships.
Since 2008 SEES has been held seven times in London and Paris, attended annually by many of the largest companies and most influential entrepreneurs from China and Europe.
Initial partners of the 2017 SEES includes London and Partners, Department for International Trade, China Association for Public Companies, Barclays, Reference News, Cocoon Networks, Group48 and Phoenix Television,.
What you should expect:
The formost business, political and thought leaders from China and Europe will share their knowledge, experiences and requirements.

Delegates will discover pratical insights on the challenges that Chinese and European entrepreneurs are facing in key industry sectors and how they could form mutually beneficial partnerships.

Join 200 senior business leaders from China and 200 of their Europeans counterparts in exploring investment opportunities and commercial partnerships.

Expand your network with leading entrepreneurs, executives, investors and public officials from China and Europe.


---
Confirmed Speakers: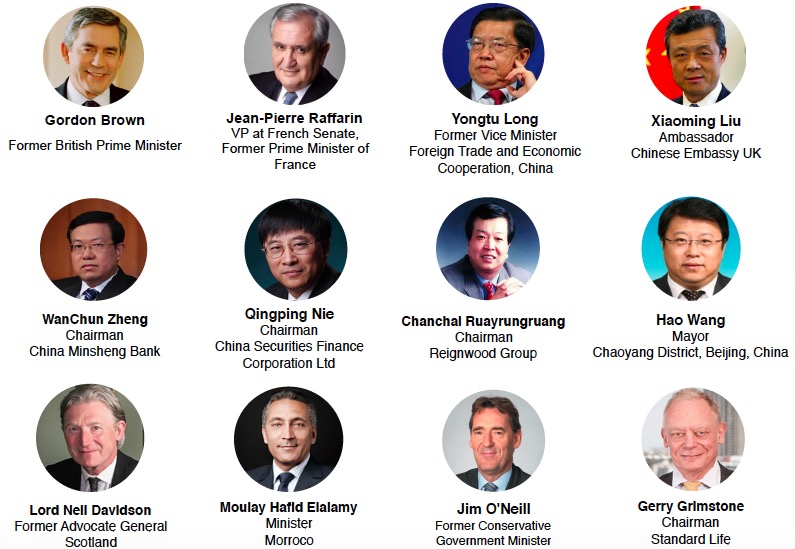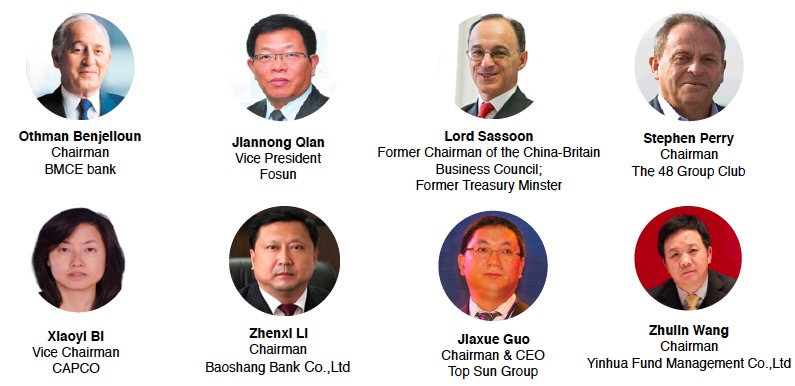 ---


This year's agenda:
Wednesday 14 June
08:00—09:00 Registration & Welcome Coffee
09:00—10:00 Opening Speech
10:00—11:00 Theme 1: Seeking new growth models amid global uncertainties
11:00—11:15 Coffee Break
11:15—12:35 Theme 2: Powering your bottom line through key financial trends
12:35—13:40 Lunch Break
13:40—15:00 Theme 3: Conversation with entrepreneurs: mind of an entrepreneur today for emerging leaders
15:00—16:00 Theme 4: Sports in entertainment era
16:00—16:15 Coffee Break
16:15—17:15 Theme 5: Cultural & Philanthropic
19:30—22:00 Gala Dinner: The 8th Year Celebration Gala Dinner
Thursday 15 June - 2017 China-UK Hi! Technology Festival

at Cocoon Networks London (4 Christopher Street, London, EC2A 2BS)
''Smart Technologies featured in Industry 4.0 & Made in China 2025''
09:20—10:45 Session One: Opening & Welcoming Remarks
--the context of Industry 4.0 & Made in China 2025 in China and the UK
11:00—12:30 Session Two: The Future of Artificial Intelligence
13:45—15:05 Session Three: Blockchain & Smart Device
15:10—16:15 Session Four: Industry 4.0 @China - Investment Landscape
16:30—18:00 Session Five: Innovation Showcase - Access to Chinese Market
18:00—18:10 Closing Remarks
18:10—20:00 Drink Reception
---
Your attendence will be an honor for us and our attendees.
We look forward to welcoming there!