2018 National Dog Behaviour Conference

Saturday, 9 June 2018 at 09:00

-

Sunday, 10 June 2018 at 17:00 (BST)
Event Details
DBC Overview
The fifth annual National Dog Behaviour Conference (previously named the Dog Bite Prevention & Behaviour Conference) will be held in Coventry, England on June 9-10, 2018.
This unique two-day event has become the UK's preeminent dog training and behaviour-related conference, featuring a world-class lineup of presenters, a breadth of unique topics and concepts covered which is unmatched in the industry, and a commitment to providing education and inspiration for all attendees.
For the fifth straight year, renowned TV dog behaviour expert Victoria Stilwell is bringing together many of the world's top canine behaviour experts, university scholars, specialists and thought leaders to explore topical animal-related concepts, the social and behavioural issue of dog bite prevention, innovative approaches to understanding and communicating with our domestic dogs and more.
The Dog Bite Behaviour Conference (DBC) is unique among dog industry events in terms of the quality and scope of its presentations, while also fostering and celebrating an inspirational sense of community among like-minded dog owners, trainers, wardens, veterinary professionals, organizational leaders, groomers, responsible breeders, walkers and general animal lovers.
What's New in 2018?
New Name!  The conference name is changing from the Dog Bite Prevention and Behaviour Conference to the Dog Behaviour Conference. While the overall focus and trending themes of the conference (bite prevention, aggression and behaviour issues) will continue as it has in the past, the new name is indicative of a wider approach that incorporates behaviour issues beyond just dog bites. Presentations and discussions will still include bite and aggression-related topics alongside more broadly applicable canine behaviour issues.
New Location!  The 2018 DBC will be held at the DoubleTree by Hilton in Coventry, and steeply discounted room rate packages will be available for conference delegates beginning at

£78

per night. Attendees staying at the conference hotel will benefit from the convenience of being on-site and the built-in networking opportunities that come with being around other like-minded dog folks. Details regarding room reservations will be available shortly, and all those who register for the conference using the earlybird rate will be guaranteed a room in the conference block.
More Great Speakers!  The DBC will continue its well-earned reputation as one of the premier dog training and behaviour events of the year by bringing back a mix of previous DBC presenters along with some exciting new 'names' in the dog world. See the complete list of 2018 presenters below
More Detailed Presentations!  In response to popular demand, the format of the presentation schedule is being shifted to allow for more in-depth explorations of topics by our esteemed speakers. Speakers will also include time for Q&A with attendees following each presentation, and some of the presenters will include live dog demonstrations where appropriate. Attendees will also notice a more streamlined daily schedule to allow for more networking time, better bathroom access, and more reasonable time between sessions.
Better Food!  We heard you, and we agree! The 2018 DBC will feature specially-designed hot meals from the Courtyard by Marriott catering team - no more sandwiches! Tea, coffee and other refreshments will also be more readily available than in past conferences at no extra charge to attendees.
Dedicated One-Day Victoria Stilwell Seminar!  New to this year's lineup is a separate one-day seminar hosted by Victoria Stilwell on the Friday before the DBC weekend. This one-day event is ticketed separately from the 2-day DBC, and registration is now open for this special daylong event!
Spaces are limited, and this event has sold out for the past four years, so don't delay in registering for the conference now to ensure you have a seat at this industry-leading annual event!
2018 DBC Conference Presenters*: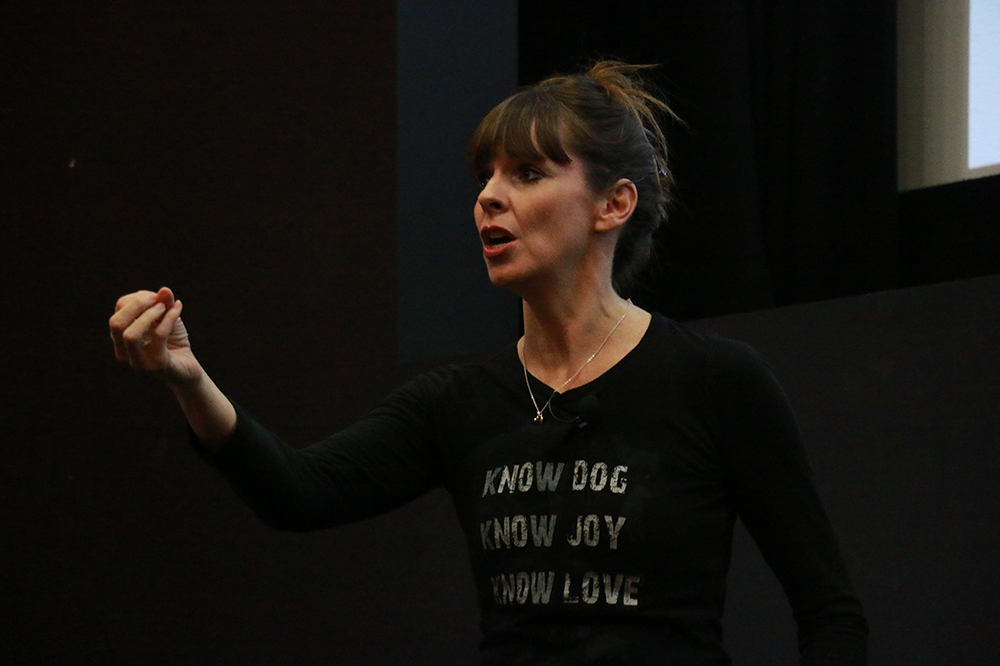 The National Dog Behaviour Conference is open to everyone including dog lovers, dog trainers, groomers, pet sitters and dog walkers, animal shelter workers and other animal care professionals, as well as dog wardens, law enforcement, educators, veterinarians and legal and medical professionals.
2018 DBC Topics Covered:
Understanding how dogs feel when left alone

Latest scientific research regarding separation anxiety

How to help dogs to relax during previous anxiety-inducing triggers

Creative enrichment – Keeping busy dogs busy

Useful enrichment activities to build stronger bonds between dog and owner

Exploring a new approach to trigger-stacking

Understanding the negative role common household setups can have on dogs

Tools for managing canine environments to create emotional and physical well being.

The importance of effective handling

The human half of a good search team

The keys to using scent work to enrich dog behaviour

Using trick training alongside exercise for canine fulfillment

Creating and maintaining mental agility in dogs
Hotel Info:
Registered attendees are eligible for exclusive access to the conference hotel's preferred room rates for the weekend, which are as follows:
Nights of Thursday - Saturday, June 7-9th:
Single with Bed & Breakfast (deluxe rooms only) - £98/night

Double with Bed & Breakfast (deluxe rooms only) - £108/night

Dog(s) staying in room - £10/night
The above rates are available on the nights of Thursday, June 7 through Saturday, June 9. If you would like to stay the night on Sunday, June 10th, you're free to make your own arrangements with the hotel.
To book your reservation directly with the hotel, click the 'hotel booking' link below and use the code 'ADOGA' in the GROUP CODE field (not the promotion/offer code' or 'corporate account' fields) to access the preferred rates. You may also call the hotel at 02476-603-000.
HOTEL BOOKING  
(http://doubletree3.hilton.com/en/hotels/united-kingdom/doubletree-by-hilton-hotel-coventry-CVTHNDI/index.html)
Victoria Stilwell 1-Day Seminar:
Victoria will be holding a one-day seminar called 'What To Do When: Become a Problem-Solving Guru' on Friday, June 8th at the same conference venue. This is a separately-ticketed event, so if you'd like to attend, you must register on the separate Victoria Seminar Page. Please keep this in mind when determining your hotel stay schedule.
Conference Details:
Free parking is available at the venue in the hotel car park.

Hot lunches, refreshments and tea/coffee are provided with registration.

Dogs are welcome in the conference hotel but are not permitted in the actual conference room during presentations.

Frequently Asked Questions:
Q:  How do I register for the one-day Victoria Seminar the day before the Conference?
Victoria will be presenting a one-day seminar on the Friday before the conference (June 8) which is ticketed separately from the DBC registration. You can register for Victoria's seminar by visiting https://wtdw2018.eventbrite.co.uk now.

Q:  Can I attend just one of the two DBC days?
Due to space and registration limitations, attendees are not able to register for only one day of the conference. All registrations are for the the full, two-day conference.
Q:  Is lunch included?
Yes! Refreshments and lunches are included in the cost of registration.
Q:  Is there free parking?
Yes. Complimentary parking is available in the conference hotel car park.
Q:  What time does the conference begin and end each day?
Saturday, June 9 will begin at 9am (registration and check in open at 8am) and end at 6pm. Sunday, June 10 will begin at 9am and end at 5pm. All times are subject to change.
Q:  Are there discounts for group or rescue organisations?
Costs for the conference are already underwritten and further discounts are unfortunately not available. Discounted 'early bird' rates are available for those purchasing tickets before Jan 1, 2018.
Q:  What is the refund policy?
Due to space restrictions, after May 9, 2018, refunds will only be granted upon request if there is a waitlist for the conference.
Q:  Is VAT included in the ticket price?
No VAT is collected on the ticket purchases, as the organising entity is a US company with no VAT exposure. Therefore, VAT receipts are not available for delegates.
Q:  My ticket was bought for me by someone else. Does my name need to be on the ticket?
Yes. The ticket registration process requires the purchaser to list each attendee by name, however if this changes or for some reason there is a different name on your ticket from the person who will be attending, please contact us at vspdt@positively.com and let us know the names of each attendee that will be attending with each ticket.
Q:  Do I need to bring my printed ticket with me to the conference?
Yes. Please bring the ticket that was automatically sent to you when you registered.
Q:  What are my hotel options near the conference?
We recommend that you take advantage of the discounted room rates negotiated on your behalf with the conference hotel - the DoubleTree by Hilton Coventry.
Testimonials from Attendees of previous Dog Bite Conferences:
Pretty overwhelmed with your fantastic line-up.
A brilliant conference. I brought so much away with me; expanding personal knowledge, practical things that I can implement on a day to day basis and ideas for areas in which I can improve my own dog training business.
It was my first Dog Bite conference and loved it. Came away a lot more knowledgeable with links to useful sources of information. The conference is sharing a great message and the more we can spread the word to help prevent children getting bitten, the better.
This was my first attendance and I thought it was brilliant, I will certainly encourage people to attend, this information needs to be filtered through to pet owners not just dog trainers.
As a veterinary nurse I have a very basic knowledge of dog behaviour but after this weekend I have really seen how behavior is an essential part of caring for dogs with in the veterinary practice. I will 100% be looking into ways of getting the information out to clients, especially regarding children and dogs. I learnt something from every speaker and overall thought the conference was amazing. Can't wait for next year!
I came away from it totally motivated and to put into practice what knowledge I had gained. It was a lot to take in but hopefully the notes I wrote down will make sense to me.
The conference gave me so much information to think about. I've been to lots of conferences for Veterinary nursing but never have I come out and thought Wow!
Truly inspiring and informative
I felt everyone was very welcoming and open, it is a great group to "feel a part of". Very well run. Thank you to the whole team.
A Great experience, the speakers were incredible informative but also meeting all the other attendees taught me a lot about all sides of the dog world.
Just starting out in the dog world having been a People trainer for the last 20 years. For me this conference was invaluable. It has opened my eyes up to so many things and my head hasn't stopped spinning yet. Thank you for such an amazing experience.
The speakers were excellent and entertaining when appropriate. As always I learnt something new and became inspired to want to do more.
Fantastic!!!
Thoroughly enjoyed the experience, thank you so much for bringing it all together. Fabulous range of excellent speakers. Learned a great deal and has given me lots to consider and reflect upon. Was not sure how relevant this was going to be to me, but am so glad I attended and will help to make sure that Pets As Therapy staff & volunteers get to attend next year.
The conference was great, really motivational and informative. It has a great mix of speakers and had a lot of practical knowledge and help
The conference was brilliant I have learn so much and I feel that what I have learn will make me a better person in my job. Thank you again for running a brilliant conference and I will be at next year's conference.
An inspirational 2 days of lectures, great to see so many people working hard to change the lives of both dogs and people.
The DBC is an excellent opportunity to network. I attended initially as an interested party (being on my second people-reactive dog) and out of my networking, I have ended up enrolled on a canine behaviour and training degree programme, planning a future in canine welfare. I love the mix of academic and practical that the conference provides and think it found the 'just right' balance of the two.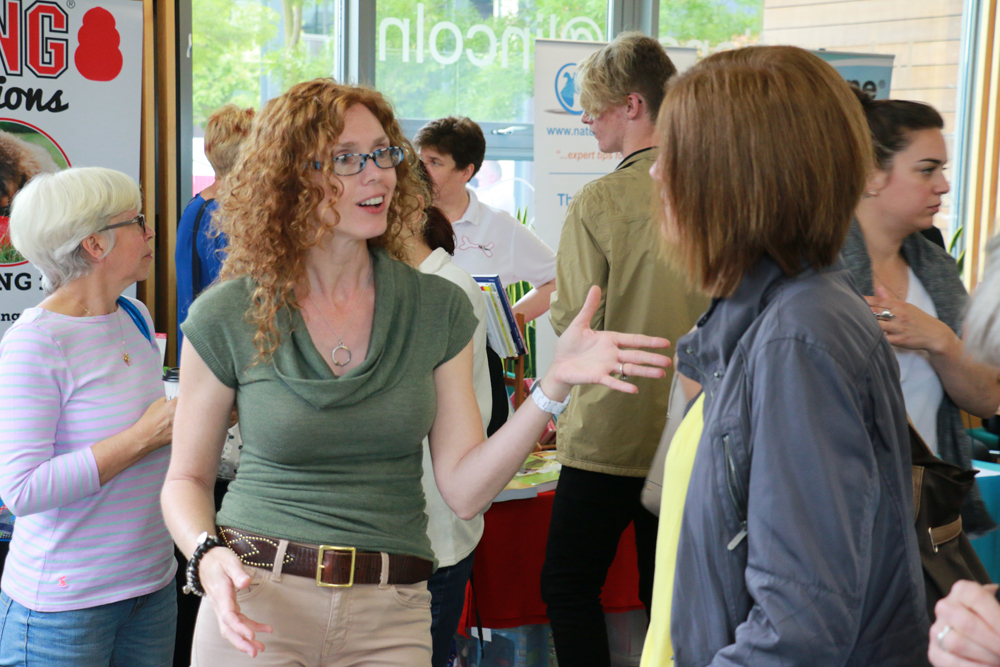 When & Where

DoubleTree by Hilton Coventry
Paradise Way
Waslgrave Triangle
CV2 2ST Coventry
United Kingdom


Saturday, 9 June 2018 at 09:00

-

Sunday, 10 June 2018 at 17:00 (BST)
Add to my calendar