Description
Foyles is proud to partner once again with The Reading Agency to host an exclusive evening bringing together all six authors in this year's Quick Reads selection: Mark Billingham, Fern Britton, Tammy Cohen, Vaseem Khan, Dorothy Koomson and Kit de Waal.
Quick Reads was founded in 2006 to provide shorter, easier to read, accessible fiction for less confident adult readers - now in its 12th year, the programme has distributed over 4.8 million books.
Each year Quick Reads commissions six big name authors and this year's all-star line-up is no exception, join us as they come together to discuss the inspiration behind their new titles and their work.
Cut Off by Mark Billingham - A punchy, taut urban thriller about that moment we all fear: losing our phone! For Louise, losing hers in a local café takes a sinister turn. Billingham has sold five million copies of his novels and has twice won the Theakston's Old Peculiar Award for Crime Novel of the Year.
The Great Cornish Getaway by Fern Britton - As the sun sits high in the sky over Cornwall, and the sea breeze brings a welcome relief to the residents of the seaside village of Trevay, a stranger arrives in need of a safe haven. The former presenter of This Morning, Britton is now a Sunday Times bestselling author and this story is full of her usual warmth and wit.
Clean Break by Tammy Cohen - A dark and twisty portrait of a marriage coming to its bitter end, from the mistress of domestic noir. Can Kate rid herself of her jealous husband before it's too late? Cohen's acclaimed novels include The Mistress's Revenge, The War of the Wives and Someone Else's Wedding.
Inspector Chopra and the Million-Dollar Motor Car by Vaseem Khan - An enchanting Baby Ganesh Agency novella from the bestselling Khan set in the bustling back-streets of Mumbai. Inspector Chopra and his elephant sidekick have two days to solve the mystery of a missing - and very costly - car for its gangster owner, or there'll be a heavy price to pay.
The Beach Wedding by Dorothy Koomson - A gripping short read featuring a wedding, family drama, and old secrets. Tessa is thrilled when her daughter arrives in Ghana to get married but memories of the last time she was there haunt her; can she lay the ghosts of the past to rest or will they come back to haunt her daughter's future? Koomson is the bestselling author of 12 novels including The Ice Cream Girls, My Best Friend's Girl and most recently The Friend.
Six Foot Six by Kit de Waal - A charming novella from Costa First Novel Award shortlisted author de Waal about finding friendship in the most unlikely of places. Everything changes for Timothy, a 21-year-old with learning difficulties, when local builder Charlie calls on him for help. De Waal worked in criminal and family law and was a magistrate for many years before her international bestseller, My Name is Leon was published.
The panel will be chaired by author, journalist and The Reading Agency commissioning editor, Fanny Blake.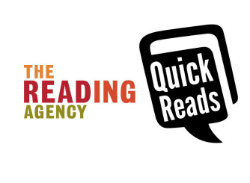 Tickets: £5 standard (booking fees apply).
Venue: The Auditorium at Foyles, Level 6, 107 Charing Cross Road