Location
Aerospace Bristol
Hayes Way
Patchway
BS34 5BZ
United Kingdom
#BtechShowcase2019 - TECH, DIGITAL & SOCIAL INNOVATION CONFERENCE & EXHIBITION. THE 4th INDUSTRIAL REVOLUTION.
About this event
2 ticket bundles now available for £199+VAT.
Access to all keynotes, presentations, exhibitors and lunch is included!
The Bristol Technology Showcase (BTS) is the first event of its kind to be held at the world famous Aerospace Museum, home to the iconic Concorde, built in Filton, Bristol. BTS is focused on emerging technologies and those themes encompassed in the 4th industrial revolution with a focus on how they will affect businesses and wider society. Focusing on some of the key challenges facing organisations today, BTS is aimed at the b2b community with leaders, influencers, investors and technology leaders responsible for strategy and business plan execution in their respective organisations.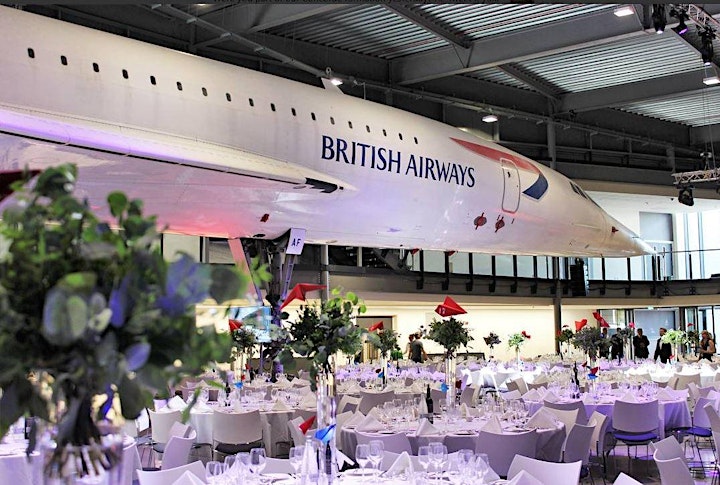 TRANSFORM
Digital transformation is all around us, as employees, consumers, customers, we are surrounded by technology and transformative change. We are in a time of un-paralleled exponential technological advancement and businesses will need to adapt and transform as societal expectations change and technology evolves.
Companies need to innovate, adapt and understand the risks and opportunities that exist for their customers/consumers, their employees and their social and environmental responsibilities.
The Bristol Technology Showcase coming to Aerospace Bristol on the 8th November 2019 is a unique one day conference and expo that will provide access to multiple Concorde stage debates, multiple Future's Room keynotes and multiple companies in the exhibition space.
SPEAKERS INCLUDE:
Gerd Leonhard, Futurist and CEO, The Futures Agency
Simon Beswick, International CEO of Osborne Clarke
Katherine Bennett CBE, Senior Vice President of Airbus
Jonny Codling, VP Product at Ultraleap
Professor Kirsten Cater, Academic Director of the multi-award-winning Centre for Innovation and Entrepreneurship at the University of Bristol
Dr. Zara Nanu, CEO of Gapsquare
Paul Perera, Vice President of GKN Aerospace
Giles Colborne, Founder of CX Partners
Jane Ginnever, Founder|Facilitator|Change Consultant|OD Specialist|HR Expert|NED
Natasha Green, Founder Director at Estrella Green
A full list of speakers is available here on the Bristol Technology Showcase Website
Tickets to Bristol Technology Showcase include the following:
Access to all keynotes
Access to all speakers and panel debates
Access to the Future's Room
Access to the exhibition space
Lunch and refreshments
KEYNOTES & SPEAKERS
Listen to world class keynotes and speakers on key issues being faced within any business. How do you maintain the trust of your customers/consumers in this new technological age? See what others are doing to work closer with their communities and civic responsibilities and understand the challenges that lay ahead for the skillsets that will be needed tomorrow and those that are becoming redundant.
Listen to our Technology for Good presentations and also attend various discussions where the social impact of technology is most felt.
BTS will deliver impactful and insightful presentation and debates providing something for all decision makers and business leaders.
PANELS
Listen to industry leaders discuss, debate and challenge on some of the key issues that businesses need to consider in this technological revolution. Obtain insights from other industries and engage with other delegates to evaluate your approach. We are bringing leaders together to discuss and evolve.
THE FUTURE OF....
Attend the Future's Room to listen to industry leaders talking about the future of various technologies and industries. AI, Voice, Interaction, Robotics, Farming, Flight, Quantum and many more. With companies like XMOS, Ultraleap, Amazon, GKN Aerospace, KETS Quantum and others presenting, see what the future holds, how it's applicable to you and how you can innovate in your business.
EXHIBITION
At the heart of the event is our expo, showcasing the very best from Bristol tech and its digital ecosystem to senior decision makers. This is your chance to sell products and services to highly targeted, engaged visitors, face to face.
BTS is being supported by Alastair Currie Events, a leading south west event management business and we're pleased to announce that the final closing keynote will be delivered by Gerd Leonhard, one of the world's leading futurists in front of the iconic Concorde plane making the 2019 BTS a truly unique event.
THE VENUE IS OPEN FROM 8:30 FOR DELEGATE ARRIVALS WITH THE AGENDA STARTING AT 09:40
Car parking spaces are available at the venue but please consider using public transport or car sharing wherever possible. Just 2 miles away from Bristol Parkway station and the M5, all details on how to get to the venue can be found here.
Bristol Technology Showcase website link.
@BtechShowcase #btechshowcase2019