2019 Thanks for Giving Celebration: "An Evening of Vesper Glory in SEARK"
About this Event
The Legacy Center in West Dumas, Arkansas Presents… "Thanks for Giving 2019" and ... ALMOST CHRISTMAS"
~An Evening of Vesper Glory and Community Awards~
What better time during the year than this to say… 'thanks for giving' to the people who have given much of themselves 'all year long' (and longer) in so many meaningful ways?
This event is all about the community coming together to kick off Thanksgiving, giving love and preparing to head into the holidays with great fellowshipping and networking.
Just added is a special way that the community can support Desha County's Dolly Parton's Imagination Library program. Community members have two opportunities to be involved:
1. Individuals can purchase a "Thanks for Giving" concert ticket. Each ticket costs $20, which includes a reserved ticket to the event.
2. Individuals can donate an additional $5 to support Dolly Parton's Imagination Library launch in Desha County. These funds will stay in Desha County to provide books to children, ages 0-5.
FEATURED MOMENTS:
*Concert Performance of the famed UAPB Vesper Choir in Dumas plus LeTitia Owens from Dallas, Texas
* Community 'Thanks For Giving' Awards to Organizations and Leaders Across SEARK
2pm—3pm
*A Taste of the Churches: This Reception-styled pre-concert event brings a menu of great food and hospitality to the event for the VIP's and organizers to have some good food and fun. To get your church or group involved contact:
"Taste of the Churches" Linda Rogers | 870.501.0356
Contact Legacy Center Partners/Organizers for "Thanks for Giving" Concert 2019
Rev. Arthur L. Hunt, Jr. | The College of Aspiring Artists | 870.623.8179 email: thecollege@aol.com
Annette Cowen | ASC Property Management | 870.866.6666 email: ascproperty@centurytel.net
Enjoy a sneak preview with the video shown here. Be sure to get your tickets early and sponsors can wow their employees, customers and community like never before.
About West Dumas Community Family Life and Legacy Center:
The West Dumas Community Family Life Center and Legacy Center is a public-benefit non-profit corporation offering community programs and services with the mission to uplift and transform lives from multiple levels of disparity and inequities. Thousands of persons from Dumas throughout the Delta have utilized this venue for twenty-five years. The current program of destination is the Digital Arts Technology College Network (DAT—C) coming fall of 2019. It focuses on education, entrepreneurship and economic development. The center is currently engaged in a 1.5-million-dollar redevelopment initiative to build out DAT-C. The core mission is providing the education of students who are primary in low income housing (but also other constituents), the tools necessary for the students/participants to be successful business executives or entrepreneurs inside the creative economy workforce.
On June 6, 2019, Acting Assistant to the Secretary for Rural Development Joel Baxley announced the West Dumas Community Family Life Center (WDCFLC) in Dumas, AR as one of 47 rural recipients that will receive technical assistance to help create and implement long-term economic development plans.
"USDA and its partners are bringing local leaders and economic development experts together to create opportunity in some of the nation's most economically challenged rural communities," Baxley said.
USDA is providing the assistance through an initiative called Rural Economic Development Innovation (REDI). The West Dumas Community Life Center has been paired with the national Rural Community Assistance Partnership (RCAP). Communities Unlimited, the Southern RCAP, is a community development organization that will provide technical assistance under REDI to support five rural towns and regions in Arkansas, Mississippi, Oklahoma and Texas, including Dumas, to create and implement economic development plans. The WDCFLC applied for the planning assistance in order to expand e-connectivity access and improve economic development that will benefit residents of 20 rural counties throughout Arkansas.
For more information on REDI visit The REDI Grant
Backbone partner organizations are TCAA, The College of Aspiring Artists and ASC Management Company. ASC has over 1200 housing units across the state of Arkansas and houses over 2,000 persons in apartments and other housing units. The campus sits on five acres and has a park and recreations program that features, a full court covered basketball arena, playground equipment and plenty room for family, school, church reunions, festivals and more.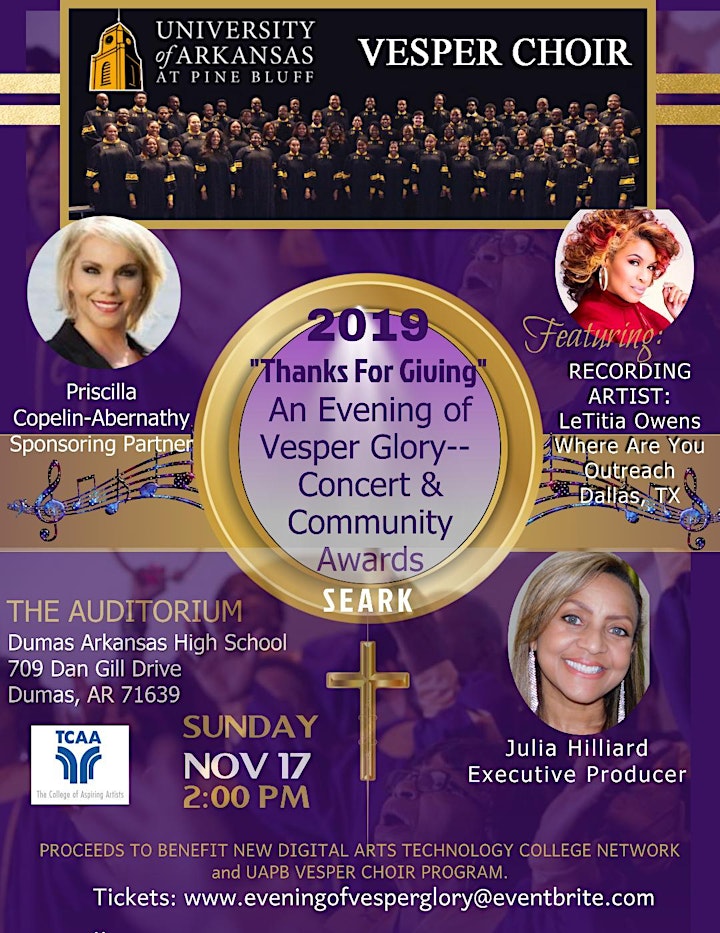 Click on image to enlarge and see how your sponsorship helps us but gets you up close and personal with great people, fellowshipping, food and festivities.