2019 UK-China High-Level Talent Fair/2019第二届中英高层次人才交流大会
Sales Have Ended
Registrations are closed
Thank you for your interests. The 2019 UK-China High-Level Talent Fair has finished. Hope we can see you next time./ 2019年第二届中英高层次人才交流大会圆满闭幕,期待下次见到你。
Sales Have Ended
Registrations are closed
Thank you for your interests. The 2019 UK-China High-Level Talent Fair has finished. Hope we can see you next time./ 2019年第二届中英高层次人才交流大会圆满闭幕,期待下次见到你。
Description
2019 UK-China High-Level Talent Fair/
2019第二届中英高层次人才交流大会
ABOUT关于本次活动
Under the guidance and support from the Education Section of the Embassy of the People's Republic of China in the United Kingdom of Great Britain and Northern Ireland, the UK-China High-Level Talent Fair is a stable, standardized, specialized and globally accessible professional talent exchange platform held by UCTDA.
中英高层次人才交流大会是在中国驻英国大使馆教育处的特别支持与指导下,由英中人才发展协会UCTDA主办的常态化、规范化、具规模的人才交流与智力转化的专业平台。
The fair brings together high-level overseas talents and relevant industry associations in the UK and Europe, actively promoting the effective matchmaking between employers and elites from all walks of life. The fair is committed to the exchanges and communication of Sino-British innovative talents, industry leaders, tech elites and enterprises.
大会集聚了在英国乃至欧洲的高层次海外人才数据库资源和相关行业协会的优势,积极推动各行业各领域的精英人才、优秀毕业生与用人单位实现精准对接;为中英两国创新人才、行业领袖和科技精英之间的交流与合作,为英国企业对华投资和赴华工作的英方人士,提供全方位支持与服务。
The fair has been held regularly in the UK since 2018. The First UK-China High-Level Talent Fair was a great success. Compared to similar events over the years, it was the most successful in terms of size and media coverage. It was named "the largest and most influential talent exchange event between China and the UK." The 2019 UK-China High-Level Talent Fair will continue to bring more opportunities to you. Wish you all the best.
自2018年起,大会每年将在英国定期举办。首届中英高层次人才交流大会在参展单位规模、参会人数、 招聘岗位数量、参展效果和媒体评价上,均创下了历年来中英乃至中欧同类活 动的最好成绩。被中英媒体称为"中英两国间迄今为止最 具规模和影响力的一次人才交流盛会"。
FOCUS ON UK-CHINA, EMBRACE THE FUTURE
聚焦中英,面向未来
Specially Supported by
特别支持
Education Section, Embassy of the People's Republic of China in the United Kingdom of Great Britain and Northern Ireland
中国驻英国大使馆教育处

Organized by
主办方
UK China Talents Development Association
英中人才发展协会
Specially Invited Co-organizer
特邀协办
Chinese Students and Scholars Association UK
全英中国学生学者联谊会


如何到达会场
GETTING TO THE VENUE
Queen Elizabeth II Conference Centre, Broad Sanctuary Westminster, London SW1P 3EE
坐落于伦敦威斯敏斯特区的心脏地带,毗邻大本钟、西敏、国会广场等著名景点。
Queen Elizabeth II Conference Centre is ideally located in the very heart of Westminster, with a few minutes walk from attractions like Big Ben, Westminster Abbey and London Eye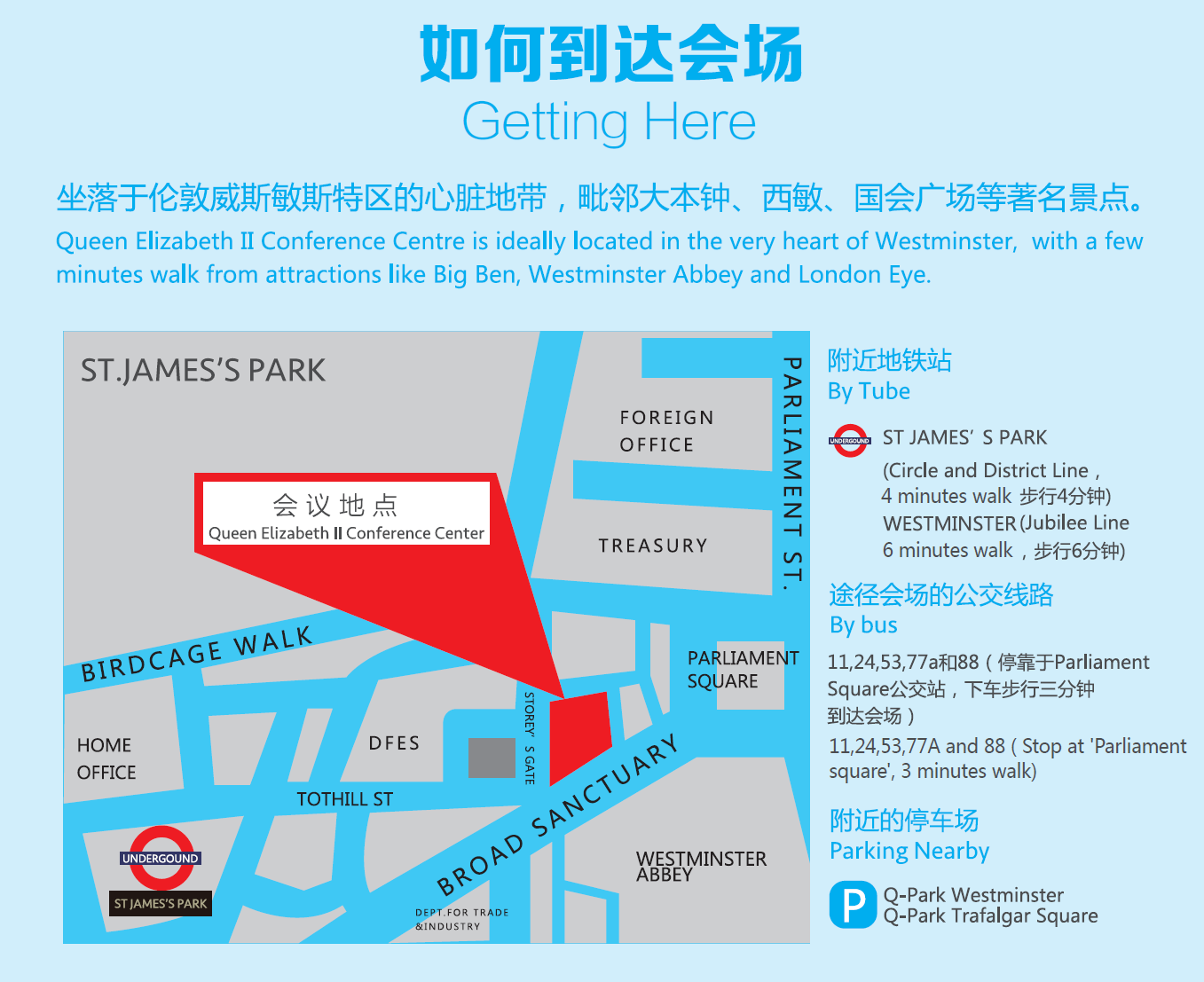 CONTACT US联系我们
第二届中英高层次人才交流会组委会
The 2nd UK-China High-Level Talent Fair Organizing Committee
WeChat official account:
searchtalents
海外英才