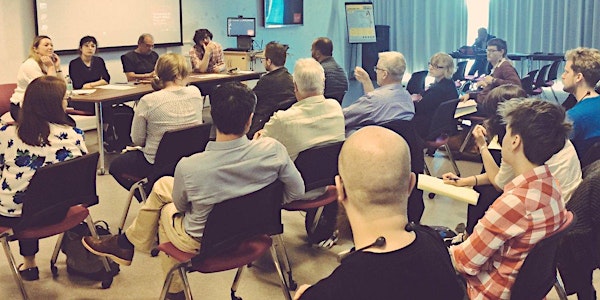 #2019PGR - Faculty of Creative Industries Post Graduate Symposium
Location
The ATRiuM (Zen Room)
86-88 Adam Street
Cardiff
CF24 2FN
United Kingdom
Description
The annual Faculty of Creative Industries postgraduate research symposium will take place at Atrium on April 9th, 2019. This is an important event in the research calendar that provides research students with the opportunity to present ongoing research publicly to a broad academic audience of staff and fellow students. This event includes talks by colleagues and ex students on post doc experiences in addition to staff advice on getting research into the public domain. It also features a number of short talks by the faculty's bursary PhD students.
9.45 – 10.00: Introduction to the day
10.00 – 11.00: Panel 1: What do I do Post PhD?: Reflections from Past Colleagues and Students.
When you hand in your PhD, what comes next? It's like Coyote finally catching the Road Runner: You are glad, but probably sad at the same time. A time filled with happiness, but also uncertainty and trepidation. These three presentations by USW staff and ex-students will provide advice for researchers who are in the process of completing their PhD and intent on continuing in academia.
Dr Amy Genders: From PhD to Post Doc
Dr Christina Papagiannouli: Life after the PhD. What next?
Dr Emily Underwood-Lee: PhD to ECR: Post Doc Research
Chair: Dr Márta Minier
Break: 15 mins
11.15 – 12.15: Panel 2: Bursary Students: Five Minute Thesis and Panel Discussion
A panel involving short presentations from six bursary students, followed by questions and panel discussion
Chris Inglis: Electro Swing: Resurrection, Recontextualisation, and Remix
My research explores the emerging 'electro swing' genre, which fuses contemporary electronic dance music with the early jazz of the swing era, along with various related styles. Investigating a genre such as this presents a number of issues, including: how to treat one's utilisation of the music of the past, and the idea of nostalgia; how one may "stay true", and remain authentic to both jazz and contemporary dance music, and if this is even an achievable task; countering the problem of appropriation, and the racial associations of the original music; and the class-based issue of high and low art, and the impact of the changing status of jazz on subsequent genres. Electro swing – whilst making an increasingly impactful impression on the popular music scene – has so far had little to no academic discussion surrounding it, a situation which this research intends to challenge.
Iwan Bala: A Certain Welsh Artist: Custodial Aesthetics in contemporary Welsh
My PhD: A Certain Welsh Artist: Custodial Aesthetics in contemporary Welsh Art is an analytical autobiography, that explains my thesis 'Custodial Aesthetics' which was formulated as a framework for my creative practice and of other visual artists in Wales from the late 1980's onwards. It deals with 'Formation' and 'Alignment' as the basis for a 'Structure of Feeling' (all Raymond Williams references) and brings focus to bear on encounters with significant practitioners, artists and writers, in Wales and beyond, who add to an understanding of Custodialism.
Luke Thomas: Towards a Ladder of Popular Music Support in Wales: the Musicians' Experience
Since the devolution referendum of 1997, it has become increasingly clear that Welsh policymakers do have the potential to influence the popular music experience in a number of ways. However, the complex strands of Welsh music policy mean that some powers are owned by the Welsh Government, while others that also impact Welsh music are either reserved to Westminster, or are organisational strategies and practices owned by British institutions such as the BBC. This research teases out these complex strands and generates a deeper understanding of how policy and musicians have evolved in devolutionary Wales. A ladder of popular music support initiatives available to Wales-based musicians has been identified. The steps within this ladder; namely Forté Project, BBC Horizons Launchpad and 12, the Music Industry Development Fund, and International Opportunities Fund; make up a series of case studies in which their impact on the careers and journeys of popular musicians is investigated. This presentation will explore the initial findings of the research; discussing how the ladder might be strengthened or extended, by identifying any existing weaknesses or gaps, and proposing potential solutions.
Jeanette D'Arcy: Conceptions of Feminism and the Literary Canon in Mainstream Theatrical Adaptations of Novels by Women Writers
Focused on the experience of the mainstream theatrical event and adaptation as intertextual practice and product, this thesis examines the ways in which mainstream performances of adaptations based on novels by women writers interact with current conceptions of feminism and the literary canon. To establish the place of this thesis in these intersecting areas of study, a theoretical framework and methodology is established, bringing together key scholarship in the fields of Adaptation Studies, Theatre and Performance Studies, feminism, and the literary canon. The thesis establishes that adaptation for the stage is Gestic in attitude and using three case studies explores the ways in which productions take advantage of this to create challenging interpretations of canonical texts; the ways in which established feminist theory becomes part of the adapted text and adaptation's meaning, manifesting itself in performance, promotional materials and criticism; how productions might exploit the specific effects of adaptation on stage in order to politicize their texts and audiences and effect feminist social change.
Faye Hannah: People like us don't get opportunities like these: Accessing screen industries in Wales: The impact of creative industries policy upon Welsh screen workforce (1997-2017)
This research determines the impact of creative industries policy upon Wales' creative workforce across a twenty-year period and therefore is considered within the context of a newly devolved Welsh Government as well as a wider UK context, mapping key historic, political and social interventions and factors. Many of these events have exasperated and increased well-documented existing inequalities within the screen industries workforce. Additionally, a lack of current and representative screen industries workforce data, leads to little meaningful mapping of Wales existing screen workforce - but why is this important?
Understanding the 'make-up' of Wales' screen industries allows analysis to determine and consider the case for further understanding inequalities and shortages. This research explores 'Who is best positioned to access creative career opportunities in Wales?' and the extent class plays a part in who perceives this work is for them. For Wales, these challenges are magnified by location as well as important factors including indigenous language and high levels of post-industrial socio-economic deprivation, all within a backdrop of a challenging transport infrastructure. This all too often results in only those who have the appropriate financial, social and pastoral support being well positioned to get in as well as get on.
Clementine Schneidermann: Fantasies from the Real : Participatory and Collaborative Documentary.
This is a practice-led PhD for which the student has produced a body of photographic work based upon a collaborative engagement with children in Blaenau Gwent and Merthyr Tydfil. Both her written thesis and practice explore the problematic of the representation of class in terms of the tradition of documentary and seeks to find productive, affirmative ways of representing communities in which those represented are given the space and freedom to creatively determine their own self-image through participation and collaborations.
Chair: Prof. Paul Carr
Lunch: 12.15 – 1.00
1.00 – 2.30: Panel 3: Using Your Research in the Real World
Prof. Paul Carr: Social Entrepreneurship: A Case Study:
After providing some historical background to his career to date, this talk will focus on the analysis of two recent research projects that Paul Carr has been involved in – the organisation and implementation of an exhibition celebrating the 'lost' musical history of Merthyr Tydfil, and a sister project which was conducted as part of the 2017 Being Human Festival, where local school children were given the opportunity to re-enact the musical memories of older community members. The talk will conclude with a discussion surrounding the pros and cons of organising social entrepreneurship initiatives such as this.
Dr Márta Minier: Extramural Activities by Academics: Beyond the Ivory Tower of Academia.
This informal presentation will provide examples from professional practice of broader engagement with non-academic or 'blended' contexts such as The Conversation and will highlight the significance of engagement with communities outside strictly defined academic settings.
Prof. Mark Durden: The Laughable Enigma of Ordinary Life.
Professor Mark Durden will introduce his collaborative work with David Campbell (Professor of Fine Art, Northumbria University), focusing on their recent curatorial and published work on art and comedy, which continues their longstanding exploration of art's affinities with popular forms of entertainment. In this talk, Durden will also address the freedoms and constraints of practising as an artist, writer and curator in the context of academia.
Chair: Prof. Joseph Sobol
2:45 Close