About this Event
The ACPGBI 2020 Programme Committee look forward to welcoming our Members at a virtual meeting from 5th to 8th July 2020 when we should have been meeting in Edinburgh. Consider this as ACPGBI's "Edinburgh Fringe".
We shall be bringing you this virtual meeting that has arisen due to a time of challenge and opportunity but shall still deliver on our original inspiration of TIME – Thoughtful Inspiring Motivational Exciting sessions that are of our time, your time, looking beyond our times…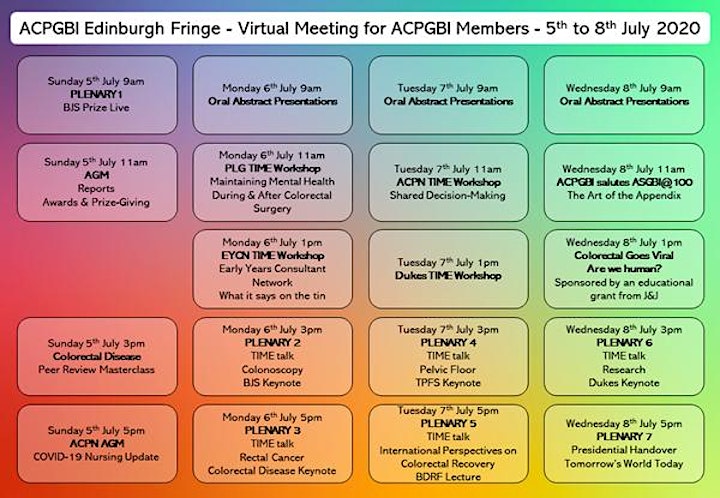 The BJS Prize session will be held live at 9am on Sunday 5th July. The AGM, reports on ACPGBI activities and Awards Ceremonies will follow at 11am.
We shall be holding two plenary sessions each day at 3pm and 5pm from Monday 6th to Wednesday 8th July, with a 30 minute break in between.
The oral abstracts will be presented live. So will the TIME Workshops from the Early Years Consultant Network, Dukes Club, Patient Liaison Group and Association of Coloproctology Nurses.
On Wednesday 8th July, we shall also be celebrating ASGBI's centenary year and unveiling the first of our Colorectal Goes Viral lunchtime webinar series, sponsored by an educational grant from Johnson & Johnson. This first webinar is entitled "Are we human?"
It is TIME to reconnect our colorectal community, so join together and plan to participate and discuss with safely distanced colleagues and trainees.
This event is for ACPGBI members.
Not a member of ACPGBI?