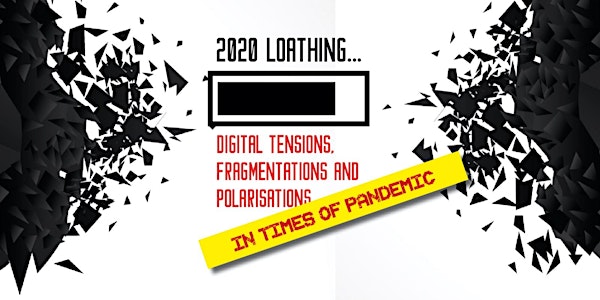 2020 LOATHING: Digital Tensions, Fragmentations and Polarisations
The King's College Digital Humanities Department PhD Conference goes online to analyse our increasingly digital lives in times of pandemic
About this event
2020 Loathing? Almost 50 years ago Fear and Loathing in Las Vegas portrayed the despair over the failure of 60s utopianism and the feeling of ennui with the beginning of the long rise of the right. About 50 years into the digital transformation of the lifeworld, this conference asks: are we entering a new phase of loathing? From the introduction of the personal computer, to the rise of mobile devices, to the current diffusion of social media platforms, the digital has become so inescapable it is approaching banality.
The coronavirus pandemic has become an intensification of existing tendencies, as our homes in confinement transformed in extended offices or personalized cinemas thanks to streaming technologies. We continuously generate ever-more finely granulated data which is extremely valuable, as the stratospheric market value of Facebook or Google attest. Most of us, however, are more vulnerable than ever, while a global digital plutocracy accrues untold riches in the middle of a health crisis.
This conference due to the pandemic will change its traditional format:
Although the traditional conference will not be possible, we still want to hold these important discussions and reflections.
Therefore, we will present 2 different online panels that will explore the digital tensions behind this pandemic, one led by Dr Jennifer Pybus and the other by Dr Fernanda Bruno.
Today, governments are resorting to digital solutions to deal with the pandemic: from location trackers, to well-being self-assessment apps. We invite a critical focus on these contradictory forces, wherein, for example, the promises of personalisation have led to the fragmentation of audiences and polarisation of politics; or, wherein digital distributed networks seem to have empowered platform enterprises like GAFA as much as new forms of bottom-up participation. We frame this under 2020 Loathing not as an expression of resignation, but in order to provoke new concepts and to sharpen ways of seeing and addressing these contradictory tensions unleashed by the coronavirus pandemic. In short, we seek to raise this discussion which can recognise the generative and transformative capacities that were always already a constitutive part of the digital and of the data we generate.
We will shortly update this page with a preliminary programme. Please, register, so we can send you the link to attend on the week of the conference, which will take place on Friday 26th June 2020, at 3pm BST.
Feel free to share information about the event, and join the conversation on our Twitter and Facebook Page.