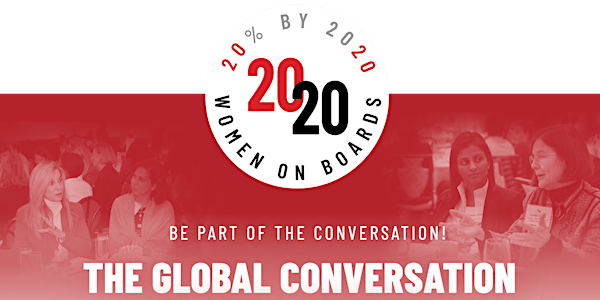 2020 Women on Boards - Conversation on Board Diversity
2020 Women on Boards presents The Global Conversation on Board Diversity. Join us at the UK event to map your path to the boardroom.
About this event
This November women across the globe will come together in interactive sessions to focus on increasing gender balance and diversity in our boardrooms.
The UK Conversation will include inspiring short presentations from trailblazing board members. This will be followed by mentoring sessions where women with senior leadership and boardroom aspirations will have the chance to ask questions and gain insight from mentors – both male and female – who champion diversity.
For the first time the UK Conversation will be virtual, enabling you to join in whatever your current work situation and/or location. Register - for free - to participate and share in the same positive experience as previous attendees, who said:
"It was a brilliant event, I learned so much and came away truly inspired."
"So many amazing people there, really enjoyed it and took away some really good actions and things to think about."
"The speakers were so inspiring and offered lots of food for thought as well as practical advice and I really enjoyed meeting all the women in the mentoring sessions."
2020 Women on Boards invites you to celebrate our 10th anniversary year by taking part in our UK Conversation. 2020 Women on Boards is the leading education, research and advocacy campaign accelerating the global movement toward gender balance on corporate boards of directors.