Empowering Black Women & Girls To Celebrate Their Natural Hair With Pride - Since 2013.
About this event
It's been a year since the first lockdown in England, a year since live events have been allowed to take place. First and foremost, we want to thank you for your support over the last year - during the pandemic.
Based on the Government's roadmap for lifting lockdown, we've assessed the best way forward.
Our aim is to always put the Black community first, as we understand the importance of taking up space in society, celebrating Black people.
UK GOVERNMENT LOCKDOWN PLAN
As lockdown restrictions have already begun to ease across England, we are confident that CURLYTREATS will be able to go ahead this summer. On 17 May, is the date at which outdoor events with up to 4,000 people can take place.
We never gave up hope of bringing the festival back after lockdown and have been working so hard behind the scenes to make it happen post-lockdown.
NEW DATES
Like many others we have pivoted in order to protect the future of our organisation and ensure that we too can survive this pandemic, coming out with a stronger vision for many years to come.
Therefore, we are pleased to announce that CURLYTREATS will now take place as an outdoor open-air event from 19 to 20 June 2021 at Crystal Palace Park, South London.
NEW PARTNERSHIP
CURLYTREATS have partnered with Radiate Festival to deliver our events to a larger combined audience this summer.
Radiate Festival celebrates the rich vibrant variety of culture that the Black Communities in the UK have to offer and provide a space to annually acknowledge the Windrush generations.
As two Black women-led grassroots organisations we have always been committed to adding value to the Black British community by pushing the boundaries of possibility. During this post-pandemic recovery period we are re-building back even better!
We're very excited to build on our relationship with this partnership to show what a great example of collaboration over competition really looks like.
WHY ATTEND?
Join us at CURLYTREATS Fest, if you are:
In need of encouragement & inspiration on your healthy hair journey.
Transitioning from relaxed to natural hair or newly natural.
Natural but a wearer of protective hairstyles, e.g. braids, wigs, weaves, etc.
Seeking hair care education about how to grow healthy natural hair.
A parent of a child with curls, coils, fro or locs.
Thinking about giving up the harmful chemicals from relaxers.
Learn what ingredients are good for natural hair
Get discounted beauty products and discover new brands.
Interested in celebrating your natural hair and beauty.
Seeking hands-on training and knowledge from the experts.
FEATURED IMAGES FROM CURLYTREATS 2019
We welcomed over 5,000 people at the last CURLYTREATS before the pandemic.
On October 25, 2019, people explored the expo, joined conference talks, engaged in break-out sessions, and boogied down to great music. Here's a few curated event photos.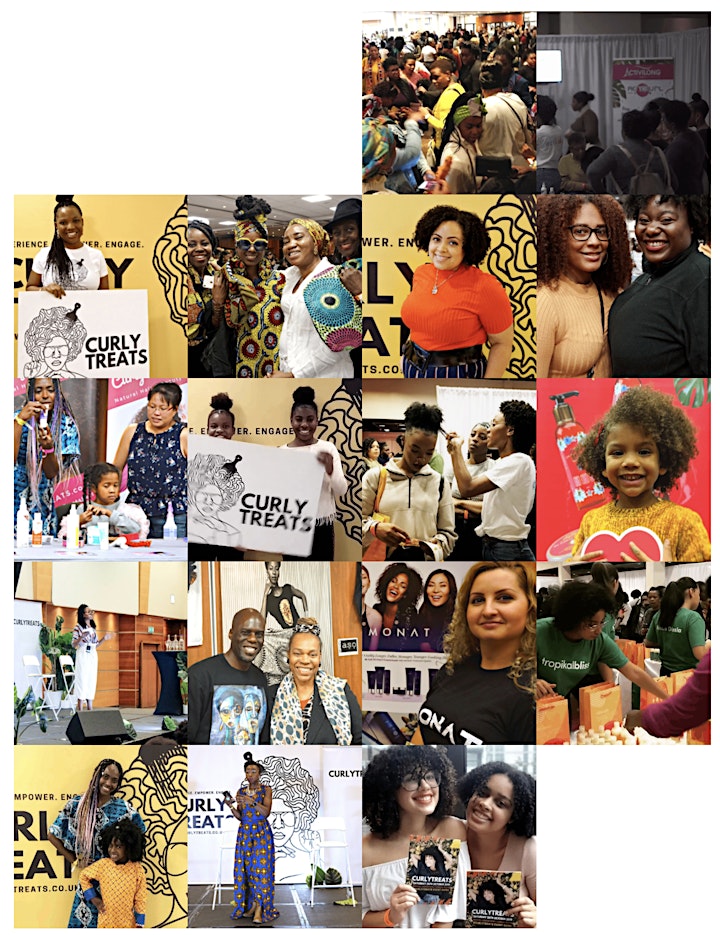 DON'T TRUST US! HERE'S WHAT THE PEOPLE HAD TO SAY
"It was really packed! There were a lot of people celebrating and loving our natural hair...There were a lot of local brands present, but the international brands were also there. Of course, we love us some curly hair tools & accessories so this was a good opportunity to buy them... Beauties we can tell you! There was such a great vibe, positivity and so much love 💕" - WE TALK BEAUTY NL
"Fab day out curlytreats with these girlies who are embracing their curly natural hair and empowering each other with their hair journeys!" - JENNIFER LANCASTER
'Thank you curlytreats for having me on Saturday! Really enjoyed my time there and got to see so many quality brands and curls in all their glory! The link between hair and nutrition often gets overlooked so it was my pleasure to be able to share all things health from the inside out amongst some hair and beauty legends!" - AMAEZE MSC ANUTR
MOST FREQUENTLY ASKED QUESTIONS
You've got questions about attending CURLYTREATS. We've got the answers.
FAQ | Admission Policy | Ticket T & C | Privacy Policy | Exhibit
REFUNDS
All existing tickets will remain valid for June. But, if you would prefer a refund and cannot make ant of the new dates, please request a refund by April 22.
Organiser of 2021 CURLYTREATS Natural Hair Festival
"Together we celebrate, together we empower" - Vinna Best, CEO
CURLYTREATS is a premier destination for the curly hair community.

We commit to providing hair education to people who have an interest in natural hair care, health, styling and products.

Our mission is to provide transformational experiences where people can empower, educate, encourage and enhance each others lives.

CURLYTREATS creates experiences that uplifts and strengthens the natural hair community.

CURLYTREATS events offer a wide range of activities for visitors, including the expo, conference talks, break-out sessions and masterclasses.


Join over 5,000 visitors this Spring 2020 at NOVOTEL West London.
Celebrating Curls, Coils, Afro Hair, And Locs Since 2013.