2021 Dick, Kerr Ladies Cup - 4th Annual Womens Walking Football Tournament
Women's Walking Football Tournament for over 40's and 50's! Back for our 4th year, a special day full of fun, football and friendship!
About this event
The Dick, Kerr Ladies Cup 
The 4th Annual International Women's Walking Football Tournament (over 40's & over 50's categories) £35 per team (+Eventbrite fee)
In honour of the Dick, Kerr Ladies Football Team, the most successful team of all time, 1917-1965 http://www.dickkerrladies.com/
Event Overview
Back with a bang! Our 2021 will be bigger and better than ever! The Dick, Kerr Cup was established in 2017 and  welcomes teams of women across 2 age groups (over 40s and 50s) to take part in a walking football competition whilst honouring the pioneering Dick, Kerr Ladies (TM).
"it was extremely well organised and well ran. It was a great atmosphere and everyone in our team really enjoyed it. Gail & Alison went out of there way to assist us in any way they could and we can't wait until the next event!""
The tournament is open to all abilities from those new to the sport and those who are ex players of the game. There is a cup and shield competition to ensure that teams are pitched against similar level opponents. The tournament prides itself on playing with a great spirit of respect and friendship.  Teams can be a group of friends, colleagues or affiliated club teams. If you do not have a team then contact us and we will endeavour to place you with a team so you can take part.
"it is a chance for ladies that may never have played before to experience a competitive environment. We entered last year and we were downhearted when we conceded a lot of goals and didn't score however it was great to come back this year and see how far we had come in 12 months with an immense improvement finishing runners up in the Shield!"
Winners and runners up receive medals and a replica of the Dick, Kerr Cup (name engraved on the original cup and retained by the organisers). Awards presented to the leading goal-scorer, player of the tournament and most sporting team.
About the Tournament
Hosted at the world-class facilities at the University of Central Lancashire, UCLan Sports Arena Preston on 4g pitches (not cages).

Qualified referees, FA rules.

Teams of 6-A-Side Women (squad of up to 9 women players with flexi-substitutions)

Two age groups - Over 40's and Over 50's

Over 50's Teams must consist of over 50's Women  (with two women players over 45 permitted, but with only one over 45 on the pitch at any one time)

Over 40's Teams must consist of over 40's Women  (with two women players over 35 permitted, but with only one over 35 on the pitch at any one time)

Entry fee £35 per team (plus Eventbrite admin fee of £3.32). Please purchase one ticket per team at the checkout (not one per person!)

Closing date for entries is 14th May 2021.
For more details contact: Gail Newsham at mail@dickkerrladies.com or Alison Hitchen on ally-7@hotmail.co.uk
Booking and payment options
You can book via Eventbrite or you can contact us on the above email and we will email a form and you can pay by cheque or direct bank transfer (thus avoiding any booking fees). In the event that government restrictions prevent the tournament taking place, entry fee of £35 will be refunded in full.
About the Organisers
The Dick, Kerr Cup is organised by the Dick, Kerr Ladies Foundation. The Foundation is not for profit and run entirely by volunteers. We keep the fee low and fundraise to cover the associated costs. As always, any profits from the event will go towards supporting women's football initiatives as determined by the trustees of the Dick, Kerr Ladies Foundation. Follow us on Twitter @dickkerrcup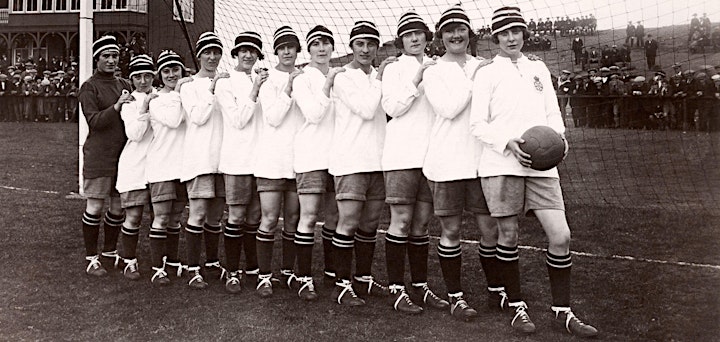 Organiser of 2021 Dick, Kerr Ladies Cup - 4th Annual Womens Walking Football Tournament