Event Information
Refund Policy
Contact the organiser to request a refund.
Eventbrite's fee is nonrefundable.
About this Event
In an online community setting, you will journey with other people who need a serious breakthrough to achieve and maintain a healthier lifestyle, with particular focus on obesity & diabetes prevention.
Dates: On Tuesdays from 6th January – 31st March 2021 @ 20:00 GMT (London time). Half term (17th February) is taken into consideration.
Location: LIVE online webinar (Presentations delivered live online, and live community forum available for accountability and community support).
Presented by: Claz Gomez – Healthy Eating & Wellbeing Therapist and Accredited Coach.
Cost: £54 for the entire programme. This works out at £4.50 per week. Includes online forum support. Individual coaching is available at additional cost. No refunds permitted within 7 days of the start of the programme. EARLY BIRD TICKETS COST 25% LESS UNTIL 23RD DECEMBER 2020!
Format of the session: 1hr total: 20-30 min of webinar teaching. 10 min breakdown of weekly activities. 20 min live Q&A with coaching.
Format of the week: Each person will be challenged with a set of tasks or activities to strive toward throughout the week. One of these is to motivate and support each other on the Winter 2021 Healthy Eating & Wellbeing Programme online forum (only nicknamed the HEW crew).
----------------------------------------------------------
Outline
Week 1: Your Current Lifestyle & History
Description: Change behaviour and its impact on our general wellbeing, Personal eating history, Assessment of daily routine, The weekly diary, Identify 'red zone' issues, Your body type.
Knowledge: Know thyself and thy history!
Week 2: Goals
Description: Establish your SMART goals for long-term effective change.
Knowledge: Your why, Set effective goals, Behaviour goals
Week 3: Integrative energy intake
Description: Upgrade your intake of energy into a 'healthier' zone in the 8 areas of wellbeing. Primary focus on nutrition.
Knowledge: Essential nutrients for the human body, choosing the most appropriate diet for your goals that doesn't allow you to compromise on the other 7 areas of your wellbeing. Time vs money vs wellbeing.
Week 4: Menu planning & Healthy food preparation skills
Description: What's in your kitchen? What shouldn't be in your kitchen? Re-arrange your diary so that you make time to prepare your own meals. Plan for the week.
Knowledge: Kitchen clean up, Being prepared, weekly meal planner, Healthy snacking available from your own cupboards.
Week 5: Self-awareness, Moderation and Portion Sizes
Description: Eat for your body type. 3 strategies to prevent overeating. Self-awareness, body-awareness. Tracking your fullness level. Change what isn't working.
Knowledge: Macro breakdown for your body type, recommended portion size guide, Moderation, calorie education.
Week 6: Healthy Eating Check-in + Review
Description: Use this week to catch up on the lessons and guides, really plan your shopping list and meal prep, ask questions, share where you are stuck, etc.! Get involved in the forum! Repeat often until things become a habit!
Goal check in – how are you doing? Struggle? Schedule a meeting/call?
Week 7: Wellbeing Check-in + Review
Description: Use this week to review your progress, assess the impact of your changes on the 7 other wellbeing areas of your life (e.g. emotional, occupational, social, etc).
Overall wellbeing check & impact assessment. Behaviour change checklist.
Week 8: Metabolism & Physical activity
Preview/Description: Adding exercise to the picture.
Knowledge: Metabolism education (incl. hormones leptin & ghrelin), HIIT + Strength Training.
Week 9: Sleep, Stress, + Self-care
Description: The difference between self-care and self-comfort, the impact stress has on your body (and goals), and creating a healthy sleep routine.
Knowledge: Hydration, Good + Bad Stress, Caffeine effects, Self-Care, Sleep, Recovery, Wellness Pyramid
Week 10: Detoxing, Fasting and Finding what might be right for you
Description: Detoxes, gut health, and intermittent fasting…
Knowledge: Detoxes, Gut Health, Pre-biotics and pro-biotics, Fasting
Week 11: Movement
Description: While strength and cardio work is useful, nothing offers the most optimal results than NEAT movement and eating healthy as your priority.
Knowledge: NEAT Movement
Week 12: Living out your sustainable change
Description: Your change journey
Knowledge: The Change Formula & using it to your advantage moving forward.
--------------------------------------
REFUND POLICY: No refunds within 7 days prior to start of the programme.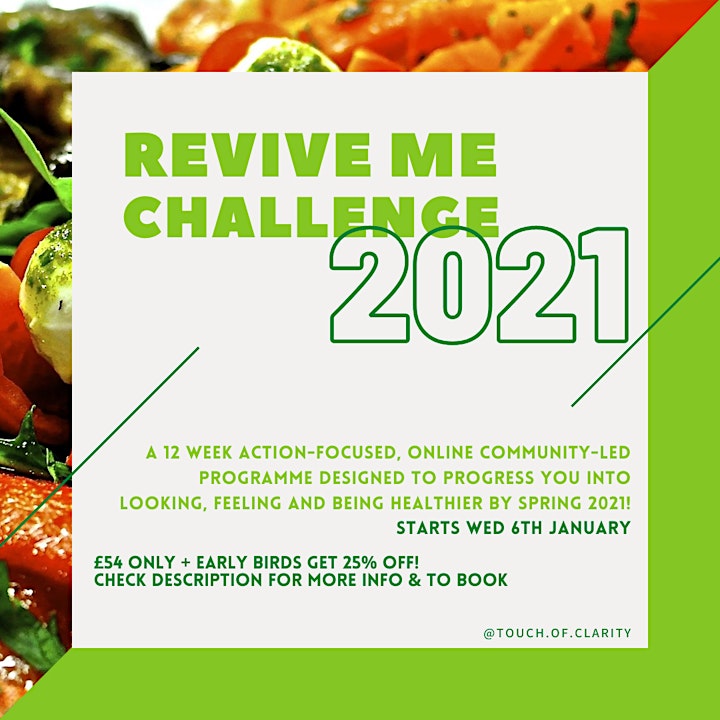 Date and Time
Location
Refund Policy
Contact the organiser to request a refund.
Eventbrite's fee is nonrefundable.