A day packed with talks, quizzes and puzzles plus plenty of bee chat all from the comfort of your own home!
About this event
e're sorry not to be getting together in person but, in view of the number of Covid cases and widespread caution about socialising indoors, we took the decision to hold our annual Lecture Day online.
We hope you'll enjoy a full day's programme of talks, bee chat and fun quizzes. You're welcome to come for as much or as little of the day as you like – but hope you'll enjoy the mix.
Our speakers are:
Brigit Strawbridge - An Introduction to Bumblebees and Solitary Bees
Clare Densley and Martin Hann – Oops my bees have swarmed!
Peter Higgs – Live Honey Bee Removals
Rickard Rickitt – From Buckfast to Buckingham Palace
10.00: 'An Introduction to Bumblebees and Solitary Bees' with Brigit Strawbridge
Planet Earth is home to more than 20,000 different species of bee; as diverse in size and appearance, as they are in behaviour, life-cycles, and habitat requirements. Around 280 of these bee species can be found in Britain & Ireland.
In this illustrated talk, Brigit explains some of the basic differences between honeybees, bumblebees, and solitary bees, including their roles as pollinators, and their myriad relationships with flowering plants. The talk also touches on bee decline, and, most important, advises how we can help by creating more pollinator-friendly gardens and habitats.
Brigit Strawbridge is a wildlife gardener, amateur naturalist, and advocate of bees. Based in Cornwall, she writes and campaigns to raise awareness of the importance and diversity of native wild bees and other pollinating insects. She is author of Dancing with Bees: A Journey Back to Nature.
11.30: 'Oops my bees have swarmed!' with Clare Densley and Martin Hann from Buckfast Abbey
Clare has been keeping bees since 1992. When in 2008 she got the chance to become assistant beekeeper at Buckfast Abbey she thought that she had 'died and gone to heaven'. Since then, the department has changed from a honey producing unit to a gentler approach to beekeeping involving education, environmental awareness, and wellbeing. She now runs the department with Martin and it's still the best job ever.
Martin has been keeping bees since 2008. He was a seasonal bee inspector for the Southwest region for 6 years but has been working alongside Clare at the Abbey for the last 5 years. He now does this full time and the list of benefits to the department are too numerous to mention!
Both are self-confessed "Beeks" and share a passion for understanding the nature of the honeybee and colony life.
14.00: 'Live honey bee removals' with Peter Higgs
As a young man Peter spent his childhood in foster care, children's homes and secure units. By age 18, living in Ewhurst Surrey, Peter overcame mental health issues and gaps in his education through help from The Prince's Trust.
In 2013 Peter Higgs won the RBS Enterprise award at The Prince's Trust & Samsung Celebrate Success Awards, at spectacular ceremony held in the Odeon Theatre in Leicester Square, London.
Beegone® was then started by Peter Higgs, after realising the importance of honeybees and the serious problems occurring in the UK as a result them being killed. Beegone® specialises in live honeybee and comb removal. Honeybee swarms and colonies are removed from structures or naturally occurring cavities in a safe, environmentally friendly manner and then rehomed.
Passionate about educating people and businesses on correct honeybee identification and removal, he gives presentations all over the UK, employs a full time team of 14 and offers services to both businesses and homes nationwide.
15.30: 'From Buckfast to Buckingham Palace' with Richard Rickitt , Co-editor of BeeCraft
As the title suggests, this talk begins at Buckfast Abbey and ends at Buckingham Palace, but there are many and varied locations in between – ranging from the bees on the roof of Manchester cathedral to hives in the militarised zone of Salisbury Plain.
We meet beekeepers who keep their bees in skeps and those who keep them in enormous glasshouses for the commercial pollination of fruit. Along the way we visit the country parish of Charles Butler – author of The Feminine Monarchy, rediscover the site of the first recorded drone congregation areas, uncover the apiary location of one of Victorian Britain's preeminent beekeeping experts, and meet Patricia Greene – the actress who has played beekeeper Jill Archer for over 60 years in The Archers. And more besides …
Richard is co-editor of BeeCraft magazine and the author of several books. He keeps about 30 colonies of his own bees as well as a few for people who want bees in their garden without having to get their own fingers sticky. He first learned to keep bees over 30 years ago as a member of the beekeeping club at Huish Episcopi School in Langport, Somerset. His professional background is in film and TV special effects.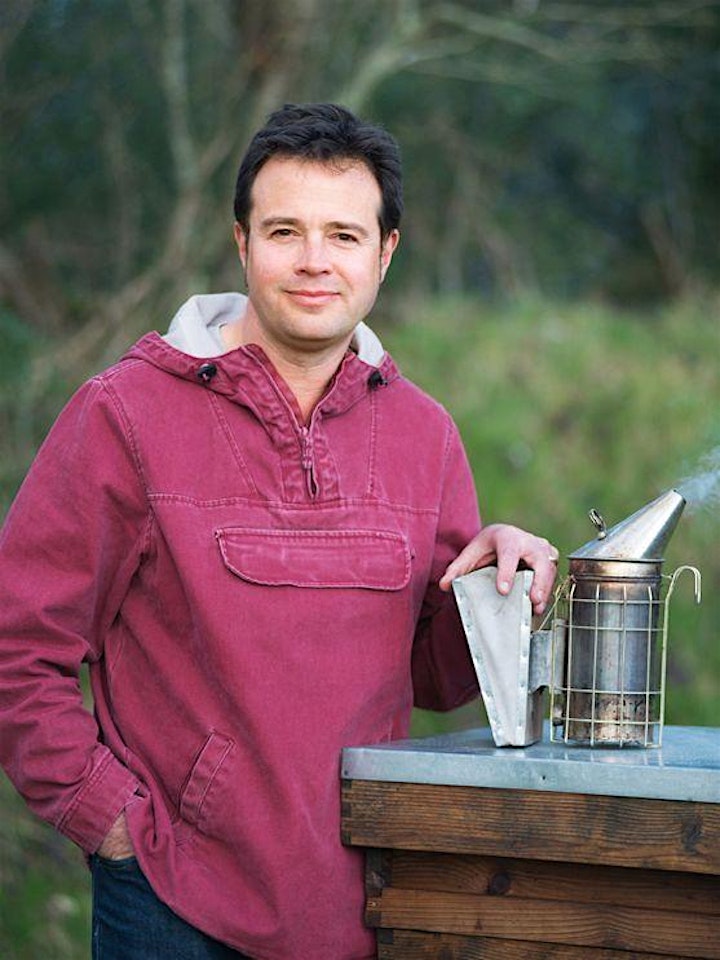 Richard Rickitt , Co-editor of BeeCraft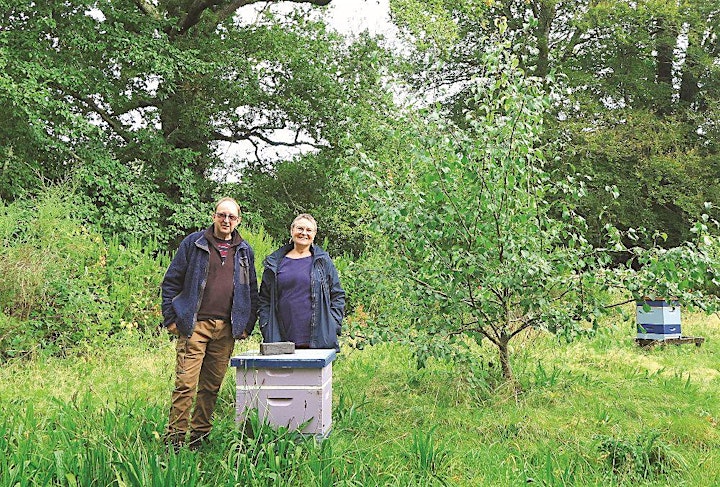 Clare Densley and Martin Hann from Buckfast Abbey
Photo credit: BeeCraft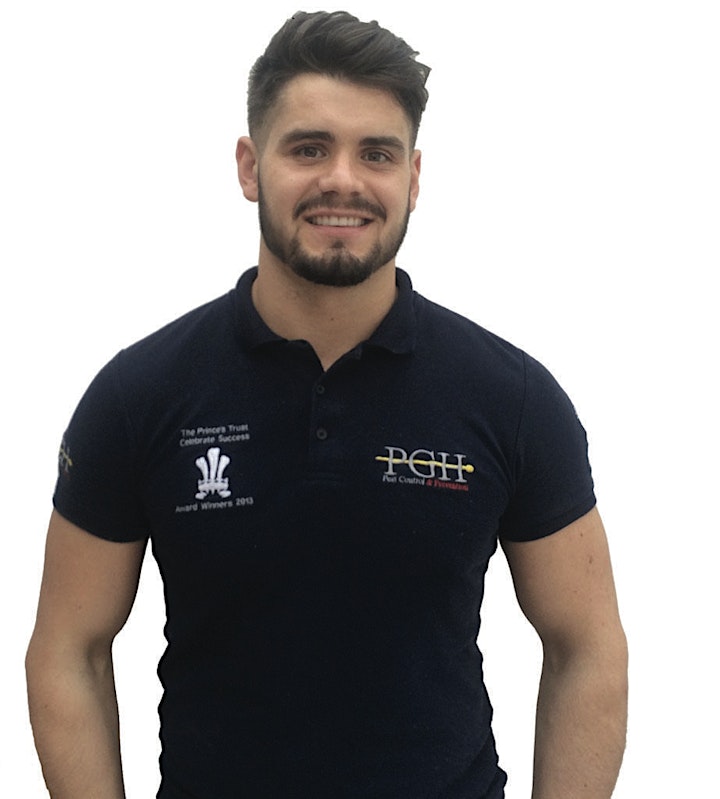 Peter Higgs from Beegone Live Bee Removal