Our Rural Future - free, online conference
About this event
Our annual rural housing conference will take place on 25th February 2022. Due to the current circumstances surrounding Covid-19, this year we will be running our conference online. Whilst we had hoped we would see some of you in person, the online model will be more accessible and allows great opportunities for wider collaboration on networking. The event will be free to attend.
OUR RURAL FUTURE
Rural living provides an opportunity for a sustainable lifestyle in the face of climate change and with this conference, we want to bring the discussion about rural sustainability back to the communities at the heart of the debate.
During the conference, we will learn about some innovative housing and regeneration projects taking place across rural Scotland, hearing from the communities themselves about how their projects are progressing and their visions for the future.
As well as hearing about the lived experience of these rural communities, we will be exploring the policy initiatives which will shape rural futures and discussing where things could be improved to help our rural communities meet their potential.
Through presentations, workshops and discussion, we hope this conference will highlight the expansive opportunities presented by rural areas for the future as well as where change is needed to allow this potential to be reached.
The conference will include contributions from Scottish Government Housing Minister, Shona Robison MSP, as well as Convenor of the Scottish Parliament Local Government, Housing and Planning Committee, Green MSP, Ariane Burgess. .
The stellar line-up will involve presentations from Magnus Davidson (Research Assosicate UHI), Helen MacDonald (Mull & Iona Community Trust), Barbara Elborn (Newcastleton and District Community Trust), Luke Fraser (Aspire Orkney, Andrew Donaldson (Comrie Croft), Pat Mavor (Development Manager Woolfords, Auchengray and Tarbrax Improvement Foundation) & Wendy Reid (Isle of Ulva Development Manager). The full line-up of speakers and programme will be announced in due course.
This event is organised by Rural Housing Scotland with sponsorship from Highlands Rewilding and Ecology Building Society.
To find out about further sponsorship packages, please contact: kirsty@ruralhousingscotland.org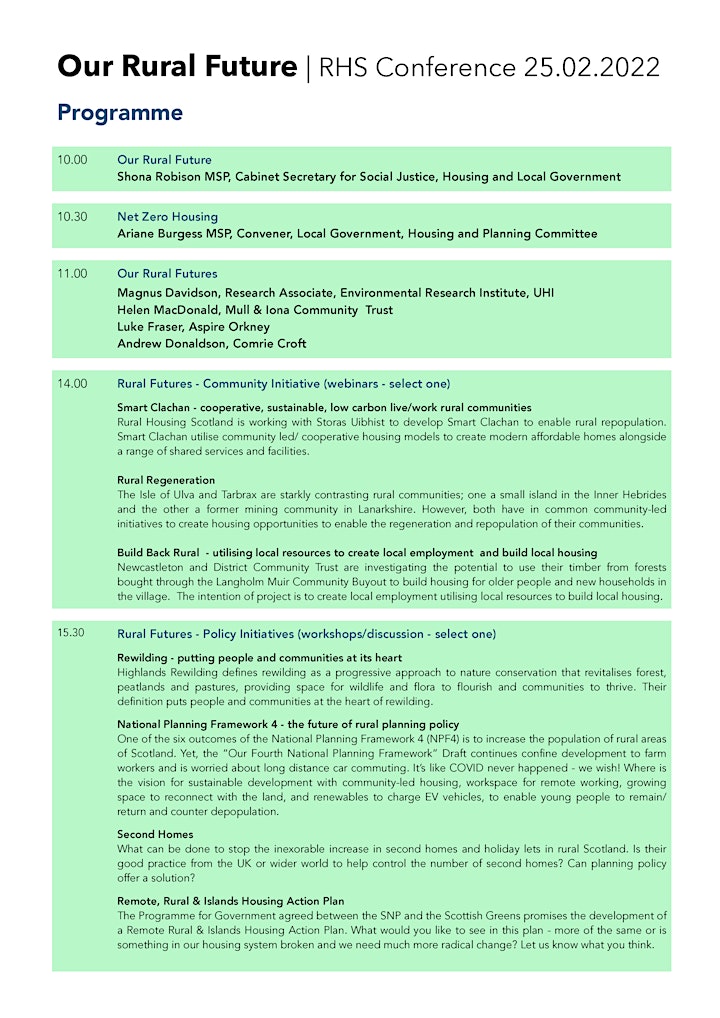 Organiser of 2022 Rural Housing Scotland Conference - Our Rural Future
Rural Housing Scotland helps rural communities develop practical solutions to local housing problems.  We are a Scottish charirty offering information, advice and support to communities and housing organisations at all stages of their housing project - from assessing need to accessing funding and managing housing. We also advocate for better policies and effective practical assistance to tackle the rural housing crisis at all levels of government.