Event Information
Location
America Square Conference Centre
1 America Square
17 Crosswall
London
EC3N 2LB
United Kingdom
Refund policy
Contact the organiser to request a refund.
Eventbrite's fee is nonrefundable.
The Spinnaker Maritime People and Culture Conference is the largest worldwide gathering of maritime HR and crewing professionals.
About this event
Seen as the largest worldwide gathering of maritime HR & crewing professionals, the Spinnaker Maritime People & Culture Conference is an excellent opportunity to network with senior leaders within maritime, participate in informative sessions delivered by industry-renowned speakers and discuss the key issues facing HR, crewing and leadership teams in the maritime industry today.
This event has become an annual 'must-do' for shipping HR & crewing professionals from all over the world, many of whom have been attending for over 15 years.
This year, conference host and Spinnaker Chairman Phil Parry is delighted to introduce you to leading futurist K D Adamson as special guest and keynote speaker at the event.
We look forward to welcoming you to the event where you will have the opportunity to network with delegates from over 20 countries including representatives of ship owners, ship managers, commodity groups and oil majors.
Event Summary
From the strategic and practical implications of ESG, flexible and agile working, and novel challenges associated with pandemic-related acceleration of technology deployment, to the new people metrics the industry may have to report in the future, how we attract and retain talent, and the growing requirement for leaders to lead with purpose, the conference this year will try and identify the big strategic challenges we face, and offer concrete, practical knowledge and insight from the coal-face.
AGENDA
EVENT OPENS AT 8.45am
DAY ONE - THURSDAY 26th
9.30am - Maritime Economics, Stephen Gordon, Managing Director, Clarkson Research
An overview of the shipping market and key issues currently facing the industry.
10.30am - K D Adamson Keynote
In conversation with K D Adamson
The priorities facing the maritime industry and how HR and senior leadership teams must respond.
12 - 13.00 - The Leaders Debate – Meeting the Challenge
Following on from the previous session, how are organisations responding to these and other key priorities? How are they shaping strategy and practice today, and where should we focus to be fit for tomorrow?
A cross-section of senior industry leaders join special guest K D Adamson to share their insights and debate how we can collectively meet the challenges on the horizon.
Chaired by K D Adamson, Futurist
Lucie-Marie Gauthier, VP Global Talent, Fednav
Scott Bergeron, Managing Director, Global Engagement & Sustainability, Oldendorff Carriers
Shreyas Chipalkatty, Global Head of Shipping, Logistics & Offshore, Citi
Mark Jackson, CEO, The Baltic Exchange
14.15 - 15.30 - Panel Discussion - Environmental, Social & Governance
We are at an ESG tipping point.  End users and legislators are paying attention and it's no longer enough for business to 'greenwash' or talk about simple corporate social responsibility.  The goal is true sustainability. This session looks at repositioning for decarbonisation, communicating progress effectively and the difficult decisions that need to be made to achieve our obligations to the environment, to clients, to shareholders, to employees and to society.
Chaired by Martin Crawford-Brunt, CEO, Lookout Maritime
Capt. Himanshu Chopra, Managing Director, Anglo Eastern UK
Kim Jefferies, Special Adviser, Gard AS
Oistein Jensen, Chief Sustainability Officer, Odfjell
Mark Stokes, Director, BLUE Communications
16.00 - 17.15 - Panel Discussion - Leading the Cultural Transformation
Meeting the big challenges of the future, including digitalisation, decarbonisation, innovation, ESG, Diversity, Equity & Inclusion and attracting the best talent, will depend on a cultural transformation. HR leaders must partner with the C-suite to drive this transformation and be ready to embrace and experiment with new approaches.
Chaired by K D Adamson, Futurist
Pål Egeland, HR Director, Saga Welco
Dawn Robinson, Global Director (People), North
Sharron Pamplin, Chief People Officer, Lloyd's Register
DAY 2 - FRIDAY 27th
EVENT OPENS AT 8.45
9.15 - 10.30 - Panel Discussion - Skills, training & education requirements in the maritime industry
The world is rapidly changing. The skills that were needed yesterday might not be enough for tomorrow. What will be the essential skills our staff at sea and ashore need in 2030 and how should we as employers be preparing to best identify and deliver them?
This panel discussion will look at some of the essential skills for future-proofing organisations, and innovations in training methods and technologies.
Chaired by Raal Harris, Chief Creative Officer, Ocean Technologies Group
Darrell Bate, Director of Maritime Training & Development, MSSC
Debbie Cavaldoro, CEO, Port Skills & Safety Ltd
Catherine Logie, Direct to Consumer Services Director, Ocean Technologies Group
Kathryn Neilson, Director, Merchant Navy Training Board
Aashish Puri, Head of Engineering, Seably
11.15 - 12.30 - Presentation & Discussion - Leadership & Purpose
At this year's conference, t-three & ABS will be presenting their insights on how successful leaders need to leverage the power of purpose
Phil Parry, Chairman, Spinnaker
Chuck Kemper, Chief HR Officer, American Bureau of Shipping
Daniel Taylor, Principal Consultant, t-three
13:45 - 15.00 - Panel Discussion - Flexible & Hybrid Working
We look at flexible working now and in the future. The advantages and disadvantages. Who needs to be in the office and who doesn't? Are employee demands becoming unrealistic? Is hybrid a necessity to attract new staff? What are the legal consequences? How do you train and mentor junior staff who are working remotely?
Chaired by Heidi Watson, Partner, Clyde & Co
K D Adamson, Futurist
Susan Steele, Ocean Technologies Group
Edwin Lampert, Riviera Maritime
15.30 - 17.00 - Panel Discussion - Attraction & Retention
This session looks at employee expectations, how we stand out as employers, managing change and keeping cultures alive in the context of recruiting talent to our businesses and retaining our people.
Chaired by Frank Helinski, Global Director Human Resources, Oldendorff Carriers
Linda Frederich, Head of Crew/Fleet Management Customer Projects, Ocean Technologies Group
Chuck Kemper, Chief HR Officer, American Bureau of Shipping
Mark Parrotte, Group Fleet Personnel Manager, Interorient Marine Services Ltd
Teresa Peacock, Managing Director Executive Search, Spinnaker Global
Gunnar Jauernig, Senior Crewing Manager, Stolt Tankers
Contact us for more details.
events@spinnaker-global.com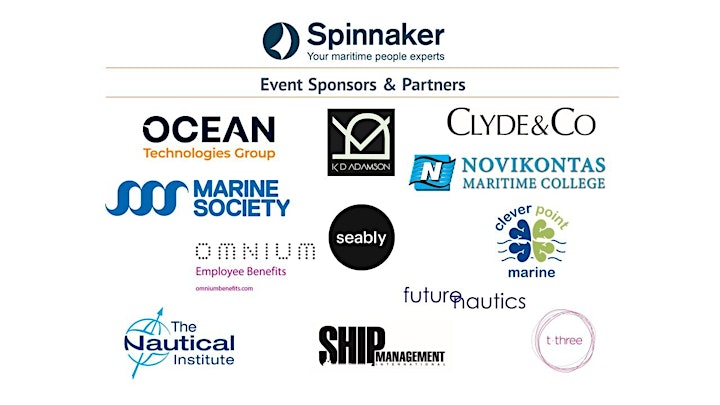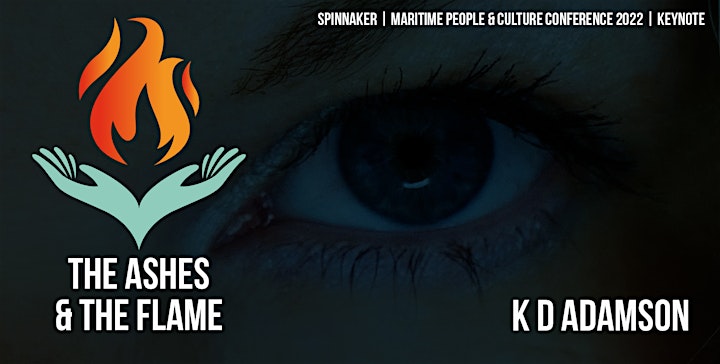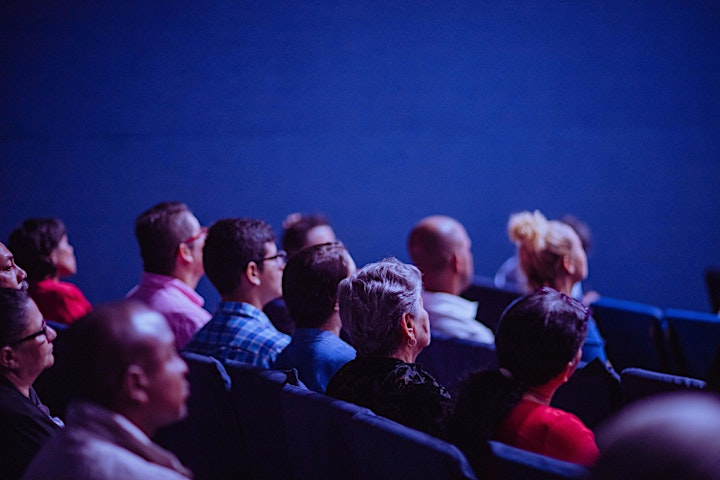 Date and time
Location
America Square Conference Centre
1 America Square
17 Crosswall
London
EC3N 2LB
United Kingdom
Refund policy
Contact the organiser to request a refund.
Eventbrite's fee is nonrefundable.