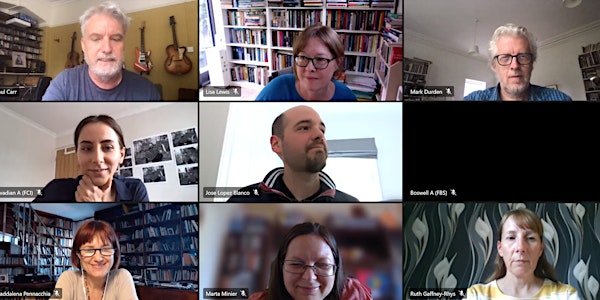 #2022PGR: Faculty of Creative Industries Post Graduate Symposium
About this event
Symposiwm Ôl-raddedig Cyfadran y Diwydiannau Creadigol
Amlinelliad
10.15 – 10.30: Cyflwyniad gan yr Athro Paul Carr
Panel 1: 10.30 – 12.30
• Lucy Henderson: Beth yw'r Broblem gyda Theatr Amatur? Canfyddiadau o Adolygiad Llenyddiaeth
• Hilary Dyer: Archwilio Effaith Adrodd Storïau Digidol ar Iechyd
• Emma Foley: Effeithiolrwydd adrodd storïau therapiwtig wrth chwalu rhwystrau: Astudiaeth ansoddol i brofiadau rhieni sy'n gofalu am blant ag anableddau dysgu sy'n mynychu addysg brif ffrwd
• Francesca Forlini: Gŵyl Theatr Eco Resymegol: Archwilio Potensial Mannau Digwyddiadau Dros Dro wrth Ysgogi Cysylltiad Cymdeithasol-Ecolegol
• Sama: Stori Alltud: Taith Beryglus i Wlad Newydd
• Nicol Ruddock-Davies: Sgriptio a dylunio cymeriadau mewn addasiad animeiddiad agos o The Hound of the Baskervilles
Cadeirydd: Yr Athro Emily Underwood Lee
Toriad Cinio: 12.30-1.15
Panel 2: 1.15 – 3.15
• Elena Kohler: Rolau arweinyddiaeth gwybodus cymhlethdod sy'n dod i'r amlwg: Synthesis damcaniaethol a fframwaith integreiddiol
• Jill Maclean: Darganfod Cynllun Datblygu Casnewydd ar ôl y rhyfel a chyflawniadau Pensaer y Fwrdeistref, Johnson Blackett
• Connor Webb: Kristina o Sweden: Creu Mythau yn y Cofiant Modern Cynnar
• Jessica Davies: Dadwladoli'r Brifysgol: Astudiaeth o Hanes ac Adrannau Hanes Sefydliadau Addysg Uwch Cymru
• Joshua Bushen: Cymynroddion Profion Niwclear Eingl-Americanaidd: Ymgyrch Dominic a'r Cyn-filwr Profi Niwclear Rhyngwladol
• Donald Amuah: Asesu Effaith Diwygiadau Rheoleiddio Hylifedd a Chyfalaf ar Fanciau yn y DU
Cadeirydd: Dr. Simon Thomas
Egwyl: 3.15 – 3.35
3.35: Darlith Gyweirnod: Dr Louise Bright. Y Concordat Datblygu Ymchwilwyr
Mae'r Concordat yn nodi'r amodau sy'n ofynnol i greu'r diwylliant gorau i ymchwilwyr ffynnu. Mae'n nodi arferion gwaith a chyfrifoldebau, sy'n hanfodol er mwyn cynyddu apêl a chynaliadwyedd gyrfaoedd ymchwilwyr yn y DU.
Wrth drafod tair egwyddor ddiffiniol y Concordat (Yr Amgylchedd a Diwylliant, Cyflogaeth, a Datblygiad Proffesiynol a Gyrfa), bydd y sesiwn hon yn archwilio sut mae PDC, fel llofnodwr y concordat, yn gweithio i wella profiad ymchwilwyr yn PDC a chefnogi eu datblygiad gyrfaol.
Cadeirydd: Yr Athro Paul Carr
4.30: Sylwadau terfynol. Yr Athro Martin Steggall. Dirprwy Is-Ganghellor Ymchwil.
Bydd y digwyddiad hwn yn cael ei gynnal drwy gyfrwng y Saesneg. Mae croeso i chi ofyn cwestiynau yn Gymraeg yn ystod y sesiwn holi ac ateb. Os ydych yn bwriadu gwneud hyn, cysylltwch â paul.carr@southwales.ac.uk of whoever is organising the event erbyn dydd Mai 23ain i wneud ymofyniad cyfieithu ar y pryd. Nodwch fod 10% neu mwy o'r rhai sy'n bwriadu dod yn angen i ofyn am y ddarpariaeth hon er mwyn iddo gael ei ffynonellau i fod yn bresennol.
Ymddiheurwn nad yw'r dudalen gofrestru gyfan ar gael yn Gymraeg. Yn anffodus, nid yw hynny'n bosibl ar y platfform rydym yn ei ddefnyddio.
Faculty of Creative Industries Post Graduate Symposium
Outline of the Day
10.15 – 10.30: Introduction to the day Prof. Paul Carr
Panel 1: 10.30 – 12.30
• Lucy Henderson: What's the Problem with Amateur Theatre? Findings From a Literature Review
• Hilary Dyer: Exploring the Impact of Digital Storytelling for Health
• Emma Foley: The efficacy of therapeutic storytelling in breaking down barriers: A qualitative study into the experiences of parent carers of children with learning disabilities attending mainstream education
• Francesca Forlini: The Eco Logical Theatre Fest: Exploring the Potential of Temporary Event Spaces in Activating Social-Ecological Connection
• Sama: The Story of Exile: A Perilous Journey to a New Land
• Nicol Ruddock-Davies: Scriptwriting and character design in a close animation adaptation of The Hound of the Baskervilles
Chair: Prof. Emily Underwood Lee
Lunch: 12.30-1.15
Panel 2: 1.15 – 3.15
• Elena Kohler: Emerging complexity informed leadership roles: A theoretical synthesis and integrative framework
• Jill Maclean: Discovering Newport's post-war Development Plan and the achievements of its Borough Architect, Johnson Blackett
• Connor Webb: Kristina of Sweden: Myth Making in the Early Modern Memoir
• Jessica Davies: Decolonising the University: A Study of Histories and History Departments in Welsh Higher Education Institutions
• Joshua Bushen: Legacies of Anglo-American Nuclear Testing: Operation Dominic and the International Nuclear Test Veteran
• Donald Amuah: Assessing the Impact of Liquidity and Capital Regulatory Reforms on Banks in the UK
Chair: Dr. Simon Thomas
Break: 3.15 – 3.35
3.35: Keynote: Dr Louise Bright. The Researcher Development Concordat
The Concordat sets out the conditions that are required to create the very best culture for researchers to thrive. It identifies working practices and clears responsibilities, vital to increase the appeal and sustainability of researcher careers in the UK.
Discussing the three defining principles of the Concordat (Environment and Culture, Employment, and Professional and Career Development), this session will explore how USW, as a signatory of the concordat, is working to improve the experience of researchers at USW and to support their career development.
Chair. Prof. Paul Carr
4.30: Closing comments and close. Professor Martin Steggall. Pro Vice Chancellor Research.
The event will be delivered in the medium of English. You are welcome to ask questions in the medium of Welsh during the Q&A session. If you intend to do this, please contact paul.carr@southwales.ac.uk of whoever is organising the event by May 23rd to request simultaneous translation. Please note that 10% or more of those planning to attend will need to request this provision in order for it to be sourced.
We apologise that the entire registration page is not available in the medium of Welsh. Unfortunately, the platform we use does not offer this service.