Event Information
Location
KSA CCI Studios
Kingston School of Art
Grange Road
Kingston Upon Thames
KT1 2QJ
United Kingdom
Refund policy
Refunds up to 1 day before event
Eventbrite's fee is nonrefundable.
PLAY WITH THE 2030 FUTURE, AND CHANGE THE FATE OF THE WORLD Make decisions & have meaningful conversations about our real lives in society.
About this event
HOW MANY CLIMATE COPS DO WE NEED?! We're at 26 already. What have these conference of parties achieved?
Take charge and play with the 2030 future of the world. Your fate, in your own hands.
Please join us to explore the meaning and possible impact of the UN's 2030 Sustainable Development Goals (SDGs).
Please note we have a limited number of tickets as part of the game mechanics.
Bring a friend or colleague, and stay for the conversation after the game. We'll try to chat about practical steps while networking for a resilient society and a regenerative wellbeing economy.
Our Theme:
 "I can't stand this indecision, married with a lack of vision, everybody wants to rule the world." - Tears for Fears
With art students and creatives in charge, could we do better?
NOTE: Choose between our standard ticket price, student ticket price, and sliding scale tickets. Sliding scale tickets are how we make this event accessible for people who cannot afford the standard ticket price.
WHAT IS THE 2030 SDGs GAME?
 It's a multiplayer, card-based workshop that simulates taking the "real world" into the year 2030.
In the game, participants work together and in groups to explore how the world can achieve the UN's sustainability goals - or fail to.
After the simulation we have a deep facilitated conversation. What did we experience? What did it mean about our life and work? How do we want to apply what we learned?
Who wants to play?
Everyone should play this. From the senior management of top 10 global companies, to secondary school students, activists, government officials, and whoever else curious enough to explore what could happen if we are given the power to decide.
This is an innovative, unique and highly collaborative approach to real world issues. The more diverse the game participants are, the more representative of society it is.
What's the format?
An hour of introduction and simulation

A short break 

An hour and a half for group reflection and discussion

An hour for networking and planning next steps with possible collaborators
What effect does the game have?
Participants experience a change in perspective. Most players finish the game feeling excited, connected and ready to take action. They often ask, "What can I do next to make a difference?".
Players finish the game with an understanding of why we have Sustainable Development Goals (our Global Goals), and what effect working on Global Goals can have in our own lives and work as well as on our shared world. Most important, players often feel able to make a real difference in the world.
"We talk about the SDGs, but what can we actually do about them and how do we do it? Like many of today's big issues, it all seems so big, complicated and impossible to do alone that it's hard to get started.The SDGs Game is a great way of experiencing what it's like just to get started on your bit of the puzzle and simultaneously work together to make a difference across the whole puzzle. It's exciting, collaborative and eye opening. I highly recommend it!" - Zelah Senior, Diabetes UK
What's the origins of this game?
Designed in Japan in 2016 by the team at Imacocollabo, this experience has become a powerful and impactful social phenomenon in Japan.
The Game earned extensive media coverage and reached over 30,000 participants in 2018 alone. The 2030 SDGs Game is played in corporate, governmental, educational, and community settings. There are now over 300 trained facilitators within the community in Japan. Due to a growing demand Imacocollabo created an English version of the game. The Game has now been played on 5 continents by more than 100,000 people.
Find out more on the 2030 SDGs Game website.
YOUR HOSTS:
The session will be facilitated by Nathaniel Whitestone (co-founder of A Fairer Society and the UK's first facilitator of the game) and supported by Rina Atienza (Lecturer in History & Context at Kingston School of Art).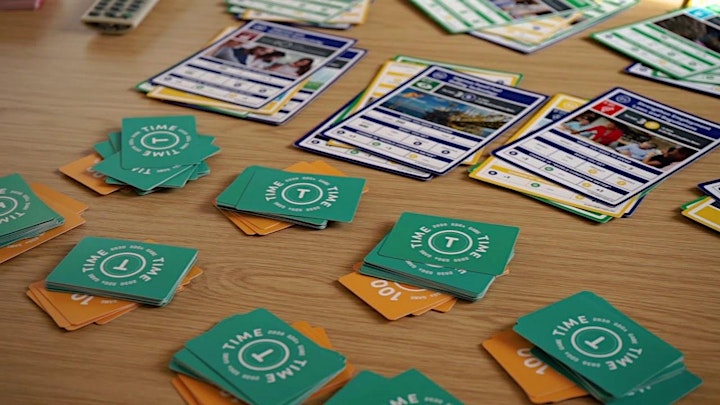 Date and time
Location
KSA CCI Studios
Kingston School of Art
Grange Road
Kingston Upon Thames
KT1 2QJ
United Kingdom
Refund policy
Refunds up to 1 day before event
Eventbrite's fee is nonrefundable.
Organiser of 2030 Sustainable Development Goals Game - Kingston November 2021 #SDGs
A Fairer Society helps its members build a fairer society, one community at a time.
We provide a structured process and all the necessary resources and support to enable community-led development groups to create cohousing.
We also organize events and provide facilitation, consultancy, and other support to enable people and groups to find their own path to accomplishing the UN Sustainable Development Goals in their workplaces and communities.