Location
The Exchange
Howard Street
North Shields
NE30 1SE
United Kingdom
Refund policy
Contact the organiser to request a refund.
Eventbrite's fee is nonrefundable.
Come and deeply relax, unwind and re-boot your life with a wonderful Gong Sound Bath Experience .
About this event
Take Two Hours 'Time Out' to 'Tune In' Deeply to Your Life and Know Inner Peace with an Amazing 360° Gong Sound Bath
Allow the calming vibrations of the ancient Gong, voice and a host of other musical instruments to wash through you for a complete sound immersion to destress and glow with the flow of life. Enjoy this deeply moving and relaxing experience through sound for your mind, body and spirit. It works on many levels - emotional, mental and energetic. This event may help bring you pure bliss, clarity of mind, joy and balance in life. It is a monthly M.O.T. Method of Transformation for life.
I am Gill Gosling of Dragonfly Gong Yoga and I am delighted to celebrate offering this life harmonising sound bath experience for more than sixteen years all over this country and abroad in Europe. I have helped teach other Gong players from all ove the world and adore this wonderful way of reaching out to people to help them re-balance and tune in deeply to their own lives. The wonderful Exchange at Howard Street, North Shields, Tyne and Wear has been one of my monthly venues for more than six years and I have now done Gong Sound Baths for quite a few thousands of people. This magical theatre and community arts auditorium space is a theatre with a big heart. As these modern-day Gong Sounds baths are now taking off all over the world I am filled with wonder and happiness to be a founding member of the vast Global Gong Family helping to spread loving peace in our area and across the world.
This is a way of giving yourself harmony in these fast, vast, ever-changing times. Come and find friends, create community and enter a supportive network of like-minded people. Those taking part in sound baths report many benefits including that it:
* helps relieve depression, anxiety and stress,
* they gain better and improved sleep,
* they have an overall sense of wellbeing,
* they have energy boosts and a life re-charge,
* they are deeply moved and often encounter wonderful 'spiritual' experiences of clarity and Peace.
Allow the sounds from the ancient Gong, voice, singing bowls, drums, flutes, conch shells, chimes, shruti, harmonium and rattles to wash over you and create a deep meditative state as your body baths in the wonderful harmonics of these awesome instruments.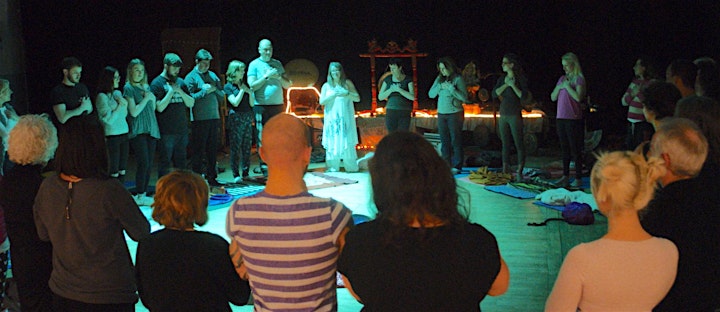 Music for the soul.
This is a whole body adventure, a musical journey for the soul. You will listen not just with the ears but with every cell in your body for a life recharge in every breath you take. You lay down nestled in cosy blankets, on the floor or seated, and are taken in to very deep relaxation where the brain states drop deeper than a Zen monk within moments.
There will be gentle warm ups based on yoga using special breathing practices, sound, movement, yoga dance and sufi twirling (optional) before experiencing the full 45-minute sound immersion. This is suitable for all.
Sound has been used by shamanic traditions and cultures throughout history to help bring wholeness back to the body. Today the rapid emergence once more of Gong Sound Baths is showing us all new ways of just being human.
Gill has trained for more than 16 years with Gong maestro Don Conreaux who is one of the original small team of five Kundalini Teachers who were trained by India's Yogi Bhaja when he moved to the USA. She loves to share her passion for sound with all. She has studied the power of sound in depth, doing research studies and has wide ranging grouip and one-to-one Gong therapy work. She has trained with the College of Sound Healing UK as a tutor, and as a sound healing and gong practitioner. She has also trained with Fabian Maman, of the Tama-Do Academy who is known as one of the the God Fathers of modern-day Sound Healing. She has also followed and worked with world-renowned sound healer Jonathan Goldman from the USA as well as many key yoga elders and wellbeing experts from many fields of practice including meditation, mindfulness, reflexology, EFT, body dialoguing and Thai Yoga Massage.
"I am continuously studying and researching and spurred on to learn more and more about how sound and breath work practices actually help us create our holographic/whole lives. As a writer and former journalist I am co-ordinating my life work in to book form and writing courses and training people to be sound healers. I am a Yogi - a yoga teacher, a breathwork, meditation and a mindfulness teacher and sound (wholer) healer. I am proud to have developed my own style of Dragonfly Gong Yoga merging many yoga teachings, therapies and studies, which have included diplomas and certificates with the British Wheel of Yoga, plus other yoga paths including Kundalini, Sivananda, Dru, Ashtanga, and the amazing Yogabeats way with yogi elder David Sye. I have followed a personal Transcendental Meditation practice for 38 years and took up yoga at nine-years-old.
"My passion is life itself. I love people and am guided to help those I work with tune in deeply to their lives. I do regular workshops in sound to help 'free the voice', boost health and help people to help themselves create fullly lived lives.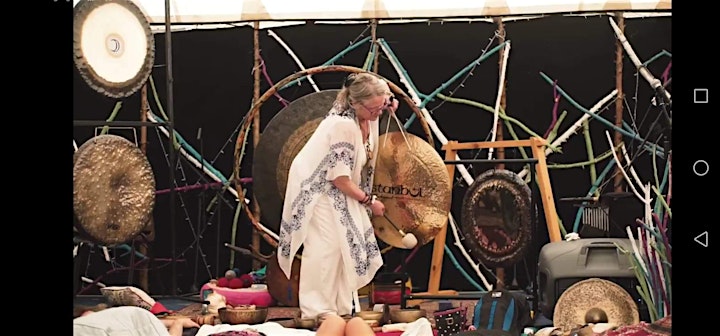 "The Gong is a powerful tool for transformation on all levels," Gill says.
"Not everyone is a musician but everyone IS a musician of their own life," she says.
"I know this path has helped me to conquer many illnesses and thrive in today's world. It is like having my very own tool box for life with and a special re-set button. We all have our own answers to life deep within us and sound baths help tap in to those answers. The deep states sound takes us to is amazingingly life transforming.
"I absolutely adore my work and how it has given me a wonderful pathway to live my life. By using musical instruments like the ancient Gong and Himalayan singing bowls we can dig deep into total relaxation to be with the joy of our life's true destiny. Each and every one of us is different with a uniqueness and gifts and talents of our own.
"I believe understanding the balance of sound and silence can help many overcome the mega challenges we are facing in today's fast paced, stress forming world. This work effects us all at a cellular level. I know this has helped me find true happiness to handle whatever path I choose to follow and I want to share this love-unfolding technique with others. By bathing in sounds we tune ourselves to life itself."
Spaces are limited for everyone's comfort. So come and join us on this amazing journey for just £15 (there are concessions). Gill wants this to be open to all who will benefit greatly from the experience. If the cost is a challenge contact her direct- no-one is turned away because of costings. Tel. 0191 253 0329 mobile 07706 223209 to put yoursef down on the register and agree a price you can afford. You can drop-in on the day if we are not fully booked. Booking in advance secures your space. Do not be disappointed.
Please wear loose comfortable clothing and please, if you can, bring your own blankets, (at least two), and or sleeping bag, a yoga mat and a cushion for your own comfort. Let me know in advance if you require a yoga mat or other equipment. Seats are also avaialble.
Meet with me for an after gathering in the Exchange's cafe bar toask questions, help develop friendship and community and meet with like-minded people. Let's all grow together.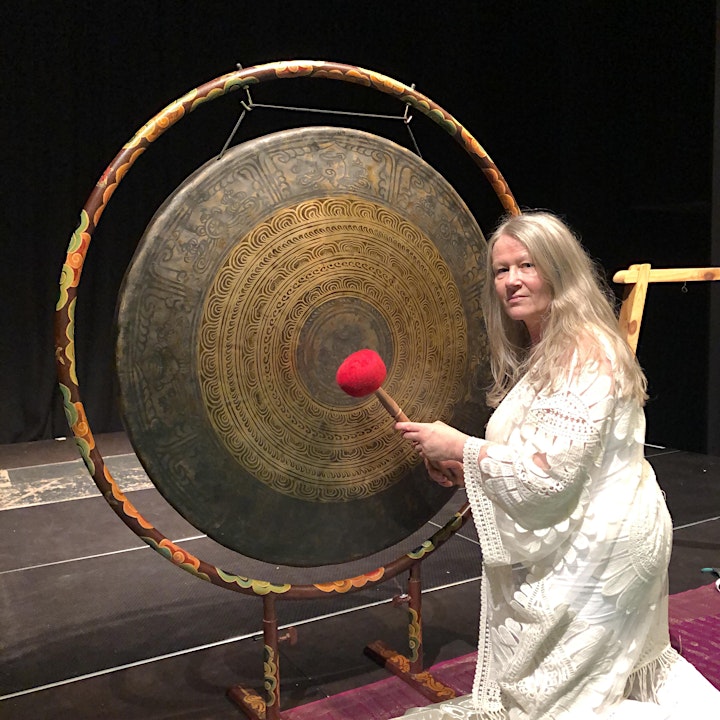 How to get there:
The venue is at the bottom of Howard Street, off Northumberland Square, it used to be called the Saville Exchange.
Metro - The venue is only a four-minute walk from North Shields Metro station.
Car Parking - Spaces are available on street near the venue and around Northumberland Square (free on Sundays). There is a large free car park behind the venue.