Sales Have Ended
Ticket sales have ended
Sales have ended for this event but be sure to sign up for our next one super fast!
Join us for 21 days of Yoga to celebrate International Yoga Day.
About this event
A 21-day challenge this June to help you get that beach body, develop core strength and support your health needs. This challenge is open online, daily from 6:00pm - 6:30pm, where you will learn a set sequence that you can perform on your own later. The 21-day challenge is designed and structured to help you perform 108 rounds of sun salutations on International Day, 21 June 2022.
It is recommended that participants take part every day, to learn the rhythm and timing, as well as the routine itself. The practice will become more and more challenging so that you build strength and gain confidence to perform it on your own.
This event was designed in support of the movement 'I Stand For Peace' by His Holiness Gurudev Sri Sri Ravi Shankar. See details below.
All participants are liable for their own health and risk assessment.
Hurry, tickets are selling fast. Become a patron and follow me to be the first to know about future events. Thank you for your generous donations to support my work.
See you on your mats soon!
Together, we can stand up for peace.
With love and blessings,
Leena Joynat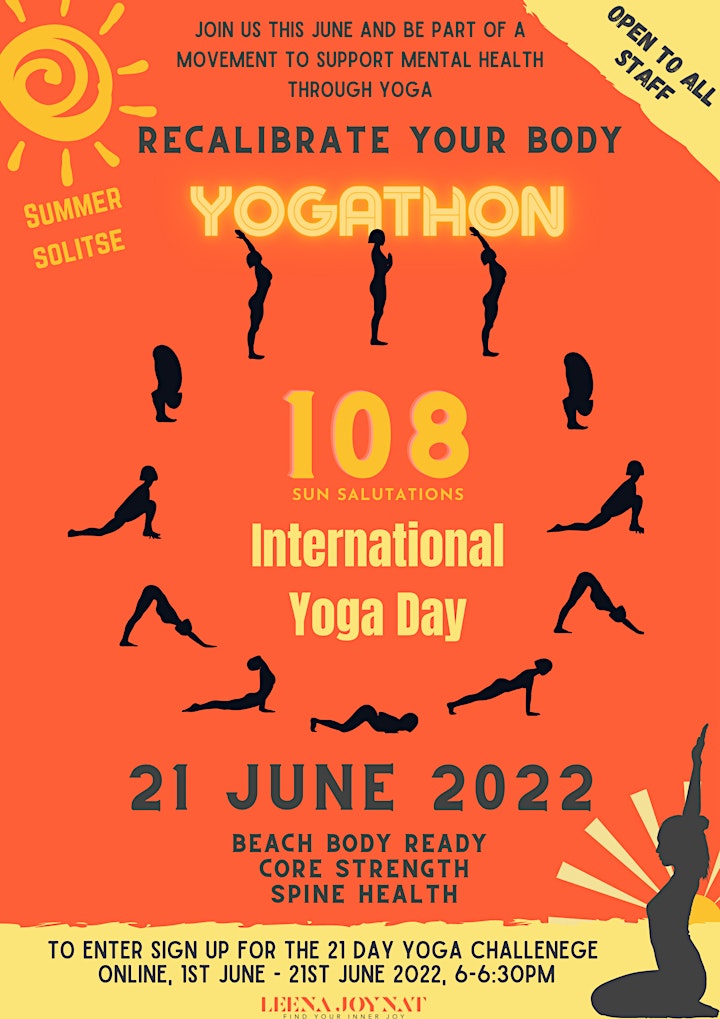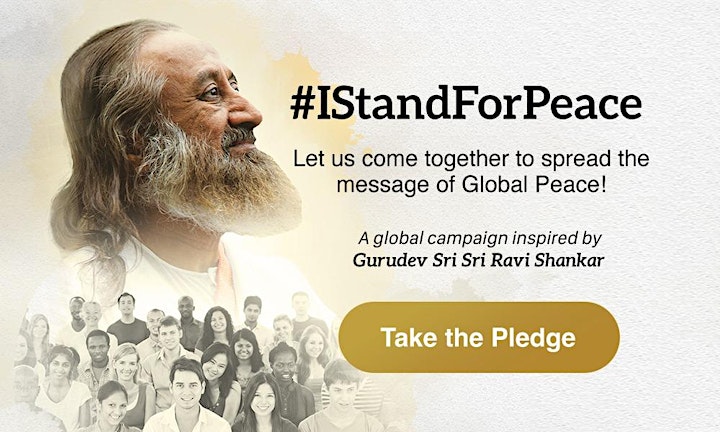 Dear Ones,
We all have a responsibility of bringing peace to every corner of the world. Individual peace can create a huge impact on world peace.
If we take action and stand up for peace, we can all make a big difference - our collective energy and vision can make it happen, and can help counter the crisis that the world is experiencing today.
A campaign launched by the global humanitarian and spiritual leader, Gurudev Sri Sri Ravi Shankar, encourages us to stand up for peace. You can join others from all over the world and make your pledge to do so.
The worldwide sense of helplessness and hopelessness caused by the pandemic, war and inflation has weighed heavily on the human psyche. According to the World Health Organisation, the biggest challenge of the pandemic has been mental health.
The "I Stand for Peace" campaign was launched by Gurudev Sri Sri Ravi Shankar on April 20th in Geneva, Switzerland with the goal of strengthening and channeling individuals' commitment to peace during turbulent times.
"If each person can make an intention to stand up for peace and attend to their mental health, we can make world peace a reality. As global peace is not possible without individual peace," said Gurudev. "When 1% of the population meditates, it elevates the collective consciousness. Similarly, if enough people say "I Stand Up For Peace", then we project that energy, that vision, and it will happen!"
Take the pledge today and take your commitment to stand up for peace!