21 Irrefutable Laws of Leadership - Maxwell Mastermind Group - March 2013
Description
Are You Ready to Raise Your Leadership Level?
Leadership is the difference maker and the deal breaker. It's how we grow organisations. It's how we impact lives. But, as you also know, leadership cannot be an idea we simply talk about; leadership is the action we must live out.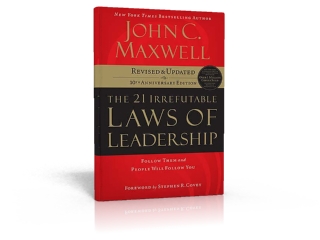 21 Irrefutable Laws of Leadership – Invitation to a Mastermind Group
Are there tried and true principles that are certain to help a leader develop and grow? John Maxwell says the answer is yes.
Maxwell has been passionate about leadership development for over fifty years, and now, through our specially devised Mastermind groups, we are able to access and learn everything he has gleaned about what it takes to reach our leadership potential.
Through John Maxwell's leadership mastermind groups we can learn...
1. The Law of the Lid: Leadership ability determines a person's level of effectiveness
2. The Law of Influence: The true measure of leadeship is influence - nothing more, nothing less
4. The Law of Navigation: Anyone can steer a ship but it takes a leader to chart the course
5. The Law of Addition: Leaders add value to other by serving other
11. The Law of the inner circle: A leader's potential is determinded by those closest to him
13. The Law of the Picture: People do what people see
20. The Law of Explosive Growth: To add growth, lead followers - to multiple growth, lead leaders
...and 14 more essential leadership laws...
In John Maxwell's best selling book we find the understanding and the framework to become bigger leaders than we currently are and better than we ever thought possible.
Join me and a select group of business and community leaders like you, who are determined to grow, in a journey of developing leadership capability and expanding possibilities…
Best regards
Neil Lewis
Skype: neil_lewis04
Please note: this event repeats weekly at the same time each week for 1 hour until we have completed the book - which will take 10 weeks. The sessions will take place on:
Mastermind sessions 1 to 3 - FREE
12 noon 8th March
12 noon 15th March
12 noon 22nd March
- no meeting on the 29th March (Good Friday)
The first three meetings will be offered for free, after which you will be invited to make a donation to complete the training and the remaining 7 masterminds meetings. The amount of the donation can be as little or as much as you wish based on what you are able to pay and what you think the training is worth.
Mastermind sessions 4 to 10 - on a donation basis
12 noon 5th Apr
12 noon 12th Apr

12 noon 3rd May
12 noon 10th May
12 noon 17th May
12 noon 24th May
12 noon 31st May
To join the course, you will need to have ordered, received and read the book before the first Mastermind group. It will take at least two days to read the book, but I suggest you allow three weeks. You can order your book from amazon here.
We also have a few rules about participation, please check through these carefully before booking into the group:
1. Meetings will be held over skype and we will use the video function. Hence you should ensure you are in a quiet space, free from interruption and using headphones, during the meeting. You are entirely responsible for the quality of your broadband connection and we reserve the right to refuse entry or remove anyone with a defective equipment or computer which generates noise so that the other participants can not hear well.
2. Mobiles and all other electronic devices will be turned off for the duration of the meetings.
3. Meetings will start 10 minutes before the alloted time to allow people time to gather and welcome each other and we will end promptly; however, late arrivals may be allowed to enter the meeting if convenient.
4. Please let me know prior to the meeting if you are unable to attend.
5. We will record the meetings and make those available after the event to the other members and you agree to allow this to take place.
6. Please be ready for each meeting by preparing any background work and having recently re-read the relevant chapters.
7. Our meetings are fun and informal but any pitching for business is strictly prohibited.
8. All members agree to engage with the material in an open and honest way, sharing experiences and agreeing treat other member's stories or questions respectfully and in confidence.
Here's what people are saying about our latest Mastermind Group
"I am so glad that I took on to join this John Maxwell Mastermind group as I now feel totally validated in my attempts to bring this style of leadership to my business career"
"This course has been an absolute revelation for me, I feel empowered to grow my business and see things in a new way"
"John Maxwell has given us the grammar and the language to not only understand ourselves as leaders, but also he has provided the framework with which we can influence and extend a hand to the leaders growing up around us.
"Instinctively, we know that so much of what Maxwell says is true, but never before have we had such a deep and shared understanding that allows us to make a real impact in the lives of the people around us. And that's what true leadership is all about."
Organizer of 21 Irrefutable Laws of Leadership - Maxwell Mastermind Group - March 2013
Neil is Ex Economist. He set up his first digital product in 1991, and has built successful startups and scale ups as CEO, including 2 multi-million pound business (with partners) one which went bust, 18 months after being offered a £12m sale.
He's a published Author (100 Rules for Entrepreneurs), a speaker, trainer and Coach.
He setup and ran the first startup accelerator in Manchester in 2011, developed an early stage team assessment model with Manchester Business School, and has rebuilt the Breakthrough Canvas. Needless to say he has a wealth of experience to share.