Location
Liverpool Cathedral
St James Mt
Liverpool
L1 7AZ
United Kingdom
Particle physicists working on CERN's next large particle collider and theologians in a panel discussion on Science and Faith.
About this event
Particle physicists working on CERN's next large particle collider - the Future Circular Collider, and theologians will discuss the common ground between particle physics, philosophy, and religion.
During the week when hundreds of scientists will gather for a workshop to discuss the next large collider project at CERN, the Future Circular Collider (FCC). Spurred on by the workshop, this public outreach event brings together particle physicists and theologians to discuss the role of particle physics and religion.
This event is open to all people and is not restricted to any particular faith.
Panel members include:
Fr. Andrew Pinsent, Research Director at the Ian Ramsey Centre for Science and Religion, University of Oxford
Professor John Ellis, CERN and KCL
Prof Elaine Howard Ecklund, Director of the Religion and Public Life Program in Rice's Social Sciences Research Institute
Revd Canon Dr Mike Kirby, University of Liverpool and Liverpool Cathedral Canon Scientist
Dr Nikos Rompotis, University of Liverpool
Dr Kate Shaw, University of Sussex
The discussion will be moderated by acclaimed science writer, Dr Michael Brooks.
The is a live in-person event at Liverpool Cathedral. Professors Elaine Howard Ecklund and John Ellis will connect via a remote video link, with the remaining panel members and moderator will be in the cathedral.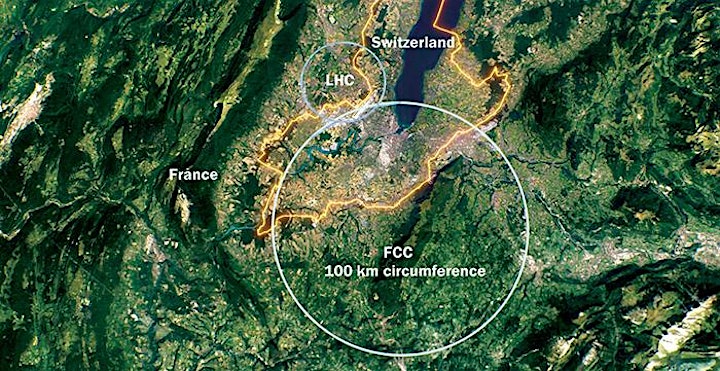 We would like to point out that photographs will be taken at this event and the images will subsequently be used on our website or in our newsletters. In addition, we reserve the right to use these images for our social media presence. By registering for this event, you consent to the use of these images for these purposes.
Image Credit
Banner image credit: left image: CERN; right: image adapted from floato, flickr under licence CC BY-NC-SA 2.0.
Collider layouts image credit: CERN.