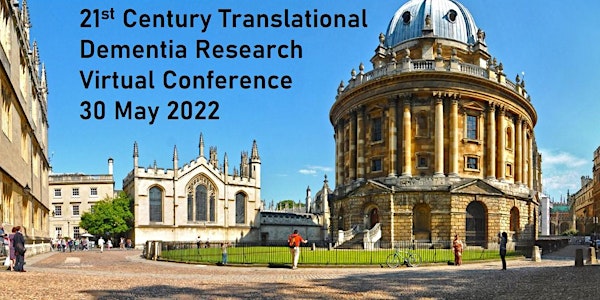 21st Century Translational Dementia Research Conference
Industry-Academia engagement event to forge collaborations and create new paradigms to solve the translational R&D challenges in Dementia
About this event
This event aims to link up experts from Dementia Research Oxford, academia, non-profit organisations and industry to explore the current challenges in Translational Dementia Research. See detailed programme below.
Industry workshop information and registration is separate and can be found here: https://aimday.se/21st-century-translational-dementia-research-oxford-2022/registration-for-researchers/
Topics of the conference include: experimental medicine, human based translational research, clinical trial recruitment, adaptive clinical trial design, linking UK infrastructure, big data and multi-omics approaches, patient and cohort analysis, genomics, clinical phenotypes, biomarkers and disease progression.
The event includes industry led workshops, roundtable discussions with academic and industry experts and a series of plenary talks
To register for the conference please click the register button at the top of this page.
Registrations for the industry workshop sessions is open and closes on 16 May 2022. A reminder email will be sent to all conference registrants closer to the date.
This research conference is open to university academics, pharma and biotech representatives, clinicians and graduate students interested in the areas of Dementia and Alzheimer's Disease. Please register using a business email address and join the meeting with your registration name.
For additional information and enquires please contact:
Betina Nair
+447780004654
betina.nair@medsci.ox.ac.uk
Conference Programme
Conference co-chairs: Prof Cornelia van Duijn, Professor of Epidemiology, University of Oxford and Prof Masud Husain, Professor of Neurology & Cognitive Neuroscience, University of Oxford
9.00 – 9.15 Introduction and Welcome (Prof Sir John Bell, Regius Professor of Medicine, University of Oxford)
9.15 – 9.45 Plenary 1: Lessons from COVID-19 RECOVERY and Cardiovascular Trials for Future Dementia Clinical Trials (Prof Sir Martin Landray University of Oxford; Joint Chief Investigator, RECOVERY trial)
9.45 – 10.15 Plenary 2: From Biomarkers to Precision Medicine in AD (Prof Charlotte Teunissen Amsterdam University Medical Centre, The Netherlands)
Industry led Workshop Sessions on Biomarkers in Dementia for Experimental Medicine and Clinical Trials
10.15 – 11.15 Industry Led Workshop Session 1
11.15 - 11.30 Break
11.30 – 12.30 Industry Led Workshop Session 2
12.30 – 13.15 Plenary 3: Trial Ready Populations (Prof John Gallacher University of Oxford; Director of Dementias Platform UK)
13:15 – 13.45 Lunch
13.45 – 14.45 Roundtable Discussion 1:New Paradigms for Clinical Trials in Dementia from Genes to Blood Based Biomarkers
Panellist: Prof Sir Martin Landray (University of Oxford; Joint Chief Investigator, RECOVERY trial); Dr Vanessa Raymont (University of Oxford; Director Oxford Brain Health Clinical Trials Unit); Samantha Benham-Hermetz (Director of Policy & Public Affairs – ARUK); Thor Ostenfeld (Head Clinical Development Neurosciences, AstraZeneca); Dr Roger Berry (Medical Lead Alzheimer's Disease, Biogen); Dr Carrie Rubel (Director Biomarkers, Biogen)
14.45 – 15.15 Plenary 4: A New Paradigm enabled by Data Science (Prof Cecilia Lindgren University of Oxford; Director Big Data Institute)
15.15 – 15.45 Plenary 5: UK National Clinical Trials Infrastructure and Potential for Future Development (Prof Sir Rory Collins University of Oxford; UK Biobank Chief Executive and Principal Investigator)
15.45 – 16:00 Break
16.00 – 16.30 Plenary 6: From Genes to Dementia Treatment/Trials (Prof Cornelia van Duijn, Professor of Epidemiology, Nuffield Department of Population Health )
16.30 – 17.30 Roundtable discussion 2: The 21st Century Vision for Translational Dementia research
Panellist: Prof Cecilia Lindgren (University of Oxford; Director Big Data Institute); Prof Clare Mackay (Associate Director & Head of Translation, Oxford Centre for Human Brain Activity);Dr John Davis (Director ARUK Oxford Drug Discovery Institute); Prof John Isaac (Senior Director, External Scientific Innovation Neuroscience, J&J Innovation); Dr. Ruth McKernan (Venture Partner, Dementia Discovery Fund).
17.30 - Close